The Charity chosen by the Association President
Our Association President for 2017 - 2018 is
Liz Thomas from the Great Yarmouth Club in District 8.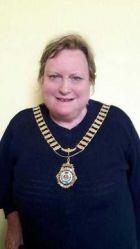 Liz has chosen Children's Hospices for her charity in her Presidential year 2017 - 2018.
Liz would like each District to support their own local Children's Hospice.
We have three Children's Hospices in District 12. In Kent and South London there are the 2 Demelza Children's Hospices and in Sussex there is Chestnut Tree House.
Demelza Children's Hospices in Kent and South London
Demelza is a children's hospice charity in the south east of the UK, providing vital care to families across East Sussex, Kent and South East London.
We're all about life – to help those who may not live a long life to live a full life.
We're here to provide compassionate and expert care for babies, children, young people and their families. When they need it the most.
We're here to enable families to stay and play together. To enjoy quality time in a quality place, supported by quality care.
We're here to create precious moments and happy memories. In the family home or in our family hospices –
Demelza Kent
in Sittingbourne and
Demelza SEL
in Eltham.
And if time is cut short, we're still here. To help ease the family's fear and anxiety and move forward from their loss. Whatever it takes, we're here.

Chestnut Tree House,
the children's hospice for Sussex.
Chestnut Tree House is the children's hospice for East and West Sussex, Brighton and Hove and South East Hampshire and cares for 300 children and young adults from 0-19 years of age with progressive life-shortening conditions.