Sidcup Inner Wheel Club
About our Club
We meet on the 3rd Monday of each month at St Lawrence's Church Hall, Sidcup, Kent at 7.30pm. For further information please use 'Contact Us' page.
Club Officers for 2020 to 2021
Name
Role
Charity supported



Susanne Dowswell
PRESIDENT


Helen Bacon
Vice President
Pam Dennis
Secretary


Frances Whelan
Treasurer



Sylvia Wooder
International
Organiser



Janice Spragg

Club Correspondent



Forthcoming Events
Due to Covid-19 all events have been postponed -We look forward to participating in District 12 events soon.
---
2019
10th January World Inner Wheel Day at President's home. 10.30 a.m. onwards
21st January Club Business Meeting. Soup and Books
18th February Club Meeting - speaker Peter Jackson
4th March Sidcup Inner Wheel's 70th Anniversary Lunch 12 NOON SIDCUP SPORTS CLUB
18th March Club Meeting - speaker Paul Holloway. The life of a Mayor's Chauffeur.
Rotary wives and partners invited.
19th March District Meeting - Ditton
8 - 10th April Inner Wheel Conference - Cardiff
15th April Club Meeting. Speaker Joanna Friel of the Chislehurst Society.
Heather Firbank 'The Society Wardrobe of an Edwardian Lady and the Downton
Abbey Connection'. Local I/W Clubs invited.
16th April District Quiz - Ditton
11th May Inner Wheel Charity Quiz at Hurstmere School
20th May Club meeting. Speaker TBA
5th June District Rally. Manor Hotel, Gravesend
17th June Club Meeting -Business Meeting/AGM & Valedictory. Fish & Chip Supper.
25th June District Meeting and AGM - Ditton
Sidcup proudly celebrated their 70th Anniversary in 2019
PROJECTS
We are currently assisting our Rotary Club with their local school Literary Project where IW and Rotary volunteers go into a local school to assist with helping children to read. The volunteers have to commit to an initial 7 week pilot project.
INFORMATION ON THE PRESIDENT'S CHARITY
Breast Cancer Haven run various centres which give support, advice and guidance during their illness.
IW SIDCUP WILL BE SUPPORTING PERIOD POVERTY
DIGNITY FOR WOMEN AND GIRLS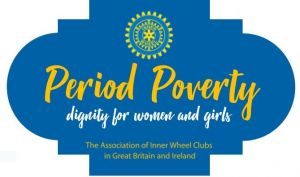 FORTHCOMING EVENTS