Joint District 12 Chairmen 2020 - 2021
Sheila Cragg from the Canterbury Club & Christine Davies from the Tunbridge Wells Club
We can hardly believe that we are over 1/2 way through this Inner Wheel year – a year unlike most that we have known. We hope you are coping with these unusual circumstances. For many of you it will have been a terrible year, you may have lost friends, or suffered yourselves in varying degrees from Covid-19. We have been so saddened to hear that some of our D.12 members have succumbed to this dreadful disease and we know that their Clubs will be deeply affected by this. We can only express our sincere sympathies.
So, 2020 was a very strange year but there were several achievements along the way. We have been reflecting that District 12 has experienced a number of highlight moments and our determination has taken us to areas we could never have imagined beforehand.
So many of us have taken to ZOOM! (Not always ideal, we grant you, but we have managed to see our friends on screen and enjoyed the familiarity of seeing them in their home surroundings). There has been a wonderful added bonus to this in welcoming back some previous members of D.12 who now live out of District.
As Chairmen, we have so far visited 10 Clubs, sat in on some pre-Christmas parties and attended a number of International events for The Grand Night In. The friendship and fellowship of our D.12 Clubs is very clear and we know that you are all going the extra mile to care for each other. We are so proud of all your efforts. We have been inspired too by some of the novel ways you are keeping the wheel turning, in spite of Coronavirus. Keep up the good work.
We take pride in the fact that as a District we took an early decision to look to the future and pledged £500 per year for 5 years to the newly opened Medical School in Kent and Medway. What better way could we support the dedicated young people who are planning to devote themselves to the well-being of patients from Kent? They will have had an incredible experience in participating in this new venture at a time of global pandemic. We wish them all well with their chosen studies and we are pleased to play our part in helping them to succeed.
Challenge 88 is progressing well and will continue until 4th
April, 2021. (4
th
day of the 4
th
month). Thank you to all those individuals and clubs who have undertaken their own sponsored challenges alongside us, as well as those who have sponsored us! We are astounded at the impact you have all had and of the amazing sums raised for the Air Ambulance. The Challenge will end at Easter, allowing time for all monies raised to be collected and paid over to D. Treasurer.
Sadly no convention or conference to attend in person, but suddenly we find that new opportunities are opening up to attend VIRTUALLY. We do thank all the officers – at International and Association levels – who have worked tirelessly to make this possible.
The year (with its lockdowns) has given us the time to reflect on things that really matter to all of us and maybe even to consider a break with some of our "traditions". Some events have become casualties of the pandemic but we shall still promote true friendship, personal service and international understanding, as ever.
We have welcomed 9 new members to Inner Wheel and 3 Members at Large. We hope that they all will feel that they have become part of a wider, caring family.
With our best wishes to you all for the remainder of this Inner Wheel year and with gratitude for your support of this great organisation,
Christine and Sheila
Thoughts for International Inner Wheel Day 2021
We have been wondering what it was like on 10th January, 1924? The "Rotarian ladies" associated with the Rotary Club of Manchester would have felt quite excited about setting up a new Club for themselves, where they could enjoy one another's company, offer service collectively to their community and pursue international friendships however they could.
Are we like that now?
Are you excited about celebrating another Inner Wheel Day? Can you see the potential for doing good in this uncertain world we find ourselves in, with all the challenges of the current pandemic?
We certainly CAN make a difference and we certainly can look closer to home for good causes to support.
Roll on, 2021 – Let's see what we can achieve together – and live up to those high expectations from Margarette Golding and her colleagues.
We are sure that, here in District 12, we shall not let her down!
May we wish you all a happy 2021!
In Inner Wheel friendship,
Christine and Sheila
This is an historic year in the history of District 12.
We celebrate our 88th year as a District.
We welcome for the first time a Joint Chairmanship.
On Wednesday 24th June, we held our final District Meeting of the year by Zoom.
It was swiftly followed by the AGM and Handover on Zoom.
We bade farewell to our Treasurer of the last 5 years, Shirley Blackman, and Past District Chairman, Joan Styles who are both leaving the Executive after long service.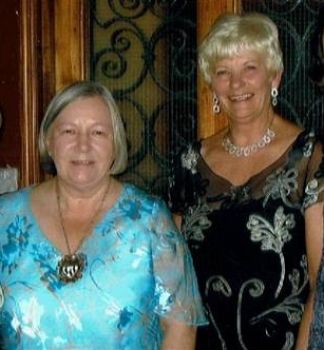 Joint District Chairmen Sheila Cragg (L) and Christine Davies (R)
(NB This photo was taken before social distancing was in force!)
A message from Joint DC's Sheila Cragg and Christine Davies
Aims and Objects of Inner Wheel: To promote true friendship, encourage the ideals of personal service and to foster international understanding.

Over the past few months District 12 Inner Wheel members have been affirming those aims in many ways. Our contacts (albeit mostly virtual) have become very precious and, although socially distanced, many of us do feel that we have grown closer together in this shared experience.
There have been opportunities for each one of us to give service and encouragement to our isolating neighbours and friends (a smile costs nothing!) – and most creditably to our local NHS heroes. How many sets of scrubs, pamper bags or face masks have been run up by Inner Wheel members to help those working on the frontline throughout the crisis. We are so proud of the selfless efforts that District 12 Clubs have made, honing their skills to help others when the going got really tough.
For those of us with link clubs, in Europe and beyond, there have been opportunities to share our compassion and empathy as people the world over are grappling with the horrors of Covid-19, and in more concrete form we have been able to continue our donations to help many at home and abroad, in situations seemingly more dire than our own.
This pandemic has turned our lives upside down and forced us to look beyond our own routines and re-order our thinking in so many ways. However, there have been many positives. See how we have embraced Zoom – something that many of us had not even heard of three months ago. Inner Wheel members have adopted change and adapted to changing circumstances over the past 96 years – Together we CAN do it again and we really CAN be at the forefront, leading the change.
One day in the future, our lives will be back to a new normal and we will once again be able to meet face to face, sharing the friendship that we have missed since March.
District 12 has continued to be outward looking, resilient and creative, giving help wherever we could. At the close of the last Inner Wheel year, your generosity was evidence of that, giving sizable donations to assist others in trouble – The South Yorkshire Floods, the Australian Bush Fires and most recently The Kent Community Fund which has supported numerous local charities and foodbanks during the Coronavirus Pandemic. So give yourselves a pat on the back!
Who knows what the coming year will bring? We are on the brink of a big adventure! We are sure with true Inner Wheel resolve and determination we will come through with flying colours? Let us lead the change!
Christine and Sheila District 12 Chairmen 2020-2021