DC Pat and the District Executive have taken the decision not to send cards this year but in lieu to donate to Assn President Betty's charity, the Stroke Association.
The District Executive wish all members and their families a very Happy Christmas, and a Healthy and Peaceful New Year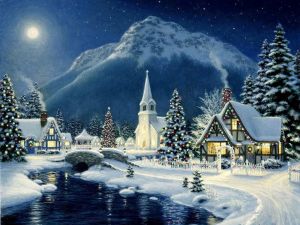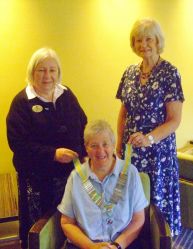 The new District Chairman, Pat Sanford is adorned with her chain of office by immediate Past District Chairmen Sheila Cragg and Christine Davies.
District Chairman Pat Sanford's address
I am so proud to be wearing this Chairman's chain today and to be giving this address. I still see myself as quite "a new kid on the block" when I hear of my colleagues' years of service but I will do by very best to do justice to being given the honour of this role over the next twelve months.
I am not a maid of Kent or a Kentish maid but was born in Southwark, London not long after the war so am a baby boomer! My parents and 2 brothers welcomed me into the world in the year of Queen Elizabeth's coronation. I was too young to join in with the street parties, but I do have a photograph of me in my decorated pram, complete with bunting and flags. So, I grew up in the times of "Call the Midwife" and sometimes I think the episodes chronicle my early life; the children playing in the street, the nit nurse, and the hard times. It was only as I grew up that I realised how hard my parents must have worked to give me opportunities like joining an educational cruise to the Baltic when I was 13, going to Paris with a group of 6th formers at the time of the student riots in the Sorbonne, and eventually giving me the opportunity to go Teacher Training College in Eastbourne at the age of 18. I used every minute of the experiences to get an inside knowledge of the places, the people and the culture and have continued that love of travel. (Well until it became too difficult to travel during the pandemic, but I'll be back!) Looking back my parents gave me both my roots and my wings.
I joined the teaching profession during the time of the LCC which then became the GLC and enjoyed every bit of it. I had 36 pupils under 5 in my first class and not a teaching assistant in sight! I worked hard and played hard, enjoying gatherings with friends at the weekends and there I met my husband. He swept me off my feet quite literally as we met at a "dinner and dance" and we danced! My first association with Kent was when we bought a house in Gillingham thanks to the GLC giving professional people 100% mortgages and amazingly we could both travel to London for work and could afford the mortgage!
Then of course it was time to start a family and soon Graeme and then Amy came along, and my career was put on hold for 9 years; a luxury not many can afford today. I was lured back to teaching by being offered a maternity cover job for 9 months. But, of course once the bug of teaching was released again there was no turning back! Those 9 months turned into 36 years! Of course, not all at the same school but nonetheless I can say that no day was ever the same and I know I learned much during my working years.
I eventually ended up taking a headship in Rochester at an infant school followed 4 years later by a second headship in a primary school where I welcomed the millennium bug, supported children in their understanding of the 9-11 bombing and worked with families who suffered suicide, cancer, and the death of a son during a family trip. And there was the other side of leading a school; raising standards, demanding impeccable behaviour and managing adults. Amongst other things! Meanwhile my family was growing up and soon both children were boomeranging back and forwards to university and finding their feet in society. Graeme found his feet eventually firmly planted in USA and that is where he remains with his family and my 4 grandchildren. Amy meanwhile opted for a teaching career, remaining in Kent. That is where she lives with her family and my other 2 grandchildren.
Retirement came at the same time as the Olympics came to London in 2012. The last term seemed like there was nothing but celebrations to attend. Amongst the highlights was when I invited all parents and pupils to tea and cake one day after school. It did seem like a good idea at the time but luckily the parents staggered their arrival and the kitchen staff managed to keep up with ever flowing tea. Then another day the whole school walked to the local church for a service and parents packed in where they could and stood outside too. The ultimate occasion must have been when the whole school piled on to 8 double decker buses and set off for Gillingham's Olympic Sports Ground. The Olympic torch was on its way to Greenwich, and we had arranged our own school Olympics using the facilities at the sports centre after we had, very loudly, cheered the flame on its way. Lunch was al fresco on the fields and eventually we piled back on the buses and returned to school. The return journey was much quieter! I retired taking many wonderful memories with me .
I have a friend who says I am an habitual "joiner". I agree with that. I've been a brownie, guide, joined unions, Ladies Circle and Tangent clubs. I joined U3A and HEADREST on retiring and Inner Wheel of course. BUT I think I am also a curious person. I never want to "just" join an association. I want to know how it began, how it works and then I want become a part of that club by doing something within it. I do this because I also think that I am not only a joiner but also a stayer, a manager, leader and organiser. These are the qualities that I hope you will see during my year as District Chairman.
When Chris, my husband, joined Gillingham, Rotary, he asked me if I would join Inner Wheel. I thought yes as I had to have something to fill the void left by retirement. So, I went along to lunch when invited to see how I liked it with a view to joining. I suppose I really didn't know much about Inner Wheel; at the Convention in Jaipur recently Inner Wheel was described as the "world's best kept secret". I'd googled the Association and thought I knew about it. But did you know when you google Inner Wheel you also get you tube videos showing you how to change or clean an inner wheel arch? I read the words on the google search " Inner Wheel is where dedicated women share their friendship, passion for community service and take action to create lasting change" I thought I had prepared for my first meeting, but I had not reckoned on the immediate feeling of "belonging" and "friendship". I learnt how Gillingham worked and liked it and the rest as they say is history! I joined and as Sheila told you in my introduction, I soon took on office and looking back this seems to be my modus operandi. I join an organisation and then always, just like Oliver, "want more". Joining the executive gave me the more I craved for and have thoroughly enjoyed both club and executive membership.
And so now I take on this role, not with trepidation (well maybe a little) but with real enthusiasm and passion to join those who have been before me; to spread the word about Inner Wheel so it is not a secret, to support clubs in their quest to do service and to join together in friendship whenever we can.
The last year or so has been difficult for all of us in many different ways. However, I still wonder at the strength that club members have found to ensure they raised funds, supported the NHS, and found different ways to come together. They say necessity is the mother of invention; I don't think Tim Berners Lee would ever have dreamt that by inventing the www. that he would have given us a means to ensure continued communication during this time of the pandemic. It was thanks to the digital platform that I, like many others, was transported to the convention in Jaipur without leaving my seat, with no waiting at airports and definitely no jet lag! It was there that service was redefined and celebrated; so much internationally has been achieved by so many clubs around the world.
Digital platforms have helped to keep us in touch, as has the telephone and visiting members, even if it was only to stand on the doorstep. This resilience is what makes me proud to belong and be a member of IW.
And so onto the next year. I was recently asked what my hopes were for that. I answered by saying hopefully more face to face meetings; zoom fatigue seems to be settling in . The weekly gathering that I have with friends for a quiz has gone down to a monthly meeting and soon I'm afraid will fizzle out completely. But it has lasted a long time and served us well and so we must not lose sight of the good things that have happened. Last year's Club Officers Assembly was one of the best attended for a long time as was the quiz. The feedback from the quiz was so good and many said they would welcome that format again. I agree zoom does sometimes beat going out and driving many miles to attend a meeting and I think a hybrid of face to face and virtual meetings could become our new norm.
This year the Club Officers Assembly on 14th July was planned to be by zoom as it was unsure if the restrictions would be lifted. Even if they had been lifted it was unclear whether the hall at Ditton would still need to have minimum occupancy only, so zoom it was, so to be safe rather than sorry.
I have planned for the New President's Event to be face to face but in September again trying to allow for whether restrictions were lifted or not. This is on 8th September and a letter will be flying into your inbox shortly after this meeting.
Again, in September I have planned a celebration of being able to meet again by inviting you all to an afternoon tea event. This is a CAMEO and Charity event to support Breast Cancer Awareness and I'm sure you've all seen the adverts for this in their national campaign. This is on 15th September and is open to all members. Details will be sent to you shortly.
The calendar of events has been distributed and I was delighted to put in the conference in Bournemouth. I was due to attend my first conference in Belfast but obviously could not so am pleased to be able to attend this one.
The District Meetings dates have been circulated as has the District Rally on Friday 10th June. Our National President, Betty, will be attending and I look forward to welcoming her.
And so we come to the 22nd
June 2022 when I shall be required to hand over this chain to the next District Chairman. However, as you know we do not have a nomination for that post. I came late to the post and would ask you all to think about joining the executive and being our leader for 22-23.
All that remains for me to do is to tell you about my charity for the year. I have described the event for Breast Cancer Awareness afternoon tea. During my second headship I met a truly talented and passionate young teacher from Macedonia when I took on my second headship. We worked together to get her qualifications from Macedonia recognised in the UK and then she worked hard to achieve additional Early Years qualifications and soon I was able to employ her as a teacher. Her enthusiasm, enjoyment and outstanding teaching soon made all the difference at the school. Then one day she asked to see me after school. I remember smiling and saying to her as she approached the office "I suppose you are going to tell me you are pregnant!" She smiled and said she would have loved to have given me that news but could only tell me that she had been diagnosed with breast cancer. During the next 2 years she underwent almost continual treatment and I supported her. She even sent in lesson plans for her replacements and continued to visit when she could. Sadly, she died and left behind behind a young child of 9 years. She also left a legacy of an outdoor provision for early years that she designed and watched being installed. I know many of you have tales of this dreadful disease or have suffered yourselves so the event in September is planned to support research into Breast Cancer and as a celebration for an IW new year.
The main charity that I will be supporting is Dandelion Time and works with children. Having been in education for over 40 years I have witnessed some vulnerable children who could not reach age expected standards due to no fault of their own. Based in West Farleigh Dandelion Time works with the child and the wider family, believing that family relationships and bonds are vital in helping a child overcome their difficulties and are often a key factor to their success. Bringing together members of the family allows family relationships to be fostered and, with the guidance and encouragement of supportive and skilled therapeutic staff, helps to build self-respect, empathy, and positive communication. The calming rural setting of Dandelion's gardens and farm provides a great opportunity for children to enjoy the therapeutic benefits of physical activities.
The charity's logo is dandelion head dispersing seeds in the wind and is very fitting. The Dandelion generally symbolizes happiness, joy, and good thoughts, and can also symbolize health, power, perseverance, endurance, and determination. The charity plans to embed resilience and determination into each of their clients through their work. A speaker from the charity will be present at the Club Officers Assembly to tell you more.
I will be using the dandelion clock as my fundraising activity. We will all remember blowing those seeds off the plant when we were younger to tell us the time. I will be "selling" minutes for £1 each and you can buy as many minutes as you like; the prize will be a cash prize. I hope you will all buy some time for these vulnerable children.
Thank you for listening to my address. I hope I have given you some background to me and to what I hold dear. Thank you for giving me the honour of representing you as District Chairman and I look forward to meeting more of you throughout the year.
I'd like to finish by quoting from 'The boy, the mole, the fox and the horse' by Charlie Mackesy
"But I'm so small", said the mole.
"Yes" said the boy "but you make a huge difference".
I hope to make a huge difference during my year and thank you for your support.
The District Executive has taken the decision not to send cards this Christmas, but instead to make a donation to Association President Betty's charity, the Stroke Association.