Joint District 12 Chairmen 2020 - 2021
Sheila Cragg from the Canterbury Club & Christine Davies from the Tunbridge Wells Club
This is an historic year in the history of District 12.
We celebrate our 88th year as a District.
We welcome for the first time a Joint Chairmanship.
On Wednesday 24th June, we held our final District Meeting of the year by Zoom.
It was swiftly followed by the AGM and Handover on Zoom.
We bade farewell to our Treasurer of the last 5 years, Shirley Blackman, and Past District Chairman, Joan Styles who are both leaving the Executive after long service.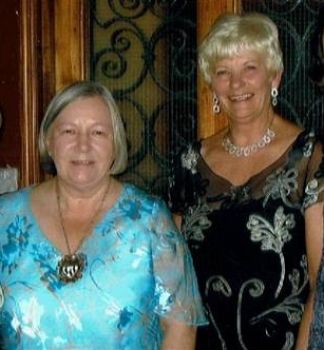 Joint District Chairmen Sheila Cragg (L) and Christine Davies (R)
(NB This photo was taken before social distancing was in force!)
A message from Joint DC's Sheila Cragg and Christine Davies
Aims and Objects of Inner Wheel: To promote true friendship, encourage the ideals of personal service and to foster international understanding.

Over the past few months District 12 Inner Wheel members have been affirming those aims in many ways. Our contacts (albeit mostly virtual) have become very precious and, although socially distanced, many of us do feel that we have grown closer together in this shared experience.
There have been opportunities for each one of us to give service and encouragement to our isolating neighbours and friends (a smile costs nothing!) – and most creditably to our local NHS heroes. How many sets of scrubs, pamper bags or face masks have been run up by Inner Wheel members to help those working on the frontline throughout the crisis. We are so proud of the selfless efforts that District 12 Clubs have made, honing their skills to help others when the going got really tough.
For those of us with link clubs, in Europe and beyond, there have been opportunities to share our compassion and empathy as people the world over are grappling with the horrors of Covid-19, and in more concrete form we have been able to continue our donations to help many at home and abroad, in situations seemingly more dire than our own.
This pandemic has turned our lives upside down and forced us to look beyond our own routines and re-order our thinking in so many ways. However, there have been many positives. See how we have embraced Zoom – something that many of us had not even heard of three months ago. Inner Wheel members have adopted change and adapted to changing circumstances over the past 96 years – Together we CAN do it again and we really CAN be at the forefront, leading the change.
One day in the future, our lives will be back to a new normal and we will once again be able to meet face to face, sharing the friendship that we have missed since March.
District 12 has continued to be outward looking, resilient and creative, giving help wherever we could. At the close of the last Inner Wheel year, your generosity was evidence of that, giving sizable donations to assist others in trouble – The South Yorkshire Floods, the Australian Bush Fires and most recently The Kent Community Fund which has supported numerous local charities and foodbanks during the Coronavirus Pandemic. So give yourselves a pat on the back!
Who knows what the coming year will bring? We are on the brink of a big adventure! We are sure with true Inner Wheel resolve and determination we will come through with flying colours? Let us lead the change!
Christine and Sheila District 12 Chairmen 2020-2021