Joint District 12 Chairmen 2020 - 2021
Sheila Cragg from the Canterbury Club & Christine Davies from the Tunbridge Wells Club
This is an historic year in the history of District 12.
We celebrate our 88th year as a District.
We welcome for the first time a Joint Chairmanship.
On Wednesday 24th June, we held our final District Meeting of the year by Zoom.
It was swiftly followed by the AGM and Handover on Zoom.
We bade farewell to our Treasurer of the last 5 years, Shirley Blackman, and Past District Chairman, Joan Styles who are both leaving the Executive after long service.
Welcome to District 12's website.
A Third Message from Past District Chairman Liz
8th May 2020
Greetings District 12 members
I hope you are managing to enjoy life in lockdown and appreciating the lovely weather we continue to enjoy.
I know many of you are very busy making scrubs, or scrub bags or visors which is very admirable and useful. We are all contributing in our way, even if it is simply staying home and keeping safe as requested by the government.
In true Inner Wheel friendship we are all keeping in touch with each other and I know new friendships are being formed or strengthened in this way. Thank goodness for the wonders of technology that make it possible to see our children, grandchildren, wider family circle and friends without leaving home. It has stretched our skills and made us realise that we can still have group meetings, chats, coffee mornings, quizzes and many other social activities within the safety of our homes.
My family have celebrated four birthdays via group Skype and my 13 year old cool grandson even agreed to 'virtually' blow out the candles.
One piece of technology that has defeated me so far, and unusually for me, is a DigitNow box designed to convert slides to digital. If anyone has any experience of such a thing I would be grateful for some tips! It is one of the jobs I promised myself to achieve during lockdown.
You will have received the letters from Association and Enid Law, explaining that Association has decided to keep the existing committees through to the end of June 2021. Vice president Betty Roberts taking over after that. District 12 Executive have decided to carry on with the planned changes of the officers, where applicable, at the end of June 2020.
There will be more on how we intend to achieve the actual Handover in the coming weeks. Clubs have been advised to do what suits them, and their officers best, and I know most of you have made those decisions.
I put my flags out today for VE Day Celebrations although I think it will be just the two of us and a bottle of wine. I look forward to the day when we are putting them out to celebrate the end of Covid-19. Keep smiling and dancing.
With warmest wishes and in friendship
Liz

A second Message and Easter Bonnet Photograph from District Chairman Liz
The Easter Bonnet was commissioned by DIY for a Facetime with the Oz Family (I thought the small furry animal was the Easter Bunny but Liz advised me that it was a woolly lamb –District Editor Sandra)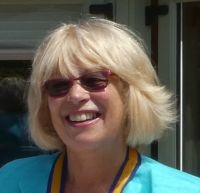 Hello everyone
It seems only yesterday that we were looking forward to all our Inner Wheel gatherings and then, the world turned on a sixpence, and most of us found ourselves in lockdown, at the request of the government and the WHO. Now I am sitting in glorious sunshine, looking at my lovely spring garden, with a cup of Earl Grey to hand. The last purchase I made in Sainsbury's was Hilary Mantel's The Mirror and the Light which I have very nearly finished so I have been immersed in the 16th century and Henry V111's court – not a cheery read but very engrossing.
I'm sure, you are all worrying about and missing your loved ones; their health, their finances, their mental state, their larders and wine racks. We are too but, like others, are trying to make the most of our isolation by keeping in touch electronically. I am so impressed by the numbers of Inner Wheel members who are suddenly proficient in Skype, Zoom, Whatsapp, Facebook, Twitter and whatever else you use. I have been ringing my friends, especially those who are alone, so we can chat and laugh together. Sometimes the old fashioned ways work as well.
The links with Inner Wheel have been especially precious. The shared jokes, video clips, chats, and glimpses into how you are all coping are priceless and show how resourceful you all are. In true Inner Wheel spirit there is such a feeling of positivity from everyone, even though we don't always feel it. Check out the Association Facebook page, it is worth a look, often raises a smile and brings together members from across the UK. I know that many of you are trying to help in any way you can, some by knitting or sewing, others in very new and innovative ways. Do share your projects with us. I'm sure Sandra would like some for her next newsletter and you might just start a trend. If you do nothing else though, stay home, stay well and keep in touch.
With warmest regards and in friendship
Liz
---
A message from DC Liz Lister
District 12 is just one of the 29 Districts belonging to The Association of Inner Wheel Club in Great Britain & Ireland and we encompass 21 clubs. Our members are all like minded women who enjoy the ethos of Inner Wheel which is to promote true friendship, encourage the ideals of personal service and to promote international understanding.
I've been a member of Deal Inner Wheel since 2008 and very much value the friendships, fun and support I have gained since joining, as well as the chance to help local, national and international charities through fundraising or service. By serving on the local and district committees I am also able to use the skills I gained, as a Practice Manager, during my working life.
Through our Interclub friendship meetings with other clubs, and by getting involved at District level, I have enjoyed meeting and befriending many other Inner Wheel members. I usually attend our Annual Conferences which are held around the country and look forward to attending the next one in Belfast, in April 2020. Whenever Inner Wheel members get together there is an excited buzz of conversation and much laughter. I'm sure Belfast will be no exception.
I am delighted to be able to support Kent based charity Porchlight, this year. Porchlight is a charity for homelessness that helps people who have nowhere to go and no-one to turn to. It gives the support, help, guidance and skills to enable them to live independently and become active members of their communities.
If you are interested in finding out more about Inner Wheel, please go to our Clubs page on this website or use the contact link to request more information.
Liz Lister