District Chairman 2017 - 2018
Ruth Portway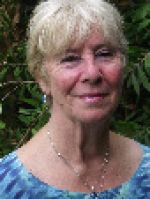 Dear Inner Wheel Members – Friends,
I am pleased and proud to be District Chairman this year and am thankful for being given this amazing opportunity to support and promote Inner Wheel.
As the eldest daughter in a large, still close-knit, family I was kept busy helping and Caring and carried that on into my nursing career. This was mainly in the community where you can build relationships with patients, their families, their carers and their communities. Even when I became a manager I felt that my responsibilities included caring for and supporting my staff to enable them to look after their patients.
I feel that Inner Wheel has that caring, sharing and befriending ethos that I recognise from my nursing days and I am proud to be a member. My theme for the Rotary Conference is 'Heal the World' based on the Michael Jackson song. A tall order but I believe we can do it 'one person, one family, one community at a time'.
Since Rule 17 was introduced we have been able to invite like-minded ladies with no Rotary connection to join us – why keep this wonderful organization to ourselves. So please use every opportunity you can to broadcast and tell people about the work that Inner Wheel does and the benefits of joining us.
Our Association President Liz Thomas has 'Be Positive' for her theme, knowing that Inner Wheel is special - a women's organization run by women for women for over 93 years, women who are caring, giving, doing and loving and who work together for the benefit of their community and indeed people further afield while enjoying friendship and fellowship. IW makes a valuable and positive contribution to communities all over the world and there has never been a greater need for volunteers than now.
Our members volunteer in many ways, providing services, raising money for charities at home and overseas and using their personal skills to make items that directly help those in need.
I am a keen supporter of ShelterBox and the Jubilee Sailing Trust and still give regular presentations on both. So give me a call if you need a Speaker, even at short notice.
My charity this year is Diabetes UK and I welcome any support that you can give to this vital charity. I will be doing the 12 Bridges Walk in London on October 1st so if anyone wants to sponsor me that would be great.
We will be celebrating our Golden Wedding in December and I send my best wishes to all of you who have special anniversaries and birthdays this Inner Wheel year.
I wish you all a happy Inner Wheel year full of friendship, fun and achievement.
Yours in Friendship
Ruth