District Chairman 2019 - 2020
Liz Lister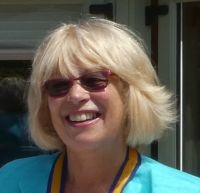 Welcome to District 12ís website.
District 12 is just one of the 29 Districts belonging to The Association of Inner Wheel Club in Great Britain & Ireland and we encompass 21 clubs. Our members are all like minded women who enjoy the ethos of Inner Wheel which is to promote true friendship, encourage the ideals of personal service and to promote international understanding.
Iíve been a member of Deal Inner Wheel since 2008 and very much value the friendships, fun and support I have gained since joining, as well as the chance to help local, national and international charities through fundraising or service. By serving on the local and district committees I am also able to use the skills I gained, as a Practice Manager, during my working life.
Through our Interclub friendship meetings with other clubs, and by getting involved at District level, I have enjoyed meeting and befriending many other Inner Wheel members. I usually attend our Annual Conferences which are held around the country and look forward to attending the next one in Belfast, in April 2020. Whenever Inner Wheel members get together there is an excited buzz of conversation and much laughter. Iím sure Belfast will be no exception.
I am delighted to be able to support Kent based charity Porchlight, this year. Porchlight is a charity for homelessness that helps people who have nowhere to go and no-one to turn to. It gives the support, help, guidance and skills to enable them to live independently and become active members of their communities.
If you are interested in finding out more about Inner Wheel, please go to our Clubs page on this website or use the contact link to request more information.
Liz Lister