Westgate and Birchington Inner Wheel Club
About our club
Westgate and Birchington Inner Wheel Club was formed in 1983. We meet once a month on the third Thursday at St Augustine's, Westgate. CT8 8NL at 7.00 for 7.30pm for a 2 course meal.

We also meet up to 'Come And Meet Each Other (CAMEO) 4 Coffee' (or sometimes something stronger!) at members' houses or at a local venue such as Quex Barn, the Turner Contemporary Cafe, The Garden Centre in Ramsgate or in the summer, at a member's beach hut. These CAMEOs can be mornings, afternoons or evenings. We like to give all of our members a chance to come to meet up with everybody, and our working members like to come to evening functions when they can.

We don't meet formally in August but usually get together for a social evening, sometimes with husbands or partners. Our club has 32 members at present.
The Inner Wheel club of Westgate & Birchington was proud to have a member of our club, Hazel Hedges as District Chairman in 2016 to 2017. She is the third member of our club to have held office as District Chairman. Diana Taplin was District Chairman 1999 - 2000, and Margaret Hawkins was District Chairman 2010 - 2011.

(For more information please use the 'Contact Us' page.)

Club Officers for 2017 to 2018
Name
Office


Charity Supported


Janet Knuth




Margaret Hawkins

Joint Presidents




Local

Community Projects




Lily Doody

Vice President

& Membership Officer






Liz Stefaniak
Secretary


Hazel Hedges

Social Secretary

(Invitations and Interclubs)

Club Correspondent/Website





Louise Stokes

Treasurer




Gill Condron
International Service Chairman






Rose Brightling
House
Presidents Margaret and Janet's year 2017 - 2018
Our next meeting will be the final meeting of the Inner Wheel year, and will take place on 21st June. We shall hold our handover and AGM when Presidents Janet and Margaret will handover to incoming President Lily. We are hoping that the weather will be kind to us to enable us to have a Barbecue.

Here are reports on the latest events we have held
We held our 'Afternoon Tea and Flower Demonstration' on May 14th

We did not have a formal meeting in May because we held our major fund-raiser of the year. We welcomed 130 guests to the Chapel at St Augustine's to be entertained by our guest speaker, Floral Arranger Alison Mount. During the afternoon, Alison made 7 arrangements which were raffled at the end of the afternoon, after our delicious tea. The proceeds of the raffle and any profit from the afternoon were towards the provision of a defibrillator in the Minnis Bay area.




President Margaret and Alison

President Janet with Gill and Susan checking arrangements for the tea.

Below are some of the prize winners with the arrangements they won.




Lily and Wendy selling raffle tickets before the tea started.















Our fellowship Italian evening was held on 19th April.
We enjoyed a huge buffet of 'Italian antipasti', followed by Tiramisu or Italian Meringue, which was delicious. After our meal, some members had arranged an Italian Table Quiz, and an Identify the Pasta competition. The winning table was awarded 'Ferrero Rocher'. (Oh Ambassador, you are spoiling us!)
We were delighted to congratulate Liz Hobcraft, one of our 3 remaining founder members, on reaching 80 years old, and she was presented with a bouquet by Joint Presidents, Margaret and Janet. She in turn kindly treated everyone to a drink, which was most appreciated!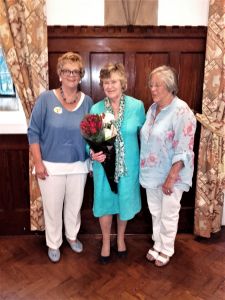 National Conference in Bournemouth 19th to 22nd March
10 of us attended the National Conference in Bournemouth this year. We enjoyed the friendship and fellowship and particularly enjoyed the keynote speakers, John Benjamin, antique jewellery valuer and expert from the Antiques Roadshow, and Helen Sharman, CMG, OBE, the first British citizen to go into space. We also very much enjoyed the entertainment on the second evening of 'The Opera Boys'. District 12 met up with District 5 on the first evening and we had an enjoyable evening trying to crack the Table Quizzes, which DC Ruth had prepared.
We all gathered in Margaret and Lily's Room for drinks before we ventured out for our evening meal. Lily, Margaret and Hazel decided to dispense with glasses and enjoyed theirs straight from the bottle!


We weren't lucky enough to get to meet The Opera Boys but Liz's friend Angela did, so she sent us a photo.

Also not a very good photo of John Benjamin on stage with Assn. President Liz Thomas.

Thursday 15th March Club Meeting and speakers from the Minnis Community Hub
Two of the leaders of the Minnis Community Hub, Gill Newman and Sue Sykes, came to talk to Westgate and Birchington Inner Wheel at our March meeting and told us all about their work. Following supper Gill and Sue gave a talk about the services that they provide. The Community Hub takes service users from all over the Thanet area. They spoke about how, following the refurbishment four years ago, they offer services to help keep people living in their own homes for as long as possible. They provide a meeting place to avoid isolation and groups for sewing, singing, gardening, even bongo drums! Many people come to enjoy the meals provided in a social atmosphere. Some people take the opportunity to bathe in specially adapted baths and to have their hair washed or use the hairdressers and many use the clinic support, such as chiropody. At the moment they have fewer service users but they tend to have more complex needs. Gill and Sue asked if anyone was aware of someone in the community who may need their services to provide details to the Case Manager who would arrange an assessment of need and a financial assessment for them.
Although the centre is funded by KCC the members of staff run coffee mornings and other fund- raising events for their Amenity Fund which provides money for the garden, an annual pantomime and other activities. President Janet Knuth made the presentation to Gill and Sue of a professional hairdryer and brushes together with a cheque towards a camera. The money was raised through our 'Supper at the Inner Wheel Spokes Pub', when we gathered together to enjoy a supper and play typical 'pub' games, earlier in the year. Our group of 'Sing For Your Life' presenters were delighted to be invited to come to look round and bring our 'Music Box' to be enjoyed by the service users and we are looking forward to making regular visits.
Sue, our Welfare Officer, presented a bouquet to one of our members, Lynda MacGowan, who was celebrating her 80th birthday on that night. Lynda, very kindly treated everyone to a drink that evening.
The pictures show the ladies on the top table listening to the speakers, President Janet presenting the speakers with the gifts of hairdryer and money for a camera, and Sue presenting Lynda with her bouquet.
Thursday 8th March Bowling at Bugsy's in Margate. Seven of us gathered for the annual bowling evening to enter for the District Bowling Competition. None of us were very expert but we had a great laugh and enjoyed the evening tremendously!
After our games were completed, the winners who would go forward to compete for the prize were the two top scorers on the evening. We played two games, with very mixed fortunes. Some of us were definitely feeling the effects of having played the second game, and our scores dipped down, but others gained a second wind and improved dramatically with the practice! The most spectacular bowl of the evening was Wendy's when she almost threw herself down, as well as the ball, and only by dint of a somersault onto the ground managed to throw the ball and get a strike after a nought on the first throw.
The two highest scores from the first game were Wendy Edmeades with 105 and Jan Harvey with 133; In the second game, Mo Reid scored 90 and Jenny Graf scored 112, so the two to be submitted will be Jan Harvey and Jenny Graf with a combined score of 245.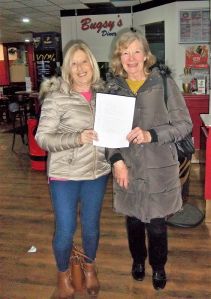 Wednesday 7th March CAMEO at Chris's home when Hazel and Jacquie showed their ideas for the 'Beach Bag' that they are making for the District Craft Exhibition.
Thursday 15th February Informal evening at the Fishbone Grill. We all enjoyed a supper of fish and chips, (or salad, for those members watching their waistline!)
Wednesday 7th February CAMEO at Hazel's home when the 'Sing For Your Life' team demonstrated the Music Box, and everybody enjoyed a sing-song!

Wednesday 10th January World Inner Wheel Day
We celebrated World Inner Wheel Day this year by a visit to a pub! Well not quite! For one evening only, Bay Church Hall, Minnis Bay, was changed into a venue for a delicious meal and the opportunity to play some traditional pub games! It was all done in the name of fund-raising for our community charities projects. Our 'catering committee' headed by one of our newest members, Wendy Edmeades, provided a delicious traditional 'pub supper' of 'Sausages'n'Mash', with onion gravy, followed by 'Apple Crumble Muffins' and custard. Two of the brave menfolk, Rex Morley and Lester Edmeades, had their arms twisted to don 'pinnies' and bow ties, to wait on the ladies, so we kindly let them eat their supper afterwards! A very big thank you to both the catering team and Rex and Lester!
A true 'pub quiz' followed the meal, when questions were asked about every aspect of pubs, real and fictional, and drinks. Hazel Hedges won the quiz, with a worryingly impressive knowledge of pubs and alcohol, and was awarded a prize bottle of fizz! A giant Jenga tower was erected and 2 pairs of members. Lily Doody and Margaret Hawkins, and Mo Reid and Jenny Graf, started to demolish it in the traditional way. The tower was about the height of the ladies' waists at the start and eventually built up to somewhere over their heads! Eventually Margaret Hawkins managed to cause the dramatic collapse.
Other members played bagatelle and there was keen competition amongst the group. Finally our two most senior members, Jean Munday and Jean Lewis, were judged the winners having scored two balls apiece in the 350 slot!
Money raised from the evening will be used to purchase items for the Minnis Community Hub for the elderly. The Hub provides personalised activities, group sessions and themed days, therapy and wellbeing services, including hairdressing, chiropody, a bathing service and home-cooked meals to mention just a few of the services on offer.
| | | |
| --- | --- | --- |
| | | |
| | | |
| | | |
| | | |
| | | |
Wednesday 3rd January 2018
Liz Stefaniak hosted the first of our 2018 CAMEO's, and we all enjoyed catching up with the news, (and demolishing the last of the Christmas shortbread!)
HAPPY NEW YEAR
Friday 29th December
After Christmas all members and partners were invited to join Presidents Janet and Margaret for canapes and drinks.

Thursday 14th December
A group of our members plus Rotarians and other Inner Wheel club members get together as a choir each year to rehearse for the Joint Thanet Rotary Carol Service, formed by Chris Hedges of Westgate & Birchington Rotary Club. here is a picture of the choir with Chris to the right and Rev. Peter Russell, who accompanied us on the organ, to the left.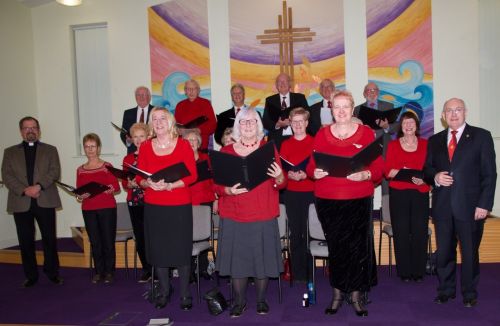 Thursday 7th December
We all enjoyed our Christmas Dinner, and rounded off the evening with table quizzes and puzzles. Our Joint Presidents Janet and Margaret gave each member a present of a special pen on which was inscribed our logo and club name, with which we were all delighted.
Saturday 2nd to Saturday 9th December
Our entry for the St Thomas Christmas Tree Festival featured gold and blue baubles with our logo and pictures of some of our activities, both social and charitable, and our blue and gold angels which were made at our Craft CAMEO in October. All donations from the Tree festival will go to ASSERT (Angelman Syndrome Support, Education and Research).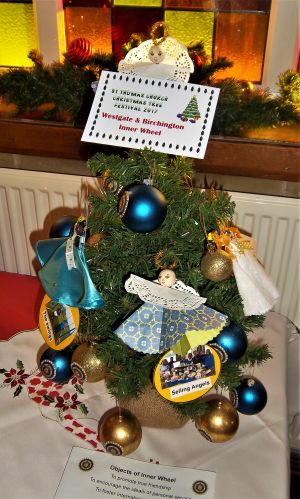 Thursday November 16th Fellowship Meeting with a 'Show and Tell'
We enjoyed a friendly meal together for our Fellowship Evening, and afterwards several members regaled us with stories of their activities. Jacquie appeared in Victorian costume to tell us about her 'acting' with the St Peter's Historical Walks, where the volunteers dress up to tell the story of Victorian St Peter's. Wendy showed us a beautifully bound and illustrated family history, and Sarah told us of her Norwegian background.

Wednesday, 8th November District 12 International Rally
16 members of our club attended the District 12 'International Rally' in aid of 'Water Aid' at Ditton. We had been asked to wear 'Blue' which is the colour of Water Aid's logo. We were very smart in our blue club sweatshirts or polos, and money aprons. Club President Janet provided a twig tree to display the wooden angels on and we had display shelves and boxes provided by Barbara and Gill, which made our stall look very professional! It was devoted to 'Angels' in many different forms, ranging from wooden carved angels, pottery, paper, knitted and peg doll angels to 'angel' key rings and Christmas cards, most of which had been made at our 'Craft Day'. We were delighted to hear that the money raised will be match-funded by the British Government. There were several new stalls this year as well as our 'Angels' stall, and as usual we all toured the other stalls with interest, spending money on such diverse activities as 'Christmas arrangements', Tombola and 'Lucky Numbers Wheel'. We shall be using the twig tree again for our IW entry to the St Thomas' Christmas Tree Festival, which starts on 2nd December.

Thursday, October 19th Meeting
At our last meeting we welcomed our District Chairman Ruth Portway and Eileen Docherty. Eileen is Chair of the Thanet Group of Diabetes UK which is Ruth's chosen charity for the year. Earlier this year, our Vice President Lily, held a Strawberry tea to raise money for Diabetes UK. She was delighted to present Eileen with a cheque. After the presentation, Ruth spoke to us about Inner Wheel, having obviously done some research on our own club. She congratulated us on our wide range of social and charitable events, and was keen to come to other events which we were holding, if she had the time. Presidents Janet Knuth and Margaret Hawkins presented Ruth with a book of pictures about Old Birchington, and she gave each of the Presidents, a Hebe, which she assured them was easy to grow even in our 'salty' seaside environment.
Pictures show Lily and Eileen with the cheque and L to R Janet, Eileen, Ruth and Margaret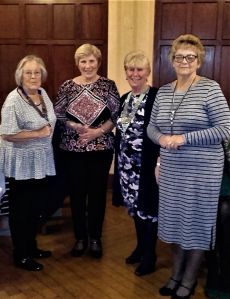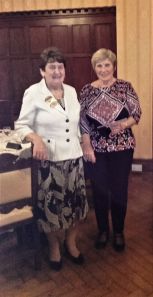 Wednesday, 4th October Craft CAMEO
We assembled in the Bay Church Hall for a Craft Day CAMEO to make 'Angels' for our stall at the International Rally.
We were making 'angels' to be sold in aid of 'Water Aid' at the District International Rally, in November. The theme of 'Angels' was chosen because the Rally will be held close to Christmas, and we thought 'angels' could be used in many different ways at Christmas time. Several different forms of angels were made, ranging from knitted and 'peg doll' angels to Christmas cards. Members sewed, stuck, cut out and decorated, while chatting and enjoying frequent refreshments during the day. At the end of the day, a large number of peg dolls, numerous knitted angels and many packets of cards had been made, with many people taking materials to make more at home.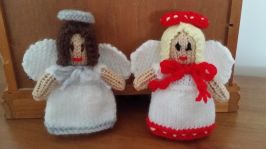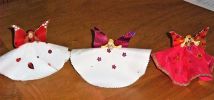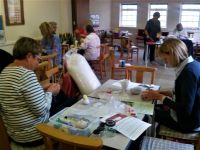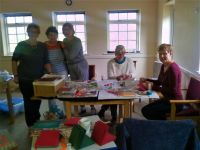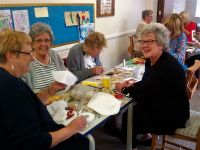 Some angels are also destined to decorate our entry for the 'Christmas Tree Festival' at St Thomas Church, Minnis Bay, which will be on show during the week, 2nd to 9th December.
On 21st September Speaker Raychel Mount from the 'King Street Greening Project'
We were delighted to welcome, as our speaker, Raychel Mount from the 'King Street Greening Project'. She talked to us about her initial idea of making a 'green' area in King Street, Margate, 'connecting people and nature in Margate'. The aim is to reintroduce plants, trees and all things green back into our busy town environment, with the aim of improving the well-being of residents and visitors alike. They want to create a nectar oasis for pollinating insects as part of the www.plantpotsforpollinators.org campaign and re-introduce life and nature in an urban setting for the benefit of all who pass through it. This initial aim led on to several other initiatives, the first being the Listening Wall. This is a vibrant, 28 metres long wall of plants, dedicated to providing a safe place for the public to share emotions safely. This is in two parts; The Loving Wall – Where messages of love, hope, connection, positivity and unity can be written and expressed on a large chalkboard heart for the world to see and enjoy and The Listening Wall – Where those struggling to feel the love, can express more painful emotions by posting private messages through letterboxes in the wall, to be read by a peaceful, respectful and non-judgemental Listening Group, enabling them to feel heard in a safe environment, and without hurting those around them. The group does not offer any advice or solutions; however, they passively lend an ear and appropriate space to people who need to be listened to. The idea then spread to introducing a 'Help Yourself Herb Garden' which encouraged people to use fresh herbs in their cookery, to encourage children to understand where their food comes from and that growing plants is useful for nourishment as well as for pleasure.
Since poetry is an expressive and artistic medium of communication, they decided to use it for their signboards on-site! The poetry signs were written by Adiroopa Mukherjee who is a poet and graduate student at the University of Kent. We were absolutely fascinated by Raychel's talk, and were keen to be informed of any other initiatives that Raychel is involved with.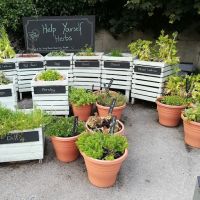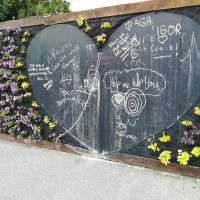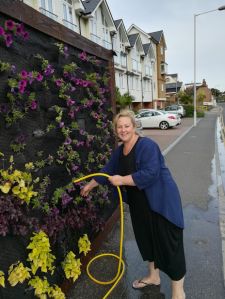 Wed 6th September CAMEO 2.30pm Lily's home, in aid of DC's charity, Diabetes UK
Lily held a very successful CAMEO Strawberry Cream Tea in aid of our D12 Chairman's charity, Diabetes UK. We had been a little concerned about the weather as Lily was expecting over 30 people to attend, and could not easily have seated that many people in the house. Fortunately the weather remained kind until the end of the afternoon, when grey clouds appeared! Although we hastened to get the tea things inside, we didn't need to worry as the rain held off! The beautifully tended garden (courtesy of Eddie, Lily's husband, who is a wonderful gardener, specialising in glorious dahlias!) was brightly laid out with tables, chairs and umbrellas for all to enjoy, and we tucked into delicious finger sandwiches, scones, cream and jam, and many choices of yummy home-made cakes. A raffle was also held which added to the proceeds. Thank you Lily, (and Eddie!) for a lovely afternoon.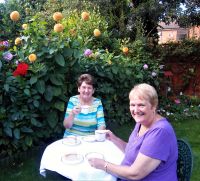 Saturday 2nd September Club Quiz Night
At our first fund-raising event of this year, over 100 people brought their own refreshments and drinks/glasses, the entry charge being in aid of our community projects, (the first of which is the provision of a shower on the beach at Minnis Bay). There was a very successful and profitable raffle in aid of our International charity, BookAid. Thank you to all the people who attended and made it such a success. The Broadstairs Inner Wheel team won in fine style! Congratulations to them!
Sat 5th QEQM Hospital Fete 10.30am—1.30pm
Members manned a Bric-a-Brac stall at the League of Friends of Queen Elizabeth Queen Mother Hospital Fete. Many of us wore our club polo shirts, and we were all resplendant in money aprons in blue and yellow (the colours of Inner Wheel). There was a large pile of Bric-a-Brac collected from all over the area, awaiting us when we arrived at 9am. Just as the tables were beginning to groan with goodies for sale, the rain started, but we were fortunate that it didn't last long, and by the time the fete opened at 10.30 the bad weather had cleared and the sun emerged. We were kept busy selling until the close of the fete, and when we totted up our sales we discovered we had made a substantial sum for the League of Friends funds. Thank you to all the generous people who donated their Bric-a-Brac to the collection, and those who bought our wares.
Pictures show some members standing by the stall, two of our newest members helping at their first Hospital fete and President Margaret and Immediate Past President Rose with the Mayor of Ramsgate.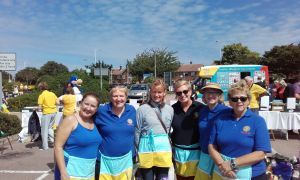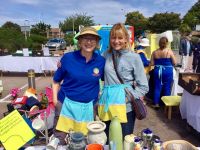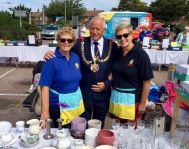 Tues 1st August Evening @ the Beach Hut, Minnis Bay 6.00pm
We gathered at the Beach Huts at Minnis Bay, for our traditional 'Sunset' CAMEO. We admired the view of the setting sun, and enjoyed the delicious nibbles and drinks, thoughtfully provided by President Margaret.
Tues 11th July Visit to Walmer Castle
President Janet organised a trip to Walmer Castle with a 'Fish 'n' Chip Lunch at the Zetland Arms, Kingsdown. Friends and partners joined us for an interesting tour of the castle and a delicious lunch. In typical Inner Wheel fashion, we have photos of the food part of the outing and not the cultural part!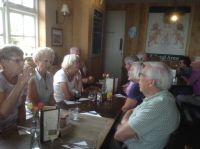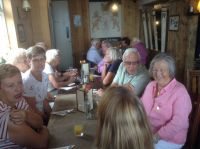 Our Programme of Events 2017 - 2018
July 2017
Tues 11th Visit Walmer Castle followed by lunch (1pm) @ Zetland Arms, Kingsdown. Meet @ Castle 10.30am
Wed 12th District New Presidents' Lunch DC Ruth's home, Chatham
Thurs 20th Club Business Meeting St Augustine's
Thurs 27th District Club Officers' Assembly 10.00/10.30am Ditton
August 2017
Tues 1st Evening @ the Beach Hut, Minnis Bay 6.00pm
Sat 5th QEQM Hospital Fete 10.30am—1.30pm

Thurs 17th Committee Meeting 10.30am Liz Stefaniak's home
September 2017
Sat 2nd Club Quiz Night 6.30/7pm Kearns Hall BYO Food & Drink £5 Community Project /Raffle for BookAid
Wed 6th September CAMEO 2.30pm Lily's home, in aid of DC's charity, Diabetes UK
Thurs 21st Club Meeting Speaker Raychel Mount 'Margate Greening Project' St Augustine's
Wed 27th District CAMEO Lunch 12/12.30pm Chart Hills Golf Club, Biddenden, TN27 8JX
October 2017
Wed 4th CAMEO 10.30am Bay Church Hall Preparation for International Rally
Thurs 19th Club Meeting Visit by DC Ruth & member of local Diabetes UK to receive cheque
Wed 25th District Meeting 10/10.30am Ditton
November 2017
Wed 1st CAMEO 10.30am Jacquie's home,
Wed 8th District International Rally for 'Water Aid' 10/10.30am Ditton Wear Blue!
Thurs 16th Club Fellowship Meeting 'Show & Tell' St A's
December 2017
Wed 6th CAMEO Wyevale Garden Centre 10.30am
Thurs 7th Christmas Dinner St Augustine's
Fri 29th Christmas Drinks & Canapés (with partners) 12noon to 2pm Kearns Hall
January 2018
Wed 3rd CAMEO 2.30pm Liz Stefaniak's home,
Wed 10th World Inner Wheel Day 'Pub Supper at the Inner Wheel Spokes' Bay Church Hall 6.30/7pm
Fund-raising for Minnis Hub Day Centre
Mon 15th Committee Meeting 10.30am Pres. Janet's home,
Thurs 18th Business Meeting St Augustine's
Wed 31st Convention Proposals Discussion Meeting 10/10.30am Ditton
February 2018
Wed 7th CAMEO 10.30am Hazel's home,
Thurs 15th NO FORMAL MEETING Supper at Pres. Janet's home, 6.30/7pm
March 2018
Wed 7th CAMEO 10.30am Christine's home,
Wed 14th District Meeting 10/10.30am Ditton
Thurs 15th Club Meeting Speaker Minnis Bay Hub Leaders
Mon 19th—Wed 21st Association Conference Bournemouth staying at Royal Bath Hotel
April 2018
Wed 4th CAMEO 'G and T' 4.30pm Pres. Janet's home,
Wed 11th— Sat 14th International IW Convention Melbourne, Australia
Sat 14th Arts & Books Festival for BookAid all day Birchington Village Centre (International Fund-raiser)
Thurs 19th Club Meeting - Italian Evening St Augustine's
Wed 25th District Quiz 6/6.30 Ditton
May 2018
Wed 2nd CAMEO 2.30pm Barbara's home,
Mon 14th Flower Arranging Demo & Afternoon Tea by Mrs Alison Mount, in aid of Community Project, St Augustine's Chapel, Westgate.
NO FORMAL CLUB MEETING IN MAY
Thurs 17th Outgoing Committee Meeting 6.30pm Pres. Margaret's home,
June 2018
Tues 5th District Rally 11am Photos 12/12.30 Lunch Mercure Great Danes Hotel, Maidstone, ME17 1RE
Wed 6th CAMEO 2.30pm Rose and Veronica's Gardens
Thurs 21st Club Meeting AGM & Handover St Augustine's
President Rose's Year 2016 - 17
On 15th June we held our Handover Meeting and AGM.

Hazel Hedges in her last duty as District Membership Officer was delighted to present long-standing member and past President Jean Lewis with a certificate celebrating 50 years membership. She is shown here with Hazel and President Rose.

After the reports from President Rose and her committee, badges were handed out and the new committee and the new joint Presidents, Margaret Hawkins, left and Janet Knuth, right were presented with the chain by IPP Rose.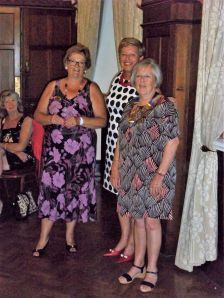 At the beginning of June we were delighted to be present at the formal opening of the recreation equipment and picnic table and bench at the Dip in Minnis Bay, which our hard work has provided. We all sat around the semi-circular bench and table for a photo opportunity and some of us tried out the swings for speed and size!

The local paper, 'The Isle of Thanet Gazette' reported on our Community Project.
President Rose, and members of the Inner Wheel Club of Westgate and Birchington, are delighted that their community project for this year is now completed. With the help of a Kent County Council community grant, our own fundraising, and the help of Thanet District Council, we have been able to have swings, a picnic bench and see saw installed at the playground at The Dip at Minnis Bay. President Rose said 'We are very grateful for the support of Shuna Body, Community Liason Officer from KCC, Cllr. Suzanne Brimm, Councillor for the Birchington South Ward, and Cabinet Member for Operational Services at TDC, and Scott Walker and Peter Battell, of TDC Recreation Department, who installed the equipment for us. It is a pleasure to see the local community and visitors alike enjoying the playground.'
Grateful thanks to Roger Hobcraft for the photos.
At the end of May, several of our members along with their Rotary partners, visited Poitiers for the annual reunion of the 3 contact clubs, Westgate & Birchington RC, Poitiers Futuroscope and Darmstadt Kranichstein. The weather turned its full force on us with temperatures of over 35C which many of us found a bit too warm for sightseeing. However, we enjoyed 3 days of eating, drinking and fellowship with the French and German Rotarians and many of the ladies from Poitiers Inner Wheel. Some of us then added on a few more days in France to complete the short break.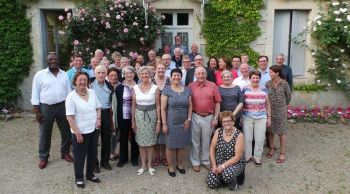 In her job at the Ramsgate Surgery, before retirement, President Rose used to lead a 'Health Walk' and so, as she wants to keep us healthy, she suggested that we might like to go for a walk, ending up at a pub for a lunch. (That part was probably not quite so healthy, though enjoyable!)
On 10th May a group set off from the Rising Sun pub at Stourmouth, to walk in a circular route back to the pub for lunch. Other members, not walking, met us at the pub for the lunch. We paused during the walk to look round Stourmouth church, and churchyard, which was beautifully kept. Along the way we passed the river where there were several swans, and looked at lovely views across open countryside.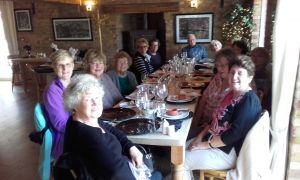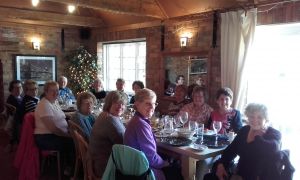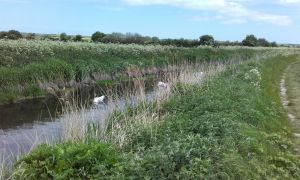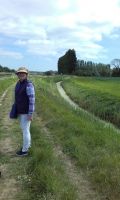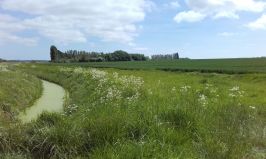 Our District Quiz team comprising

Vice President Margaret Hawkins, Lily Doody and President Rose Brightling

acquitted themselves very well.

Hazel Hedges played on the Cranbrook and Hawkhurst team, which tied for first place with Folkestone, but came second after a 'sudden death final question'.
Sadly, just four of us this year attended the Inner Wheel Conference in Nottingham. The attendees were Hazel Hedges, Lily Doody, Janet Knuth and Margaret Hawkins. We had a very enjoyable conference, and were particularly impressed with the speakers.
| | | | |
| --- | --- | --- | --- |
| After a long drive when we were held up by traffic jams, we felt in need of a strong drink on arrival! | Janet celebrated her birthday while we were away. | We enjoyed watching the magician who entertained us after our get-together dinner with District 5. | We wore our Canterbury Bells badges |
The speaker on 16th March, Susan Johnson, is part of the Powell-Cotton family, who now lives at Quex Park in Birchington. She gave us a very interesting and informative talk on the 'Women behind the Powell Cotton Men'.

On 2nd March, the 'SING FOR YOUR LIFE' roving team, comprising of Hazel Hedges, President Rose Brightling and Liz Stefaniak made their first visit to the Age UK Day Centre in Margate for a singing session. They went again with another member, Liz Hobcraft on 18th April, and the team have made several visits since then.
Happy Valentine's Day!
On Valentine's Day, the club held a Valentine's Morning Cuppa CAMEO at the Scout Hut in Prospect Road, raising funds for DC Dotty's charity, British Heart Foundation. It was well supported by local people, and towards the end of the morning, 24 members of the 'Birchington Health Walkers' called in for their after-walk coffee, which helped to swell the funds! The tables were all laid with red cloths, and there was an abundance of hearts scattered about!
Members without a 'Valentine' were presented with a 'Hug in a Mug'.
A 'Hug in a Mug' is a gift wrapped tea bag with a poem attached.
'I cannot sit with you the way I'd like to do,
So brew yourself a cup of tea,
I'll think of you and you think of me!'
At our January meeting we were delighted to listen to a talk on 'The Generosity of the People of Birchington' from Neville Hudson.
To celebrate World Inner Wheel Day, on 10th January, we have been out and about in Westgate and Birchington villages, delivering posies or plants to ladies in the District, accompanied by a label with a red rose and our logo on saying who we are, what we do and giving contact details for anybody interested.
Wording reads
'World Inner Wheel Day, 10th January, Westgate & Birchington Inner Wheel Club would like you to accept this little gift given in friendship.
Inner Wheel is 'women in action, working together to make a difference and improving lives' its objects are; to promote true friendship, to encourage the ideals of personal service and to foster international understanding.
If you would like to know more see www.innerwheeldistrict12.org.uk orwww.innerwheel.co.uk or call our Membership Officer, Janet on xxxxx '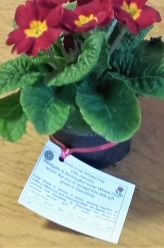 I delivered mine to several ladies working in our local shops, and to some housebound elderly ladies who don't see many people.
We have done this for several years now and it has always been very well received. Afterwards we all met up at a members' home for coffee and to discuss what we had done.
On 4th January, President Rose invited members for a 'Coffee and Cake CAMEO' (Come and Meet Each Other) at her home. She was concerned that perhaps members had been too frugal over Christmas and probably needed fattening up!

We enjoyed a delicious Carvery Meal for our Christmas Party Night. The draw for the Quilt was made and the winner was an honorary Rotarian Widow, who was delighted. A substantial sum was raised for our Community Project.
We were delighted to welcome a new member, Wendy Edmeades, to our club.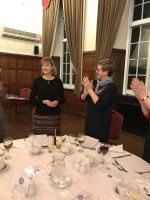 Several members helped the Rotary club with their 'Santa Sleigh' raising money for local charities.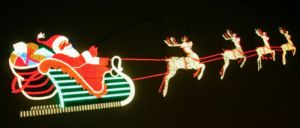 Another talented member, Gill Condron, hosted a 'Christmas Decorations' workshop at her home and kindly donated the proceeds to our Community project.

During November a 'Christmas Tree Festival' was held at St Thomas Church in Minnis Bay, and we entered an exhibit, made again by our talented Carla.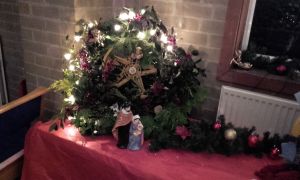 At our November meeting it was 'eyes down' for a spot of Bingo at a casual 'dress down' social evening.
In November we met up for a coffee and a chat at the Wyevale Garden Centre, and several of us bought Christmas goodies from the colourful Christmas displays.

We made a substantial amount for the District International charity and then enjoyed a delicious lunch.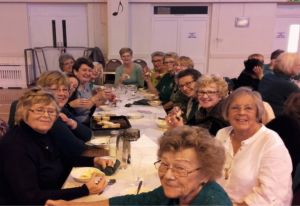 A large contingent of our members attended the District International Rally, at which we ran a 'Chocolate Tombola'. members contributed 'all things chocolate' from a tin of drinking chocolate to a box of Belgian chocolates.Here is President Rose and International service Organiser Lynda MacGowan at our stall.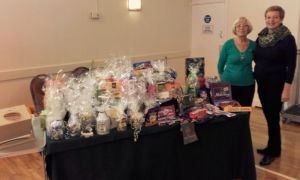 We had a visit from our District Chairman, Dotty Boardman, in October. There was a great deal of reminiscence from our more long-standing members because Dotty was the Founding President of our club when it began 33 years ago.
On Tuesday 18th October, Lynda MacGowan, our International Service Organiser, invited us to a light lunch with speaker, Jacquline Aviolet, who gave a talk entitled 'I'm a tulip. What are you?' which was most amusing. A delicious lunch was provided and raised a substantial amount for our District International Charity, 'Healthcare Ethiopia Partnership'.

At the September meeting, Hazel showed a beautiful handmade quilt that she would be raffling for our club community charity. Tickets £1 each. it will be drawn at our Christmas party.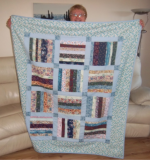 A number of us attended the CAMEO Lunch at the Pilgrims' Hall restaurant, The Friars, Aylesford.
Immediate Past President Angela Norman presented a cheque to the midwives at QEQM Hospital towards the Bereavement Suite in the Maternity Ward.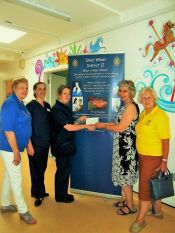 Our members manned the bric-a-brac stall at the QEQM Hospital Fete.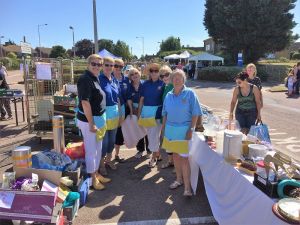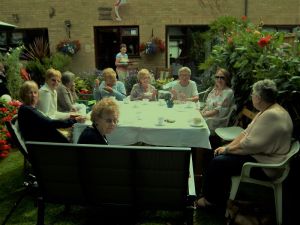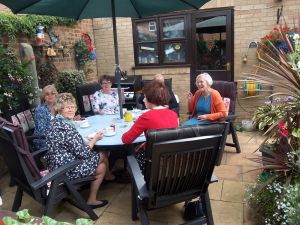 Wednesday 3rd August 'Strawberry Cream Tea' at Lily's home
in aid of President Rose's charity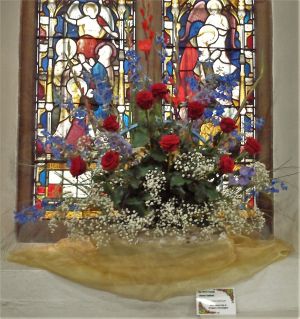 In June our club entered the Flower Festival at All Saints Church in Birchington
with a beautiful arrangement done by Carla

Monday 25th July A trip to Tenterden and Hole Park with friends and partners
(Photo by Roger Hobcraft)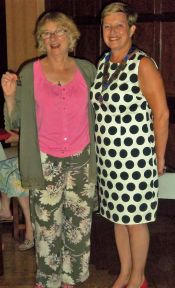 Thursday 21st July President Rose reveals her programme.
New Member Penny Fisher on left inducted by President Rose on right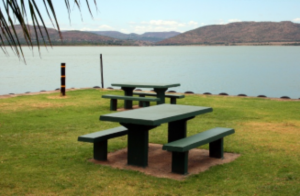 President Rose's Charity
We shall be concentrating on a local community project this year, raising money for benches and picnic tables for 'The Dip' at Minnis Bay, so that people coming to our wonderful beaches can picnic and enjoy the sunshine even when the tide is in. We also want to raise money to install swings for older children, as there are only baby swings in the playground.

Highlights from previous years!
New member Gill

with her sponsor, Barbara and

President Angela and DC Hazel







Nurses from the Ethopia Health Partnership at the Frugal Supper




President Angela presenting a cheque to the nurses at the 'Bereavement Room' QEQM

'Swish' Evening

Our Stall at the

International Rally

Carla at our

'Show and Tell'

Craft Evening




Parkinson's Coffee Morning







Thanksgiving Dinner

Beach Hut CAMEO




President Angela and Sue

with a leprechaun

on St Patrick's Night


Jacquie and Carla dressed in green

on St Patrick's Night.







Petticoat Lane Market

CAMEO



Past Presidents' Roll of Honour
Mrs D Boardman 1983 - 1984 Mrs J Jackson 1984 - 1985 Mrs D Abrahams 1985 - 1986
Mrs C Wilkinson 1986 - 1987 Mrs D Taplin 1987 - 1988 (Past District Chairman)

Mrs Daphne Fisher 1988 - 1989 Mrs Elaine Walker 1989 - 1990 Mrs Iris Harvey 1990 - 1991

Eileen Heigl 1991 - 1992 Elizabeth Hobcraft 1992 - 1993 Margaret Jones 1993 - 1994

Jean Lewis 1994 - 1995 Bobby Kulasinghe 1995 - 1996 Kate Morgan 1996 - 1997

Louise Stokes 1997 - 1998 Janet Harvey 1998 - 1999 Susan Wade 1999 - 2000

Wendy Mitchell 2000 - 2001 Iris Harvey 2001 - 2002 Bobby Kulasinghe 2002 - 2003

Gwennyth Hogsden 2003 - 2004 Angela Norman 2004 - 2005 Sarah Seyler 2005 - 2006

Margaret Hawkins 2006 - 2007 (Past District Chairman) Janet Harvey 2007 - 2008

Wendy Mitchell and Iris Harvey 2008 - 2009 Susan Wade 2009 - 2010

Kath Porteous 2010 - 2011 Lily Doody 2011 - 2012 Rose Brightling 2012 - 2013

Hazel Hedges 2013 - 2014 (Past District Chairman) Maureen Dunderdale 2014 - 2015

Angela Norman 2015 - 2016 Rose Brightling 2016 - 2017