Previous District 12 International Rallies
The District International Service Rally in 2016 was held on
Wednesday 2nd November from 10.00am to 3pm
Here are some photos from 2016 Rally.
Our charity that year was Healthcare Ethiopia Partnership.
The Colour Theme that year was Green, which is one of the colours of the flag of Ethiopia.
| | |
| --- | --- |
| | |
| The Top Table with Speaker, Kate Mockeridge, representing the Healthcare Ethiopia Partnership, the International Chairmen for Districts 13, 14 and 25, District 12 International Chairman, Susan Midgley, DC Dotty and the 3 Area International Officers. | D12 ISC Susan presents Kate Mockeridge with a cheque |
Overseas Rally 2012
An Overseas Rally is held at Ditton each year in aid of the Overseas Service Chairman's charity.
On 5th November 2012 Linda Taylor, District Overseas Service Officer, organised a superb day.
Her charity for 2012 is 'Sightsavers'.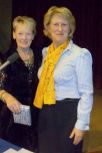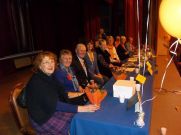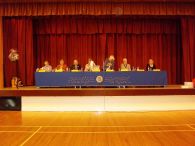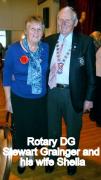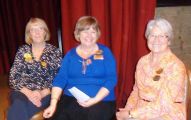 Above Left to Right; Association Overseas Service Chairman, Trish Douglas, and District 12 Overseas Service Chairman, Linda Taylor. Top Table from Left; Corry Nitzsche, volunteer doctor for Sightsavers. Top Table from Right; District 25 Overseas Service Chairman, Pat Thorne, District 14 Overseas Service Chairman, Lynda Talbot. Rotary District 1120 Governor, Stewart Grainger and his wife, Sheila, (a member of Darent Valley Inner Wheel club). Overseas Service Area Organisers, L to R Gillian Heath, (East), Maureen Trelfer, (North) and Una Genty, (South).
A Presentation was given about the work of Sightsavers by Corrie Nitzsche, a volunteer doctor for the charity.
Each club in District chose a stall or competition to tempt the buyers and the stalls and most of the members were decked out in 'Blue with a touch of Orange', the Sightsavers theme colour. After a hard morning's selling, an excellent lunch was served by Sharon O'Meara and her team, and she was presented with a bouquet by Linda Taylor. Treasurer Dot Boardman added up the proceeds and the magnificent sum of £3,800 was raised.