Deal Inner Wheel Club
About our Club
The Inner Wheel Club of Deal has 36 members. We usually meet at lunchtimes at the Deal 1919 Angling Club on Deal's beautiful seafront on the first Monday of the month, except August or unless it is a Bank Holiday. Several times a year our meetings are held at various local restaurants or garden centres. At our meetings we enjoy the company and friendship of each other whilst sharing lunch, organising fundraising activities and listening to speakers. We are always looking for innovative ideas to raise funds for local, national and international charities. We also support the Rotary Club of Deal with their charity projects and join them for social gatherings.
We hold four coffee mornings a year, usually in a member's home, with the proceeds going to a chosen charity. We have recently started to get together monthly over coffee in a local cosy café. The Committee organises social outings to places within easy distance which appeal to members.
Our President's charity for the year 200/2021 is Porchlight. Already many members are busy making face masks for this charity, supported by other members who contribute financially. We also hope to hold a concert in a local church later in the year, with a performance by a well-known local choir, with the proceeds going to Porchlight.
Please note that, due to the COVID virus, we are not currently meeting at the Deal 1919 Angling Club, though we will resume our meetings there as soon as it is deemed safe to do so. Instead we are holding Club and Committee meetings by Zoom. We are keeping our members together by bringing together small groups for tea and coffee in members' gardens. Our President has organised two competitions, each with surprised and delighted winners. A third, on the theme of "Autumn" has just been launched. A monthly Newsletter is sent to members with photos and social news. You will find previous issues on this website. Throughout this testing time, our members continue to support charities through donations, making masks and knitting. Many are finding ways to rise to "Challenge 88" launched by our Joint District Chairmen.
For further information please use 'Contact Us' link at the bottom.
Club Officers for 2020 to 2021


Name
Office
Jennifer Van Lens
President

President's Charity

Porchlight



Janet Barkway

Vice President



Frances
Evison
Secretary and Membership


Jennifer Van Lens
Treasurer


Gillian Heath

International Service Organiser
Pamela Misson
Club Correspondent


Liz Lister

Membership Officer

Deal Newsletter February.pdf

Programme 2020/2021
INNER WHEEL CLUB OF DEAL
2020/2021 PROGRAMME
The following Calendar gives you the District and Club dates but without much detail because of the current situation.
I would like to do a Concert with Pharos Choir, an Undercroft Sale and Strawberry Tea Fundraiser but obviously at the moment dates are unknown. My main charity for this year will be Porchlight as we did not do as much for this charity last year as I had hoped. As soon as we can we will also start our monthly get-togethers for coffee.
Until we can meet together within Government guidelines, our monthly meetings will take the form of a Zoom Meeting, which I hope as many of you as possible will join. We may have Speakers at these meetings.
The Committee will meet via Zoom monthly and also consider carefully and imaginatively how we can bring us together.
I have no doubt you understand that we are in difficult times and full information will be given to everyone as soon as guidance helps us to develop the Calendar.
President Jennifer
Events for 2021
This year's programme
| | | |
| --- | --- | --- |
| Date | Details | Venue |
| 2020 | | |
| Mon 7th Sept | Club Meeting - Harvest with Address by District Chairmen | |
| ? Sunday in September | Sponsored Mini Walk with Rotary | Leaving from Angling Club |
| ? September | CAMEO tea | |
| Mon 5th Oct | Club Meeting | |
| Thurs 22nd Oct | District Meeting | Zoom |
| Thurs 12th Nov | International Rally | |
| ? November | Pam's Coffee Morning | Pam's Home |
| Mon 7th Dec | Club meeting and Christmas Lunch | |
| ? December | Jan's Coffee Morning | Jan's home |
| 2021 | | |
| Mon 4th Jan | Club Meeting | |
| Sunday 10th Jan | World Inner Wheel Day | |
| Mon 1st Feb | Club Meeting | |
| ? February | Ten Pin Bowling | Margate |
| Mon 1st Mar | Business Meeting/ Election of Committee for 2021/22 | |
| Wed 24th Mar | District Meeting | Ditton/Zoom |
| Tues 6th Apr | Club Meeting | |
| Wed 28th Apr | District Quiz | Ditton |
| Tues 8th May | Club Meeting | |
| Mon 7th Jun | Club Meeting | |
| Sun 13th Jun | Sponsored Walk from Angling Club with Rotary | |
| Wed 24th Jun | District AGM and Handover | Ditton |
| Mon 5th July | Club Meeting AGM and Handover | President's Home |
If you are interested in any of these events please contact us on the Contact US link
Gill, Frances and Pam, Deal members, proudly display their wreaths made at the Ashford Inner Wheel Workshop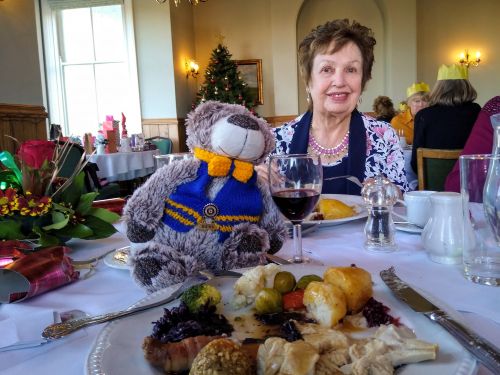 Pebbles and Barbara enjoying Christmas Lunch and a glass of wine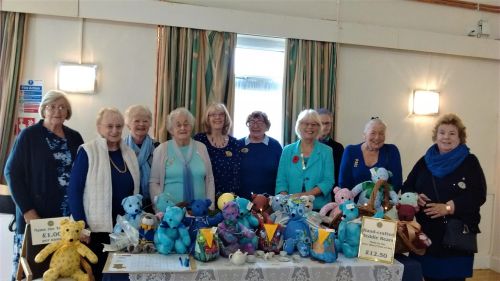 Can you spot Pebbles? He's enjoying the beautiful hand made bears at the International Rally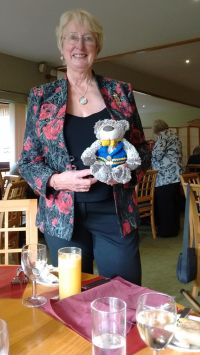 Porchlight Bear, Pebbles,enjoying the Mystery Tour with President Jennifer Van Lens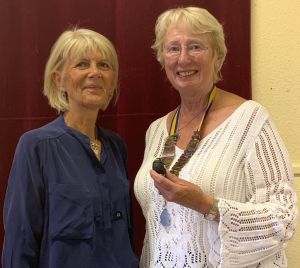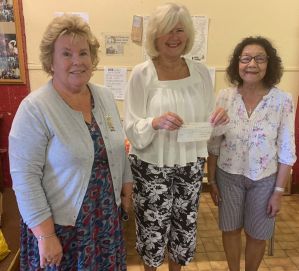 A presentation from the Blackbird Project, Talk it Out, a support group for people with mental
creating a vocal memory for the terminally ill. health issues, receive a donation at our Harvest Lunch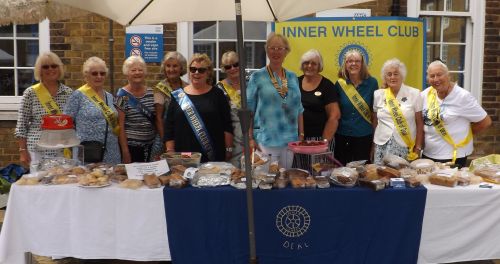 Members made delicious cakes, scones, bread and pies for the stall at the Deal Hospital Fete. It was a beautiful, sunny day and we sold out very quickly, raising a very good contribution for the hospital.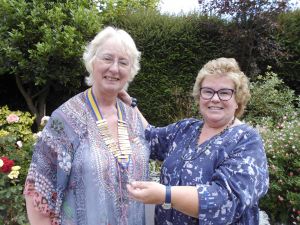 Jennifer Van Lens accepting the office of President 2019/20.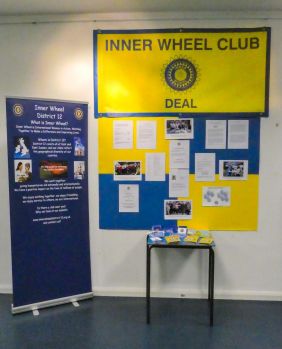 Our Club display in Deal Library during March.
Do go and have a look if you are in Deal.
| | |
| --- | --- |
| | Hearing Dogs for the Deaf volunteer, Janet, gave a very informative talk about the work of the charity and a good insight into the training for Hearing Dogs and their prospective owners. She introduced us to her gorgeous dog, Bilboa, who is not only excellent company for Janet but also 'nudges' her when she needs to be aware of a variety of noises or situations, and gives her confidence when she is out and about. |
14 members had fun 10 pin bowling followed by a delicious lunch at the Ambrette, Margate. Top scorer, Ann was bowling for the first time. Well done Ann.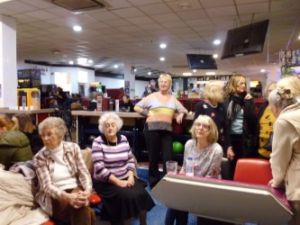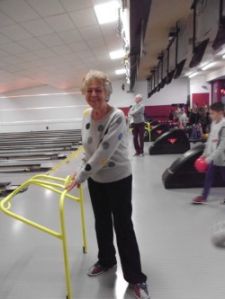 St George's Hall, Deal looking organised and welcoming for our Public Coffee morning, where we raised an impressive amount to help the Dementia Unit at Deal Centre for the Retired. It didn't stay empty for long!
Thank you to all who attended.



Deal Inner Wheel Members Valerie and Pam with a delightful cat that purrs and interacts and is greatly appreciated by people with Dementia who like to stroke and cuddle her.
With the funds raised at the Coffee morning, Deal Centre will be able to buy more cats, as well as continuing their music sessions.






| | |
| --- | --- |
| | A delicious tea at The Bell Inn Sandwich cheered us all up at the February Meeting. Sandwiches, scones with jam and cream, cake and tea plus the company of friends; couldn't be better. |
| | |
| --- | --- |
| | Lyn and Andree are welcomed as new members at the International Inner Wheel Day meeting, 10 January 2019, when Inner Wheel Clubs across the world celebrated the organisation. |
Christmas Coffee Morning, where we raised funds for the Queen Mother's Clothing Guild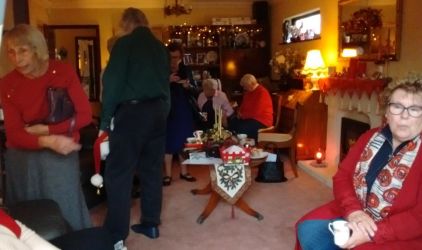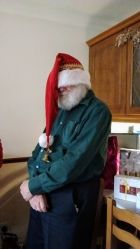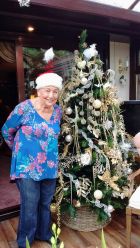 Members, friends, neighbours and Rotarians, with hosts Jan and Cliff. P.S. the beard is real!
Christmas Lunch at Royal Cinque Ports Golf Club
New member, Sue Hackett, receiving her Inner Wheel badge from President Frances at the Christmas lunch.
Members tucked into a delicious turkey lunch and exchanged gifts in the Secret Santa raffle. Hats and crackers added to the festive cheer.
International District Rally Chris Head- Rapson, centre, lucky winner of the quilt made and donated by our member Thea, right, with Deal International Service Representative, Gill, left. Raising funds for Care International.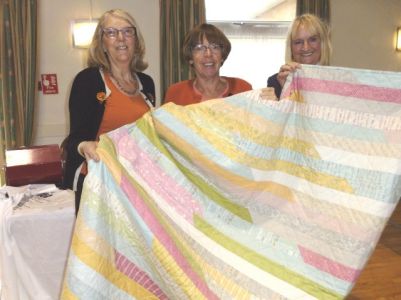 November Meeting
We were delighted to welcome new member Tracey Aplin told her quilting story and showed
Louise, who was inducted by President Frances us her amazing and ispirational quilts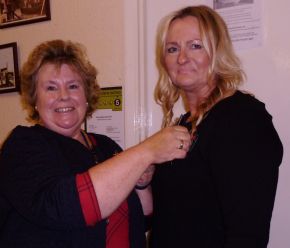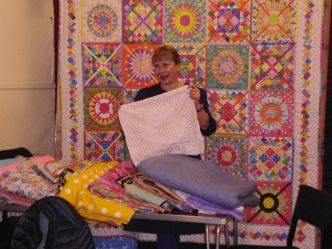 In October we enjoyed a delicious fish and chip lunch at

Deal.
International Peace Day when President Frances planted a Peace rose at Kingsdown and Ringwould Primary School, with the teachers and pupils, and members of Inner Wheel Deal.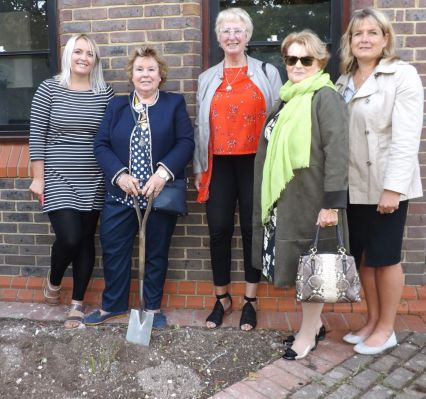 A jolly Harvest Lunch in September, when we welcomed District Chairman, Joan Styles (centre), whilst raising funds for Operation Sunshine. Thea (left photo) and Jennifer (right photo) receiving their officer badges.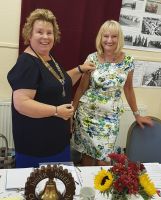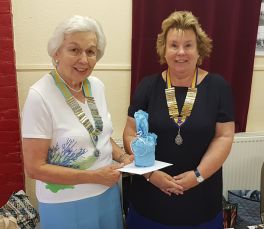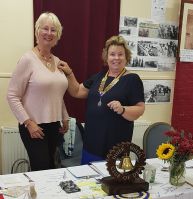 August 2018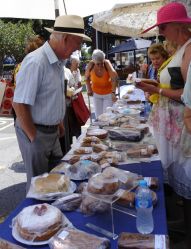 Raising funds for Deal Hospital League of Friends with our Annual Cake stall at the hospital fete.
A beautiful sunny day morning in August, in Ringwould, for coffee and cake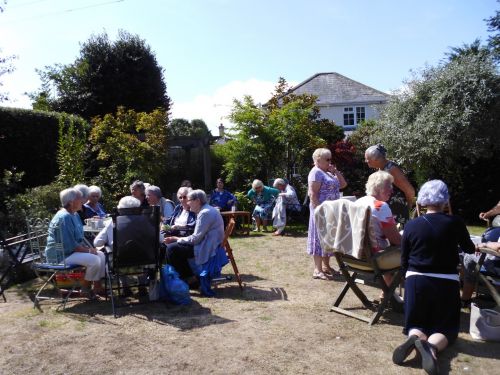 Some of our Activities 2017/18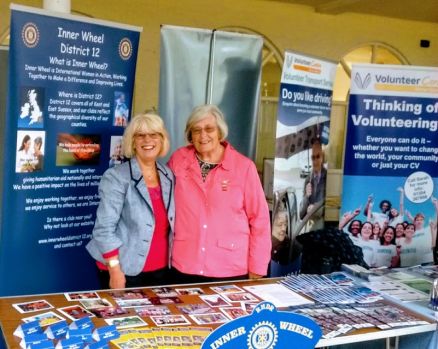 Our stand at Deal Good Neighbour Week

Deal members enjoying a happy day out on the Romney, Hythe and Dymchurch Railway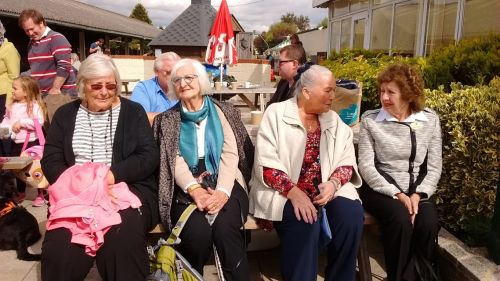 We organised a Fashion Show in aid of Carers' Support, Canterbury, Dover and Thanet at St George's Church. What a fabulous evening that was! We even had a visit from Father Christmas.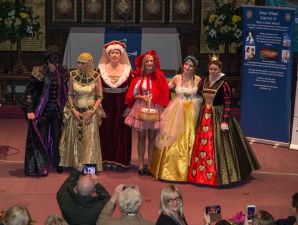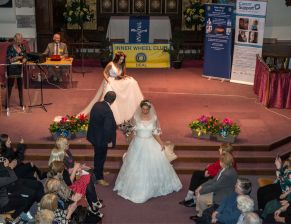 Sponsored walk with Deal Rotary, in June, in aid of Deal Hospital, followed by lunch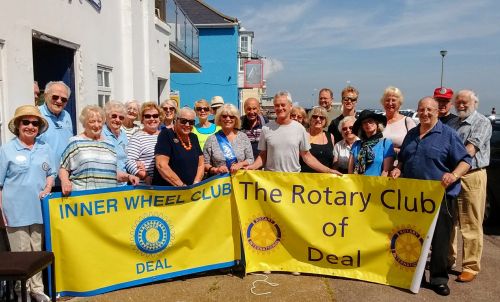 A presentation by the Blackbird Project, Talk it Out, a support group for those with creating a vocal memory for the terminally ill. mental health issues, receive a donation