Deal Inner Wheel Club
About our Club
The club has a membership of 30 and we meet usually at lunchtimes at the Deal 1919 Angling Club on Deal's seafront on the first Monday of the month except August or unless it is a Bank Holiday. Occasionally meetings are held at a chosen restaurant.
At our meetings we enjoy the company and friendship of each other whilst sharing lunch, organising fundraising activities and listening to speakers. We raise funds for local, national and international charities. We also support Deal Rotary Club with their charity projects and join them for social gatherings. We celebrated our 75th birthday last year.
A coffee morning is held every month, usually in a members' home with the proceeds going to a chosen charity.
We organise social outings to places of interest to members.
For further information please use 'Contact Us' link at the bottom.
Club Officers for 2017 to 2018
| | | |
| --- | --- | --- |
| | Name | Office |
| | Liz Lister | President |
| | Frances Evison | Secretary |
| | Jennifer Van Lens | Treasurer |
| | Gillian Heath | International Service Organiser |
| | Pamela Misson | Club Correspondent |
| | Barbara Cox | Membership Officer |
Forthcoming Events in 2017/2018
DATE

EVENT

VENUE

TIME

2017

4 Sept

Club: Lunch - Harvest Festival and visit by District Chairman, Ruth Portway

Angling Club

12.00

16 Sept

Rotary: RHDR Trip

Hythe

All day

21 Sept

Rotary: Deal's Got Talent - Astor Theatre

27 Sept

CAMEO Lunch

Biddenden GC

2 October

Club Meeting: Lunch out

Hythe Bay - Deal

12.00

5 October

Rotary: Deal 200 Club Draw

Cricket Club

25 October

District Meeting

Ditton

10.00

26 October

Rotary: 'End Polio Now' Quiz

RMA

30 October

Rotary: 'Gourmet' Evening

Dunkerleys

2 November

Rotary: Fashion Show

M&Co

6 November

Club Meeting: Lunch and Speaker: 'Canine Partners'

Angling Club

12.00

8 November

International Rally

Ditton

10 November

Provisional Date: Fashion Show Fundraiser for Carers' Support (to be confirmed)

St George's

7.00

13 November

World 'Be Kind Day'

15 November

Pam's Coffee Morning

The Maltings

10.30

4 December

Club Meeting: Christmas Lunch

Cinque Ports GC

12 December

Jan's Christmas Coffee Morning

Glack Road

10.30

21 December

Rotary: Dover Castle Service (Dover Club)

Dover Castle

2018

8 January

Club Meeting: Lunch provided by Committee - Desert Island Discs

Angling Club

12.00

10 January

Inner Wheel Day: Home visits to members

5 February

Club Meeting: Afternoon Tea

The Bell, Sandwich

2.30

5 March

Club Business Meeting: Election of Officers for 2018/2019

Angling Club

12.00

8 March

Rotary: Race Night

14 March

District Meeting

Ditton

10.00

19 - 21 March

Inner Wheel Association: Conference

Bournemouth

3 April (Tues)

Club Meeting: Lunch and Speaker (possibly with Rotary attending)

Angling Club

12.00

21 April

Rotary: St George's Day Dinner

25 April

District Quiz

Ditton

6.00

8 May (Tues)

Club Meeting

Angling Club

12.00

16 May

Deal Inter-club Lunch

Kingsdown Golf Club

12.00

19 - 20 May

Rotary Deal Triangulaire visit

3 June

Rotary and Inner Wheel Sponsored Walk

Angling Club

10.30

4 June

Club Meeting: Out

Venue tbc

5 June

District Rally

Heart of Oak

20 June

District: AGM and Handover Meeting

Ditton

30 June

Rotary Deal Handover

2 July

Club: AGM and Handover Meeting

Angling Club

12.00
---
---
---
We will be arranging a couple of outings during the year.
Further information will be available nearer the time.
What we have done?
International Inner Wheel Day
Lunch followed by a presentation by Riding for the Disabled (Cornilo Branch)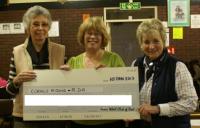 Speakers Lyn Dourthe (L) and Gay Waters (R) receive a cheque from 2012/13 secretary Elizabeth Evans
---
Transfered member
2012/2013 president Dot Boardman (L) welcomed Doreen Boylan (R) transferring from Thorne near Doncaster upon her move to Deal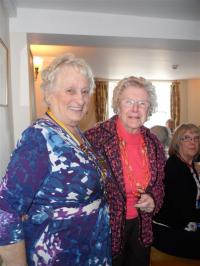 Recruitment Meeting
One of the many tables the club presented to promote Inner Wheel and attract new members.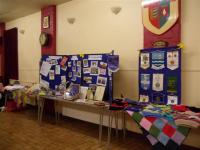 ---
The club's senior member
Christian Ball celebrated her 100th birthday with the club on 1st June.
Pictured here with her cards from the Queen, David Cameron and Ian Duncan-Smith.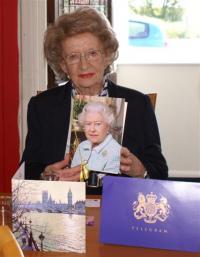 ---
New Member
2012/13 president Dot Boardman (L) presents new member Debbie Barry (R) with her club badge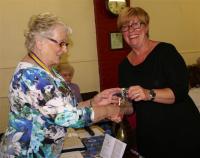 ---
Handover
Outgoing president Dot Boardman (L) hands the Collar of Office to incoming president Liz Evans (R)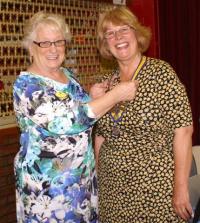 ---
The annual Deal Hospital Fete
Club members bake cakes for sale with all profits going to the Friends of Deal Hospital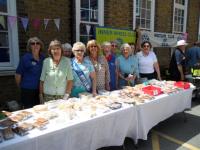 ---
Strawberry Tea
A fund-raising strawberry tea in aid of the Queen Mother's Clothing Guild. Approximately 60 ladies attended.