BROADSTAIRS INNER WHEEL
2018/19
About our Club
Broadstairs Club meets at The Yarrow Hotel, Ramsgate Road Broadstairs on 3rd Monday of the month. Meetings are held in the evening 6.45pm for dinner at 7.15pm, (except August). Our membership currently stands at 23.
For more information please use 'Contact Us' page
Broadstairs Joint Presidents' for 2018/19 are:
Patricia Barnes and Linda Short
Presidents' Charity
Kent & Sussex Air Ambulance
---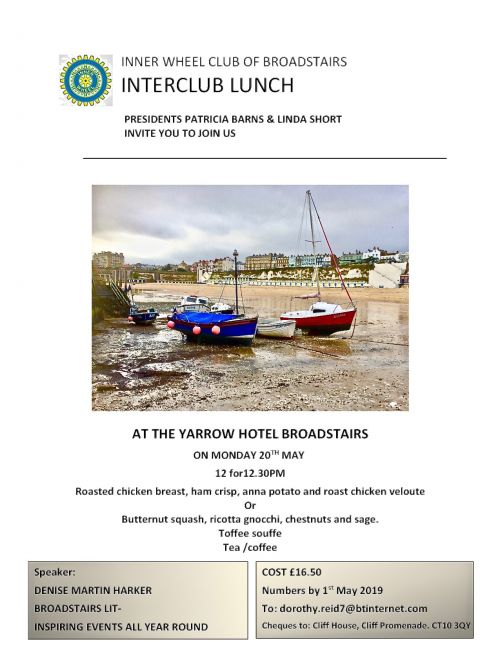 ---
BROADSTAIRS IW - WINE & WISDOM held on Saturday 23rd March raised £740 in aid of KENT AND SUSSEX AIR AMBULANCE. Thank you to all who took part we could not achieve this outcome without your support. THANK YOU.
---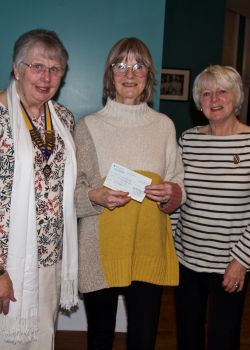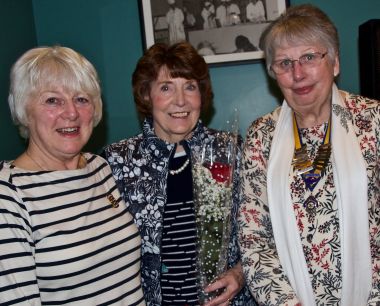 Monday 18th March
Speaker meeting at the Yarrow.
The speaker at our Business Meeting this month was Caroline Jones ( above left) who gave a very interesting talk on "Stories She Has Written". Presidents Pat Barnes and Linda Short are pictured with Caroline presenting a donation for the Cheerful Sparrows.
Pat and Linda are also pictured with Enid Collie who has recently joined Broadstairs Club having moved down from Sutton Coldfield.
---
Monday 18th February
BUSINESS MEETING & CLUB BIRTHDAY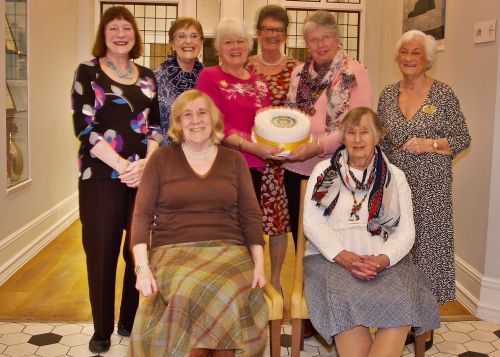 Broadstairs Inner Wheel celebrates its 64th birthday at the Yarrow Hotel in Broadstairs. Founded in 1955 the Club has changed in many ways over the years. Members no longer take the initial of their husbands, refer to each other as 'Mrs' or wear hats and gloves to a meeting. The very name 'Inner Wheel' has lost its meaning as now with the advent of 'Women in Rotary' the ladies of Inner Wheel have been forced to change direction. No longer expecting Rotarian wives to join the group as a matter of course, but looking out into the community for like minded ladies who enjoy working together to raise money for those less fortunate than themselves. As the link with Rotary recedes, as the ethos within the Club changes, members draw strength from being together and take pride in fundraising for the local community.
---
SPEAKER MEETING
Monday 21st January 2019
Lieut. Col Carl Whitehead from the Salvation Army on
"The beginning of the Salvation Army and What They Do"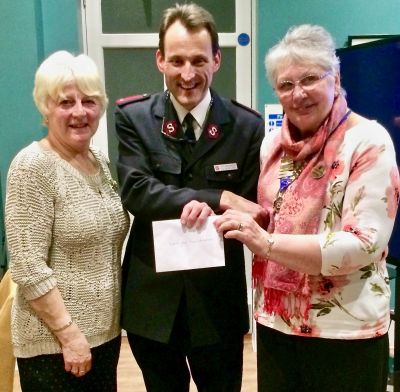 When IN 1865 the Salvation Army's founder William Booth was told by his son about all the homeless people sleeping on the banks of the Thames, his response was simple: 'Go and do something.' That was in the middle of the nineteenth century. Today The Salvation Army's philosophy is exactly the same.
Ahead of their time, the Booths took an innovative approach in demonstrating their faith by offering practical support to people in need out on the streets of London and beyond. As social justice reformers, a large part of their focus was on caring for people in a practical way, and to reaching out to 'the poor and destitute.'
Carl enlightened Inner Wheel describing the work of the Salvation Army in Ramsgate. Little seems to have changed in the needs of homeless people in the last 150 years, the problem is still out there on the streets of Thanet.
Joint President's Linda Short and Pat Barnes are pictured presenting a donation to Carl from Inner Wheel.
---
INNER WHEEL DAY
Thursday 10th January
This year the Ladies of Broadstairs Inner Wheel collected food for the Food Bank at the Baptist Church. Homeless people recently seem to be growing in number, not only in Broadstairs but in Thanet as a whole. Members speak of homeless people in shop doorways, in parks and car parks. Often accompanied by a dog. The food collected will hopefully make someones life more comfortable.
---
CHRISTMAS DINNER
All friends and family are invited to join the Ladies of Broadstairs Inner Wheel for their
Christmas meeting to be held t the YARROW BROADSTAIRS on Monday 17th December.
Cost of the meal £21.00
---
Next Meeting at the Yarrow
November 19th
Speaker - Janet & Kevin Sayer on the
'Life & Achievements of Thomas Russell Crampton
born in Broadstairs 1816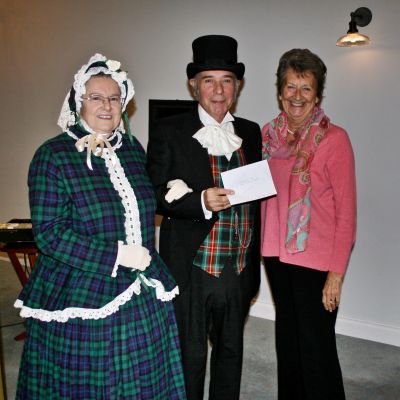 The Crampton Tower Museum is a fascinating small museum is partly housed in a flint tower adjacent to the Broadstairs Railway Station. The tower formed part of the first Broadstairs public water supply and was put in repair by Thanet District Council.
Thomas Russel Crampton is perhaps chiefly remembered as a designer of locomotives and of railways, but he was also concerned with gas, water works and the submarine telegraph cable. He was the first to succeed in laying an effective telegraph cable under the English Channel.
Janet and Kevin Sayer, pictured above, gave the Ladies of Broadstairs INNER WHEEL an interesting talk illustrating both the history of the Crampton Tower and an insight into the various activities that now make the Museum a hughly successful tourist attraction.
---
November 11th
Remembrance Sunday
THE CENOTAPH BROADSTAIRS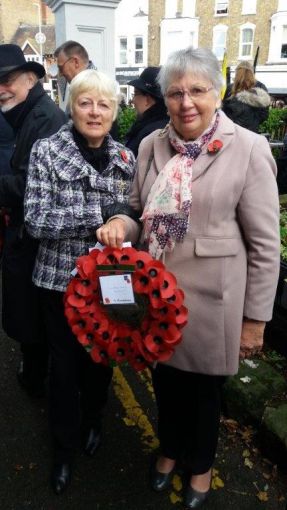 More that 1000 people attended the Remembrance Day service at the Cenotaph in Broadstairs, to mark the 100th anniversary of the end of the first World War. Broadstairs Inner Wheel joint Presidents Pat Barnes and Linda Short are pictured laying a wreath on behalf of the Club.
---
International Rally at DITTON

NOVEMBER 7TH
Ladies from Broadstairs once again had a very successful day at the International Rally held at the village hall in Ditton. Broadstairs stall this year provided a gift in a box for £1, a popular choice with customers. All boxes were sold. Money raised went to supported the International charity CARE. The colour theme for the day was Orange.
---
SEPTEMBER 18th
Our Fashion Show, in conjunction with Edinburgh Woollen Mill, was a great success. Holy Trinity Church Hall Broadstairs was filled to capacity. Thank you to everybody who came along to support the event which raised in excess of £600 for the Kent and East Sussex Air Ambulance.
---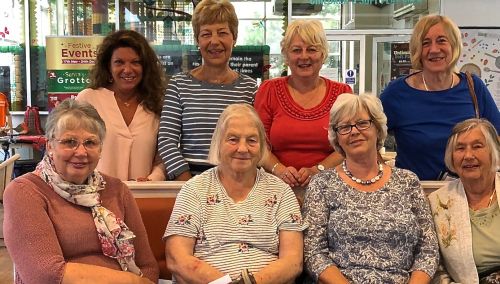 SEPTEMBER 4th
Monica Padovan Bezzegato, Secretary of International Inner Wheel Club of Padova in Italy, joined our monthly coffee morning at Wyevale.
---



INNER WHEEL CRAFT COMPETITION - DITTON
| | | |
| --- | --- | --- |
| | | |
| Jill Barber | Val Hinds | Rita Rowlett |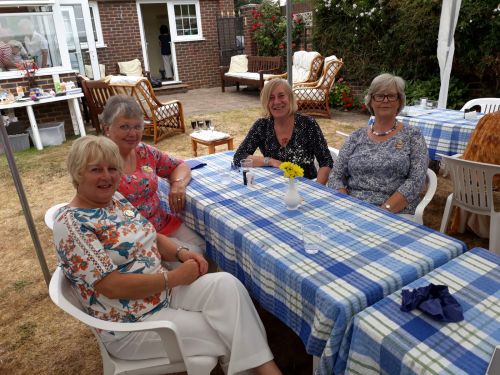 Broadstairs members attend MARGATE'S New Presidents' Lunch in July
CLUB PROGRAMME
2018
Sept. 17th Club Meeting @ Golf Club - International Produce Stall
Speaker Joan Styles: District Chairman
Sept. 18th Fashion Show @ Holy Trinity Church Hall Broadstairs
Sept 18th DISTRICT Cameo Lunch
---
Oct. 15th Club Meeting @ Golf Club - Speaker Russell Miles on "A Year in the Life of a Hare"
Oct. 16th DISTRICT meeting @ Ditton 10.00am for 10.30am
---
Nov 7th District International Rally @ Ditton 9.30am setup for 10.00am start.
Nov 11th Remembrance Sunday Broadstairs
Nov 19th World Toilet Day: Wateraid
Nov. 19th Club Meeting @ The Yarrow Broadstairs - Speaker - Janet & Kevin Sayer on the 'Life &
Achievements of victorian engineer Thomas Russell Crampton.
---
Dec. 17th Club Christmas meeting @ The Yarrow Broadstairs, with husbands 6.45 for 7.15pm
Husbands, family and friends welcome.
---
2019
Jan 10th INNER WHEEL DAY
Jan 21st Club Meeting The Yarrow Broadstairs: Speaker Lieut. Col. Carl Whitehead on "The
beginning of the Salvation Army and what they do"
---
Feb. 18th Club Meeting @ The Yarrow - Business meeting (voting papers) CLUB BIRTHDAY
---
Mar 18th Club meeting @ The Yarrow: JOINT CLUBS MEETING, Speaker: Denise Caitlin Davies
Mar 19th DISTRICT meeting @ Ditton

Mar 23rd QUIZ NIGHT @ St Peters Church Hall

---
April 8-11th IW ASSOCIATION CONFERENCE: Cardiff
April 15th Club meeting @ The Yarrow: Speaker from the Air Ambulance - Club Charity
April 16th DISTRICT Quiz Ditton 6 for 6.30pm
---
May 20th Club meeting @ The Yarrow: Speaker: Patrick Lamb on 'Ladies Hats'
---
June 5th DISTRICT Rally @ Manor Hotel Gravesend
June 17th Club AGM & Handover @ North Foreland Golf Club
June 20th DISTRICT AGM & Handover @ Ditton 6.30pm
---
LAST YEAR'S CHARITY
John Nichols is pictured receiving a cheque for £2,000 from Past President Rita Rowlett
The money is to go towards the renovation of the
FRANCIS FORBES BARTON
Broadstairs Life Boat 1896 - 1912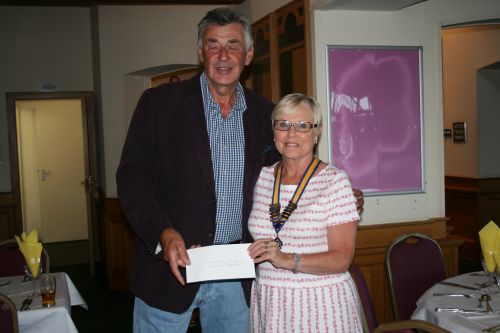 ---

uk holidays
May

2019

Venue

Time/Details

Mon 27th

Spring Holiday

August

2019

Venue

Time/Details

Mon 26th

Summer Holiday

December

2019

Venue

Time/Details

Wed 25th

Christmas Day

Thu 26th

Boxing Day

January

2020

Venue

Time/Details

Wed 1st

New Year's Day

April

2020

Venue

Time/Details

Fri 10th

Good Friday

Mon 13th

Easter Monday

May

2020

Venue

Time/Details

Mon 4th

May Day

Mon 25th

Spring Holiday

The above dates may change without warning