BROADSTAIRS INNER WHEEL
2023/24
About our Club
Broadstairs Inner Wheel Club meet at North Foreland Golf Club on the 3rd Monday of the month for a dinner and speaker evening starting at 5.30 for 6pm. Membership currently stands at 23.
For more information please use 'Contact Us' page
---
BROADSTAIRS PRESIDENT 2023/2024
Dorothy Reid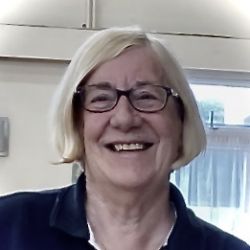 President's Charity
PILGRIMS HOSPICE THANET
AWARDS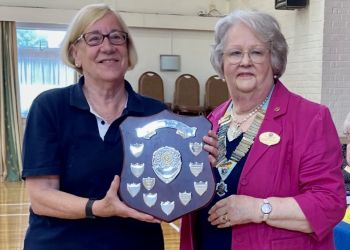 MEMBERSHIP SHEILD 2022/23

COLLECTED by Dorothy Reid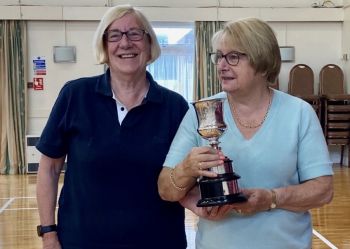 BRIDGE CUP
Won by Anni Bignold BROADSTAIRS & Rosemary Milsted FOLKESTONE
COLLECTED by Dorothy Reid
---
PROGRAMME FOR 2023/2024
July 17th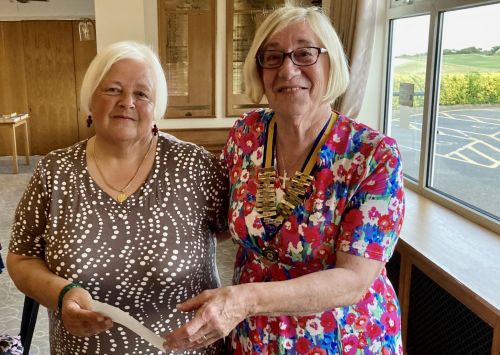 Sue Brooks speaks to the members of IW about her recent visit to see the Passion Play at Oberammergau. An event that takes place once in ten years. President Dorothy Reid is seen presenting Sue with a cheque for her charity, Mission to Seafarers.
Club meeting at North Foreland Golf Club 5.30pm for 6pm
Speaker Susan Brooks on - Oberammergau
District Meeting @ DITTON
Club Officers Assembly 10am start.
July 30th.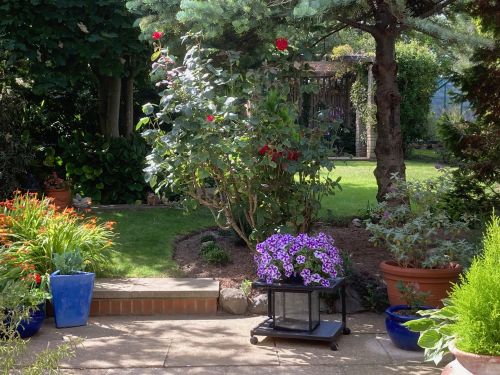 Unfortunately there are no photos of our afternoon tea party. Having set the tables up in the morning during glorious sunshine by lunch time it became obvious that the rain was coming and would take over the rest of the day. Tables were hastily taken indoors where 27 members and guests enjoyed each others company in a much closer environment.
President's afternoon Tea 3pm for 5.30pm
Aug 1st. Coffee @ The Captain Digby 11am
SUMMER EVENTS
Broadstairs Summer Outing @ Juliet's in ASH, 15th August 2023.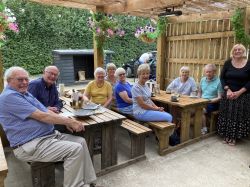 Members of Broadstairs Inner Wheel together with partners, are seen enjoying a glorious summer's day, having lunch at Juliet's in Ash.
Mrs Beryl Pledger celebrates her 95th Birthday,19th August 2023.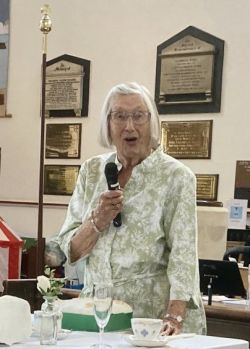 Beryl invited family, friends and members of Inner Wheel to her birthday tea held in Holy Trinity Church Broadstairs, on Saturday 19th August. A glass of Prosecco, followed by sausage rolls, sandwiches, savoury tarts, cakes and tea made for a very special occasion.
Beryl is the longest serving member of Broadstairs IW having joined the Club in June 1967, becoming President in 1989, and then again in 2013.
Beryl stood up to thank everybody for coming to celebrate her birthday and for donating to her charity, Kent Air Ambulance, she then cut her birthday cake decorated for 95 years, for everybody to enjoy.
Well done Beryl, Many Happy Returns
Sept 5th. Coffee @ The Captain Digby 11am
Sept 18th Club Meeting at North Foreland Golf Club 5.30pm for 6pm - Speaker David Steed on - The Goodwin Sands
Oct 3rd. Coffee @ The Captain Digby 11am
Oct 16th. Club meeting at North Foreland Golf Club 5.30pm for 6pm - Speaker Rosemary Barns - District Vice Chairman
Oct 18th District Meeting @ DITTON 10am - 12.30pm
Nov 4th. Broadstairs Inner Wheel Quiz Night @ St Peter's Church Hall 6.30pm - 10pm
Nov 7th. Coffee @ The Captain Digby 11am
Nov 9th District 12 International Rally @ DITTON 10am - 3pm. (Charity Book Bus)
Nov 12th Remembrance Sunday - Lay wreath @ Broadstairs Cenotaph
Nov 20th Club Meeting at North Foreland Golf Club 5.30pm for 6pm - Speaker Ian Carter Chapman on - Sandwich Cinema
Dec 5th Coffee @ The Captain Digby 11am

Dec 18th Club Meeting at North Foreland Golf Club Christmas Dinner Joint with Thanet Rotary 7pm for 7.30
2024
INNER WHEEL - 100 YEARS OLD ON 10th JANUARY 2024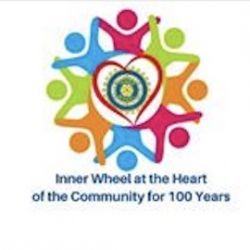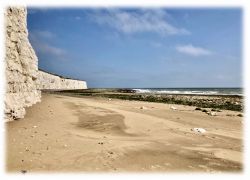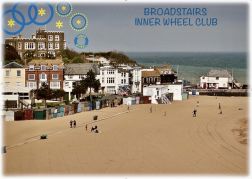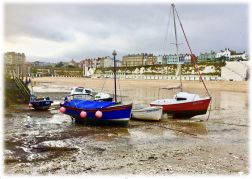 OVER THE YEARS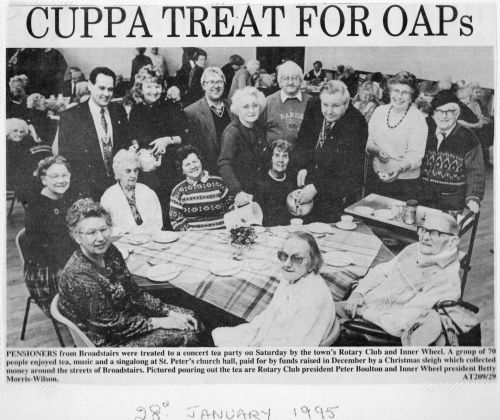 1995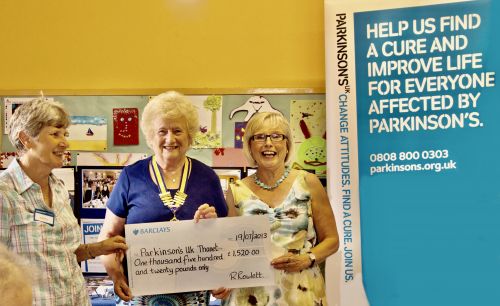 2013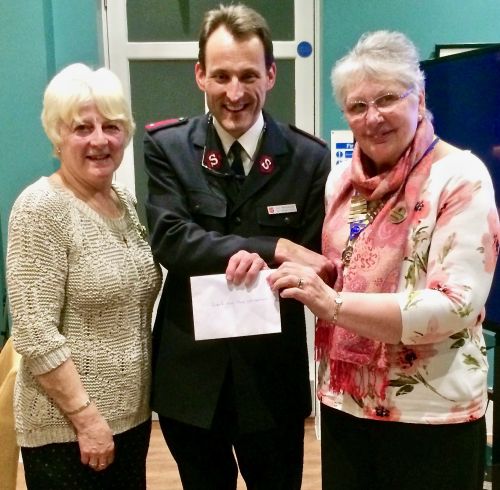 2018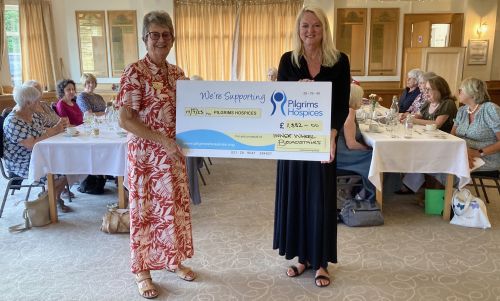 2022

AND MUCH MORE, IT IS WHAT WE DO.
---
Broadstairs Inner Wheel welcomes 3 new members.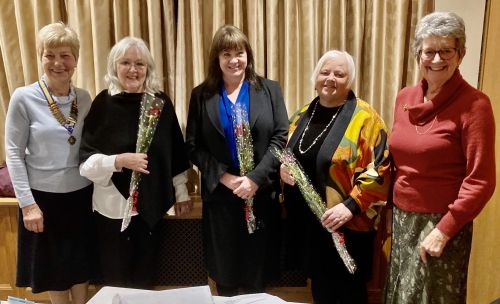 TUESDAY 10th JANUARY 2023 - International Inner Wheel Day

Twenty Ladies from the Inner Wheel Clubs of Thanet came together to celebrate Inner Wheel Day.
Food for the Thanet Food Link was collected amounting to 160 items, later taken to The Baptist Church in St Peter's, for distribution.
FRIDAY 16th DECEMBER 2022 at 6pm
The Rotary and Inner Wheel Clubs of Thanet
Joint Carol Service 2022
St Thomas' Church, Minnis Bay
Lesson read by Jill Barber President of Broadstairs Inner Wheel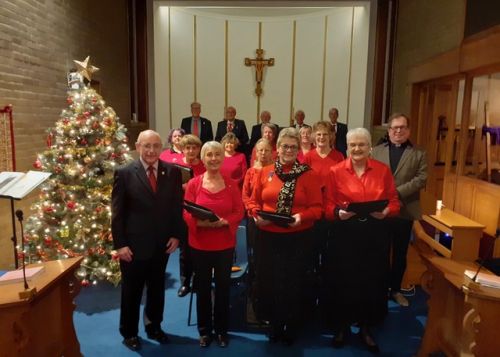 MONDAY 21ST NOVEMBER North Foreland Golf Club 5.30 for 6pm
Speaker Karen Kenward from Thanet Hospice.
FUND RAISING EVENT is in aid of PILGRIMS HOSPICE THANET
SATURDAY 19th NOVEMBER 2022 6.30pm for 7pm - Wine and Wisdom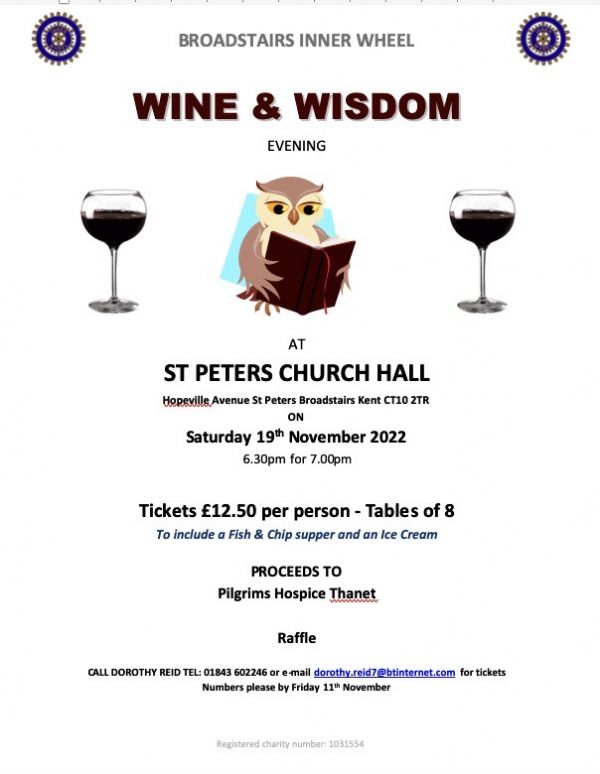 MONDAY 17TH OCTOBER 5.30PM FOR 6PM

Speaker District 12 Chairman Elizabeth Weaver photographed with joint Broadstairs Presidents Jill Barber & Sue Platt.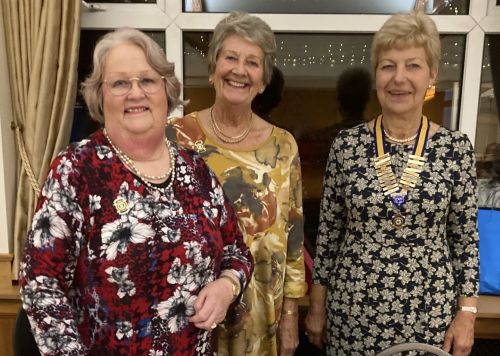 After the meal DC Elizabeth Weaver spoke, explaining how she had joined Dover Inner Wheel Club in 1964, at which time the Club met for two afternoons a month. Ladies were expected to wear hats and gloves when they attended meetings in those days.
Elizabeth went on to explain that in 2024 IW is to celebrate it's centenary by holding the International Convention in Manchester.
A brief history of Inner Wheel explains the significance of Manchester.
Margarette Owen, later Mrs. Oliver Golding the wife of a Manchester Rotarian, the founder member of Inner Wheel was born of Welsh parentage at Hey Brecon in 1881. She was trained as a nurse and served as such during the First World War. This triggered a deep desire to help all ailing, deprived humanity. She was an extremely capable business woman and a great philanthropist. Margarette's chief social interest being the Manchester Girls' Orphanage, and Ancoats Hospital, for which the Inner Wheel Club of Manchester provided and furnished a mortuary chapel. She also did a great deal for the Girl Guide movement, in which she held the office of commissioner.
Women had been involved informally in the Rotary Club's work but discrimination prevented them from becoming members in their own right. Margarette Golding persuaded 26 other wives to meet her at a room she had reserved at Herriott's Turkish Baths in Deansgate in Manchester. They met on 15 November 1923 where it was agreed to create a partner organisation to the Rotary Club which would assist the club in their role and provide a social benefit to its members. The first official meeting was on 10 January 1924 at their regular meeting place, the Social Club in Lower Mosley Street, Manchester.
Subs in 1924 were £1.1.0 (one guinea) a year.
From its very beginning Friendship and Service has always been at the heart of Inner Wheel.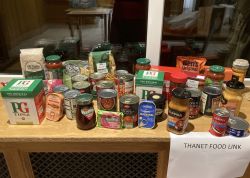 Broadstairs Ladies carry on the tradition, responding to a request for food via the Thanet Churches for the THANET FOOD LINK. One hundred years on and the projects remain the same.
---
MONDAY 19th SEPTEMBER -
MEETING CANCELLED FOR THE QUEEN'S FUNERAL

---
PAST PRESIDENT ANNI BIGNOLD - 2019 / 2022
LOCK DOWN & EVENTS.
---
Remembrance Day - Sunday 14th November 2021
BROADSTAIRS CENOTAPH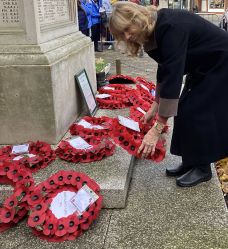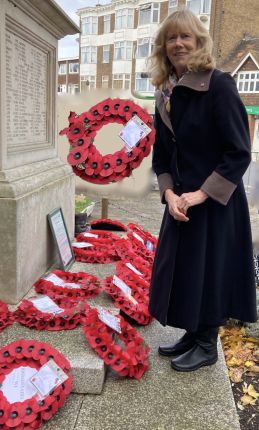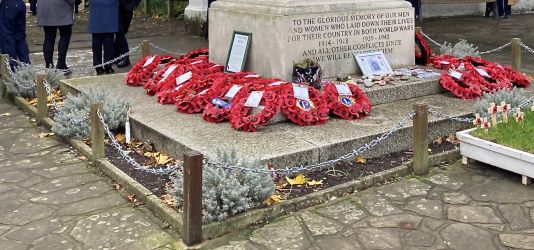 Broadstairs Inner Wheel President Mrs Anni Bignold is shown laying a wreath on behalf of Broadstairs Inner Wheel at the Cenotaph in Broadstairs.
The service was taken by the Rev'd Jan Durrans and Paul Moore the Mayor of Broadstairs and St Peters.
---
International Rally at Ditton - Thursday 11th November



Our stall at the International Rally held at Ditton was the sale of £1 boxes.

Everyone a winner.

It was a great day out. Arriving at 9.30am we set up our stall and by lunch time we had sold out, allowing us free to enjoy a superb lunch knowing that our part of the fund raising process had been a success.

The Theme for the day was 'Butterflies'

Money raised was donated to the Butterfly Tree Charity, founded in 2006, which supports orphans and rural communities in Zambia, providing clean water & sanitation, feeding programmes, improved health and education facilities and malaria prevention. All funds go directly to the cause, no administration fees are deducted - all members are volunteers.
---
Speaker Meeting Monday September 20th
District Chairman Pat Sanford was our speaker for our first get-together meeting after lockdown, a lunch time meeting held at North Foreland Golf Club on Monday 20th September.
Pat spoke on Inner Wheel as an organization, how it was important to understand what goes on, the 'closer you get to the heart of the organisation the sweeter things are'. Last year, in spite of lockdown people rose to the IW 88 Challenge. Pat spoke about the positive impact of volunteering how it can stimulate health and wellbeing. To 'give up time' is not 'giving it up' actually. Anni Bignold in her President's end of year report mentioned how 'proud she was of us all in 'Broadstairs Inner Wheel'.
Pat went on to tell us about her chosen charity for the year, Dandelion Time: Transforming the lives of vulnerably children, who are struggling with the effects of trauma, abuse or neglect. Children can spend time on the Dandelion farm with animals and crafts to overcome emotional difficulties, to help them grow in confidence and begin to love and trust again. Dandelion Time was started in 2003 by Dr Caroline Jessel. Vulnerable children are referred to the Cottage, also known as the Maidstone HQ which sits within picturesque West Farleigh. Occupying 22 acres of fields, gardens and woodland, this location provides families with opportunities to experiment, play and connect whilst relaxing into the healing embrace of natural world. Resident chickens, sheep, donkeys, guinea pigs and two cats ensure there is no shortage of jobs for families to become involved in.
Children are referred for 3 hours a week for between 10 and 15 weeks.
Time – sell 'time' or buy 'time'. 60 minutes of time will buy 3 hours of therapy to help the children to find 'a sense of hope for the future'.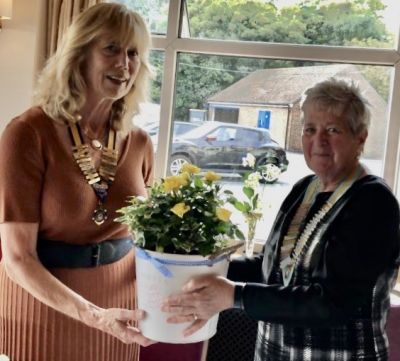 Inner Wheel District Chairman Pat Sanford (right), presents Anni Bignold President of Broadstairs Inner Wheel with a selection of plants representing the work done by Dandelion Time, helping traumatised children understand the world around them and how plants when tended, grow into beautiful flowers.
President Anni gave Pat a donation for her charity and a small personal gift.
Jill Barber gave the ' Vote of Thanks' saying how important it was the include the families as well as the children in the healing process and praised the wonderful work achieved by Dandelion Time.
---
Our Summer Tea Party was a great success, we were so lucky with the weather. This was our first event after lockdown so everybody was really happy to be FREE to meet, catchup and enjoy each others company, as well as enjoying a most amazing tea in the most amazing garden.
Our thanks go to our local Inner Wheel Clubs, Dover, Deal, Ramsgate, Margate, Canterbury, Westgate and Birchington and now the Lost forever Club - Herne Bay, for supporting our event.
Well done everybody it is hard work but well worth it, and we have made money for our charity MIND.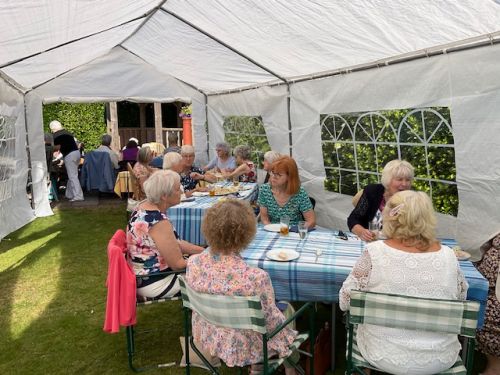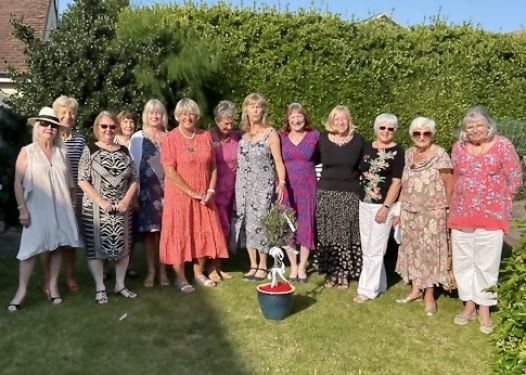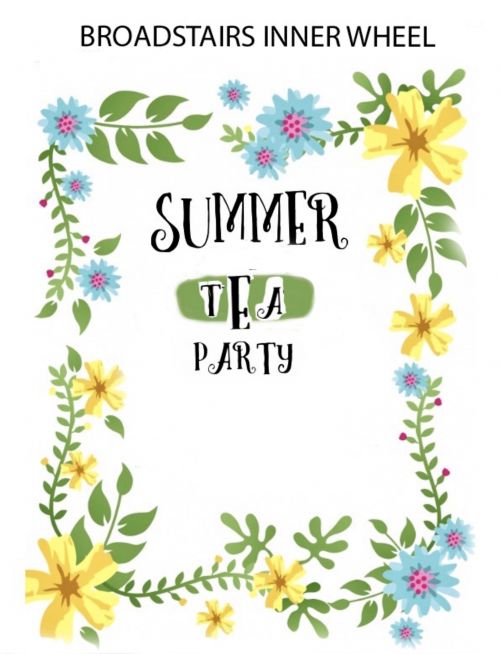 With
PIMMS OR PROSECCO
Wednesday 25th August @ 2.30pm
4, Green Road, Birchington CT7 9JY
Cost £10
Raffle, cakes, sweet count and lots more.
Come and enjoy the end of lockdown
Charity supported
MIND
Please reply by 1st August, numbers & cheques to
Broadstairs Secretary Dorothy Reid
---
---
---
---
---
---
---
---
---
---
---
---
---
---
---
---
---
---
LOCKDOWN MARCH 20TH - JULY 4TH
---
February 22nd 2020
65th Anniversary of Broadstairs Inner Wheel
Our Club birthday this year fell on a Saturday. We have an excellent party to celebrate at President Anni Bignold's house in Birchington. It was 'bring a plate' evening, with husbands. Everybody had an excellent time. A lot has changed in Inner Wheel during those 65 years and it was good to see the Club is still strong in spite of challenging times.
At our Club meeting on the following Monday at North Foreland Golf Club, the celebration continued as Crusties Bakery provided a superb 'birthday cake' to mark the event.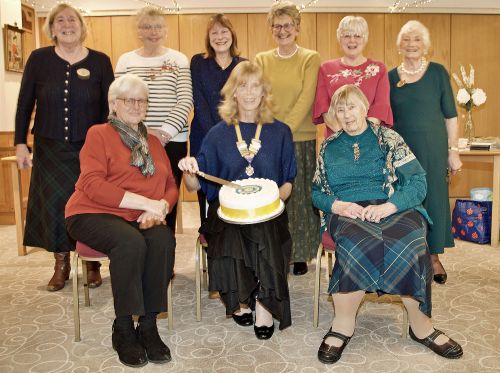 Anni is pictured holding the 'cake' surrounded by Past Presidents of the Club.
---
Monday 20th January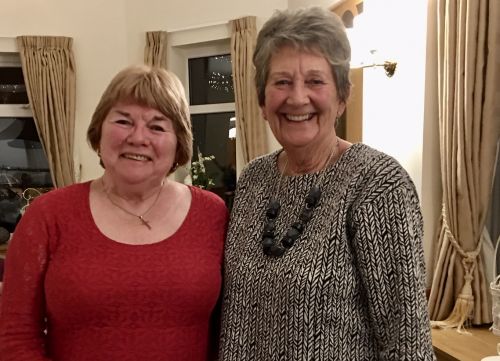 Our speaker on Monday 20th January was Janis Buckley chairman of the Margate, Cheerful Sparrows. Janis is pictured above left, next to our President for the evening, Jill Barber.
After nearly a hundred years of helping Thanet people Janis explained that unless the Charity can continue to raise much-needed funds, they will be facing the prospect of closure. The Charity is proud to have helped the QEQM hospital wards and to have supported our local community by working with caring professionals such as social workers and teachers. With 50% of children living in poverty in some areas of Thanet, the replacement of a broken washing machine, child's bed or school uniform can be a turning point for the whole family.
---
Friday 10th January

WORLD INNER WHEEL DAY
JOINT MEETING ALL THANET INNER WHEEL CLUBS
HOSTED BY BROADSTAIRS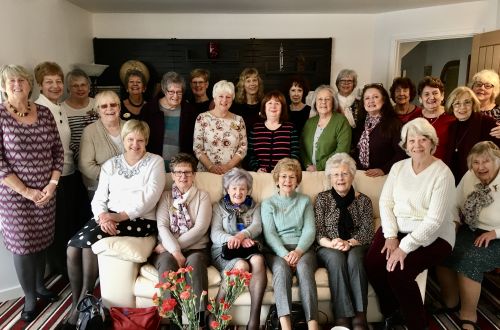 Funds raised will go to Porchlight
---
Our Wine & Wisdom held on Saturday November 16th at St Peter's Church Hall was a great success. Charities benefiting from this event include the National Deaf Children's Society, Multiple Sclerosis and Cancer Research.

---
Remembrance Day
BROADSTAIRS CENOTAPH Sunday 10th November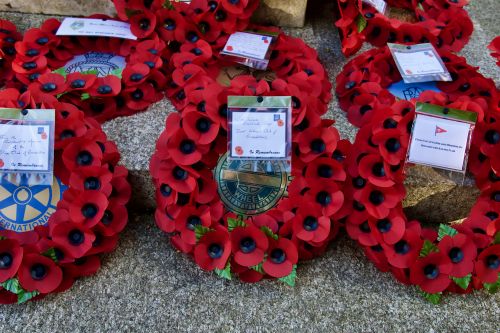 President of Broadstairs Inner Wheel, Anni Bignold & Alan Emby of Broadstairs Rotary, together lay a wreath in Remembrance of those who died for us during both World Wars.
"When you go home, tell them of us and say, for your tomorrow we gave our today"
---
INTERNATIONAL RALLY HELD @ DITTON
Thursday 7th November 2019 in aid of Footsteps International.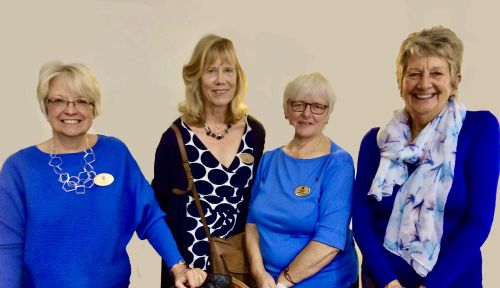 International Chairman Sheila Dicks is pictured with Anni Bignold President of Broadstairs Inner Wheel supported by other members of the Club, raising funds for the District Charity, Footsteps. The aim is to provide a brighter future for former street boys and orphans, in Kenya. The colour theme this year was bright blue. The day raised just over £3,000 helping to make the future look as bright as the colour suggests. Well done everybody!!
---
Club meeting Monday 21st October
Our speaker for the evening was Jenny Matterface who gave a fascinating talk on the work of the CT10 Charities and the Gap Project.
History
The CT10 history began with a bequest to the Vicar of St. Peter's Church from Richard Culmer in 1485.
In his will he left 6 acres of farmland in the centre of what we now know as Broadstairs town centre. This includes the land between Vere Road, Alexandra Road and the Pathway.
This was farmland and the income used to relieve poverty and help the poor and needy. This land was to produce an income for the charity and the trustees have a duty to obtain the best result under Charity Commission regulations.
In 1726 Hannah Taddy left 4 acres in St. Peter's also to the church with similar aims. This is the land between Grafton Road and Reading Street Road.
Both parcels of land are now non-statutory allotments and bring in a regular income from rents.
Five other small charities were placed under the umbrella of what is known now as CT10 Parochial Charities but the main endowment is from the estate of Richard Culmer.
The Gap Project in Broadstairs is a vibrant and innovative charity serving the local community in an area of deprivation, using the fantastic facilities of Queens Road Baptist Church. Drop-in sessions provide a hot meal, laundry and shower facilities.
Voluntary Sector Partners, *Porchlight and Turning Point are on-site to offer resettlement support.
*DISTRICT12 Charity for 2019/20
---
Broadstairs President Anni Bignold gave Jenny a small donation from the Club and Rita Rowlett gave the vote of thanks.
---
Knitted Blankets
Provided by the Ladies of Broadstairs Inner Wheel
Taken to the District Meeting in Ditton on Wednesday 23rd to be distributed by the International committee.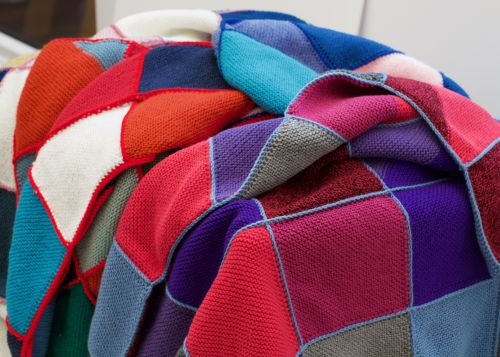 ---
ANNI'S SUMMER GARDEN TEA PARTY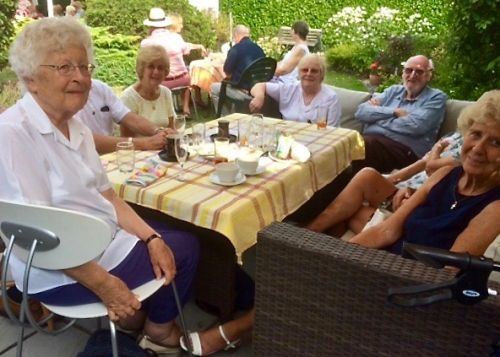 Broadstairs Inner Wheel spins into 2019/20
Anni Bignold took over as President of Broadstairs Inner Wheel at the end of June and has already made a splash with her fund raising Summer Tea Party. Seventy people joined family and friends to enjoy an old fashioned garden party which included a glass of Pimms and cucumber finger sandwiches, without crusts. A total of £620 was raised giving a kick start to the Inner Wheel fund raising year.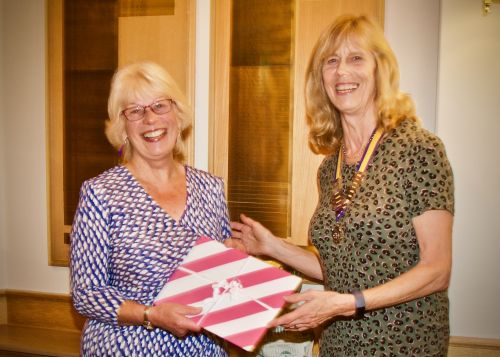 Anni, pictured right, is seen with the Inner Wheel District 12 Chairman, Liz Lister who attended Broadstairs September IW meeting at North Foreland Gold Club. Liz was promoting the District 12
Charity, Porchlight, which supports homeless vulnerable and isolated people in Kent. Anni is photographed presenting Liz with further funds, raised during the September evening, to support Porchlight.
---
---
2019/20 Programme
Nov16th WINE & WISDOM @ St Peter's Church Hall
Cost £6 each. Tables of 8. Bring a picnic. Wine & Water glasses etc.
Fish & Chip supper available for an additional £5.50 a head.
Numbers to dorothy.reid7@btinternet.com by 1st November
Nov 18th Club Meeting @ The Yarrow
Speaker: Sheila Burke
The Real Story of Cinderella
---
Dec 2nd CHRISTMAS DINNER @ The Yarrow
Partners & Friends invited
Dec 12th Inner Wheel & Rotary Carol Service
The Baptist Church Broadstairs
---
2020
Jan 10th INTERNATIONAL INNER WHEEL DAY
Joint Thanet Clubs - Coffee Morning
Jan 20th Club Meeting Venue TBA
Speaker: Janice Buckley on "Cheerful Sparrows" Charity
---
Feb 22nd Broadstairs Club BIRTHDAY - Birthday Fun Evening 'Take a Plate'
Feb 24th Club Meeting venue TBA Speaker: Abbi from Nat West on "Scan Awareness"
---
March 17th DISTRICT MEETING @ DITTON Community Hall 10 for 10.30am
March 16th. JOINT LOCAL CLUBS MEETING Speaker: Anna Forman on "Life in Japan"
March 18th FASHION SHOW - Edinburgh Woollen Mill, Holy Trinity Church Hall
---
April 14th Committee Meeting @ Anni's 2.10pm
April 15th DISTRICT 12 QUIZ Evening
April 20 Club Meeting venue TBA
April 27-29th IW ASSOCIATION CONFERENCE Waterfront Belfast
---
May 18th BROADSTAIRS INTERCLUB LUNCH
ENTERTAINMENT - "THE SUFFRAGETTS" Venue TBA
---
June 2nd DISTRICT RALLY - Chart Hill Golf Club
June 9th Club Meeting venue TBA
June 24th DISTRICT AGM & HANDOVER @ DITTON
---
---
Other calendars:

uk holidays
December

2023

Venue

Time/Details

Mon 25th

Christmas Day

Tue 26th

Boxing Day

January

2024

Venue

Time/Details

Mon 1st

New Year's Day

March

2024

Venue

Time/Details

Fri 29th

Good Friday

April

2024

Venue

Time/Details

Mon 1st

Easter Monday

May

2024

Venue

Time/Details

Mon 6th

Early May bank holiday

Mon 27th

Spring bank holiday

August

2024

Venue

Time/Details

Mon 26th

Summer bank holiday

The above dates may change without warning