BROADSTAIRS INNER WHEEL
2019/20
About our Club
Broadstairs Club meets at The Yarrow Hotel, Ramsgate Road Broadstairs on 3rd Monday of the month. Meetings are held in the evening 6.45pm for dinner at 7.15pm, (except August). Our membership currently stands at 19.
For more information please use 'Contact Us' page
---
Broadstairs PRESIDENT FOR 2019/20 is:
ANNI BIGNOLD
President's Charities
National Deaf Children's Society
Multiple Sclerosis
Cancer Research
---
Remembrance Day
BROADSTAIRS CENOTAPH Sunday 10th November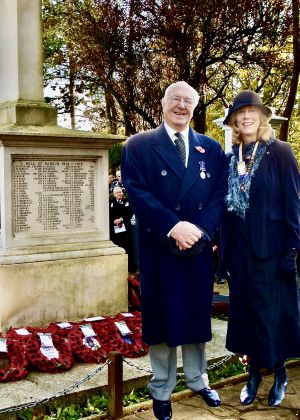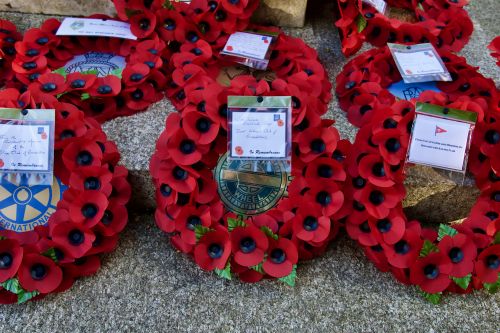 President of Broadstairs Inner Wheel, Anni Bignold & Alan Emby of Broadstairs Rotary, together lay a wreath in Remembrance of those who died for us during both World Wars.
"When you go home, tell them of us and say, for your tomorrow we gave our today"
---
INTERNATIONAL RALLY HELD @ DITTON
Thursday 7th November 2019 in aid of Footsteps International.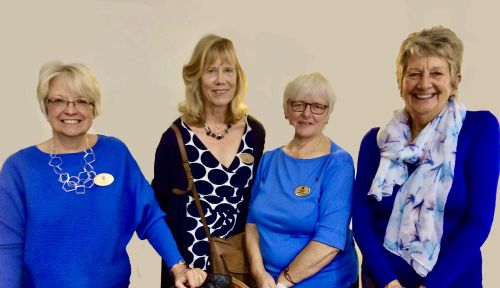 International Chairman Sheila Dicks is pictured with Anni Bignold President of Broadstairs Inner Wheel supported by other members of the Club, raising funds for the District Charity, Footsteps. The aim is to provide a brighter future for former street boys and orphans, in Kenya. The colour theme this year was bright blue. The day raised just over £3,000 helping to make the future look as bright as the colour suggests. Well done everybody!!
---
Club meeting Monday 21st October
Our speaker for the evening was Jenny Matterface who gave a fascinating talk on the work of the CT10 Charities and the Gap Project.
History
The CT10 history began with a bequest to the Vicar of St. Peter's Church from Richard Culmer in 1485.
In his will he left 6 acres of farmland in the centre of what we now know as Broadstairs town centre. This includes the land between Vere Road, Alexandra Road and the Pathway.
This was farmland and the income used to relieve poverty and help the poor and needy. This land was to produce an income for the charity and the trustees have a duty to obtain the best result under Charity Commission regulations.
In 1726 Hannah Taddy left 4 acres in St. Peter's also to the church with similar aims. This is the land between Grafton Road and Reading Street Road.
Both parcels of land are now non-statutory allotments and bring in a regular income from rents.
Five other small charities were placed under the umbrella of what is known now as CT10 Parochial Charities but the main endowment is from the estate of Richard Culmer.
The Gap Project in Broadstairs is a vibrant and innovative charity serving the local community in an area of deprivation, using the fantastic facilities of Queens Road Baptist Church. Drop-in sessions provide a hot meal, laundry and shower facilities.
Voluntary Sector Partners, *Porchlight and Turning Point are on-site to offer resettlement support.
*DISTRICT12 Charity for 2019/20
---
Broadstairs President Anni Bignold gave Jenny a small donation from the Club and Rita Rowlett gave the vote of thanks.
---
Knitted Blankets
Provided by the Ladies of Broadstairs Inner Wheel
Taken to the District Meeting in Ditton on Wednesday 23rd to be distributed by the International committee.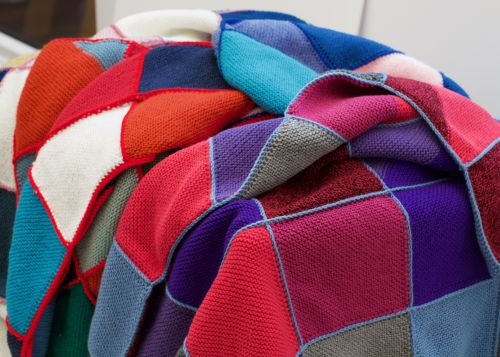 ---
ANNI'S SUMMER GARDEN TEA PARTY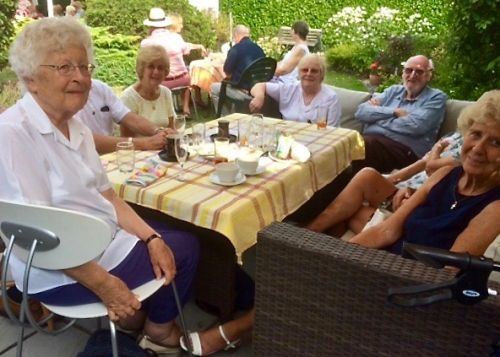 Broadstairs Inner Wheel spins into 2019/20
Anni Bignold took over as President of Broadstairs Inner Wheel at the end of June and has already made a splash with her fund raising Summer Tea Party. Seventy people joined family and friends to enjoy an old fashioned garden party which included a glass of Pimms and cucumber finger sandwiches, without crusts. A total of £620 was raised giving a kick start to the Inner Wheel fund raising year.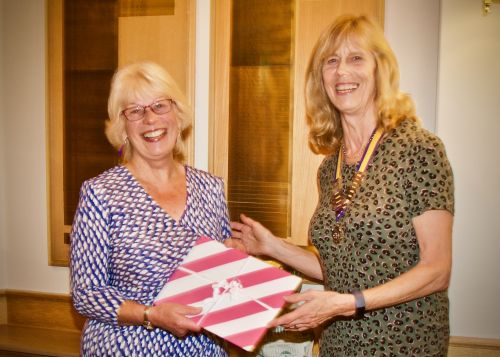 Anni, pictured right, is seen with the Inner Wheel District 12 Chairman, Liz Lister who attended Broadstairs September IW meeting at North Foreland Gold Club. Liz was promoting the District 12
Charity, Porchlight, which supports homeless vulnerable and isolated people in Kent. Anni is photographed presenting Liz with further funds, raised during the September evening, to support Porchlight.
---
Broadstairs Inner Wheel is holding a Wine & Wisdom on Saturday November 16th at St Peterís Church Hall 6.30 for 7.00pm at a cost of £6 each, tables of 8. Charities, close to Anni's heart, that will benefit from these events, are National Deaf Childrenís Society, Multiple Sclerosis and Cancer Research. For further information e-mail dorothy.reid7@btinternet.com.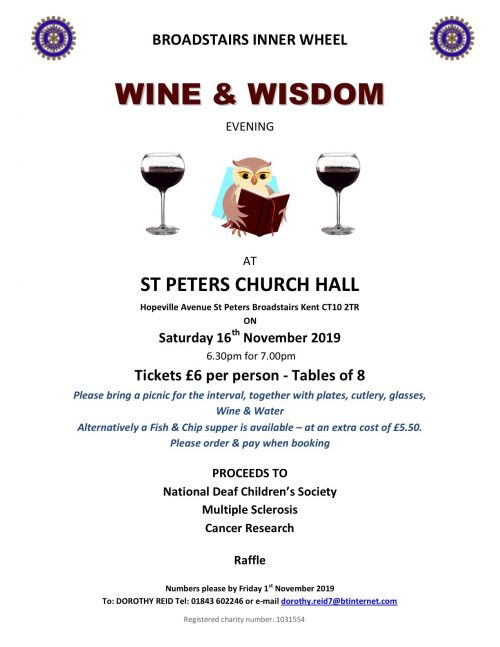 ---
2019/20 Programme
Nov16th WINE & WISDOM @ St Peter's Church Hall
Cost £6 each. Tables of 8. Bring a picnic. Wine & Water glasses etc.
Fish & Chip supper available for an additional £5.50 a head.
Numbers to dorothy.reid7@btinternet.com by 1st November
Nov 18th Club Meeting @ The Yarrow
Speaker: Sheila Burke
The Real Story of Cinderella
---
Dec 2nd CHRISTMAS DINNER @ The Yarrow
Partners & Friends invited
Dec 12th Inner Wheel & Rotary Carol Service
The Baptist Church Broadstairs
---
2020
Jan 10th INTERNATIONAL INNER WHEEL DAY
Joint Thanet Clubs - Coffee Morning
Jan 20th Club Meeting Venue TBA
Speaker: Janice Buckley on "Cheerful Sparrows" Charity
---
Feb 22nd Broadstairs Club BIRTHDAY - Birthday Fun Evening 'Take a Plate'
Feb 24th Club Meeting venue TBA Speaker: Abbi from Nat West on "Scan Awareness"
---
March 17th DISTRICT MEETING @ DITTON Community Hall 10 for 10.30am
March 16th. JOINT LOCAL CLUBS MEETING Speaker: Anna Forman on "Life in Japan"
March 18th FASHION SHOW - Edinburgh Woollen Mill, Holy Trinity Church Hall
---
April 14th Committee Meeting @ Anni's 2.10pm
April 15th DISTRICT 12 QUIZ Evening
April 20 Club Meeting venue TBA
April 27-29th IW ASSOCIATION CONFERENCE Waterfront Belfast
---
May 18th BROADSTAIRS INTERCLUB LUNCH
ENTERTAINMENT - "THE SUFFRAGETTS" Venue TBA
---
June 2nd DISTRICT RALLY - Chart Hill Golf Club
June 9th Club Meeting venue TBA
June 24th DISTRICT AGM & HANDOVER @ DITTON
---
---

uk holidays
December

2019

Venue

Time/Details

Wed 25th

Christmas Day

Thu 26th

Boxing Day

January

2020

Venue

Time/Details

Wed 1st

New Year's Day

Fri 10th

World Inner Wheel Day

March

2020

Venue

Time/Details

Tue 17th

Spring District Meeting

Ditton Community Hall; Kiln Barn Road; Ditton; Aylesford ME20 7BX

10:00 for 10.30

April

2020

Venue

Time/Details

Fri 10th

Good Friday

Mon 13th

Easter Monday

May

2020

Venue

Time/Details

Fri 8th

May Day and VE Day celebrations

Moved from Monday 4th

Mon 25th

Spring Holiday

June

2020

Venue

Time/Details

Tue 2nd

District Rally

11:00am Photos 12 for 12.30pm Lunch

August

2020

Venue

Time/Details

Mon 31st

Summer Holiday

The above dates may change without warning