BROADSTAIRS INNER WHEEL
2018/19
About our Club
Broadstairs Club meets at North Foreland Golf Club on 3rd Monday of the month. Meetings are held in the evening 6.45pm for dinner at 7.15pm, (except August). Our membership currently stands at 22.
For more information please use 'Contact Us' page
Broadstairs Joint Presidents' for 2018/19 are:
Patricia Barnes and Linda Short
Presidents' Charity
Kent & Sussex Air Ambulance


NEXT FUNDRAISING EVENT
SEPTEMBER 18th


---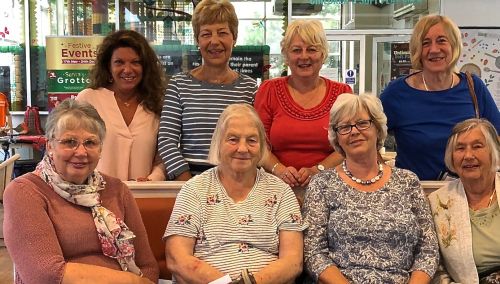 September 4th
Broadstairs Ladies were joined at their monthly coffee morning at Wyevale, by Monica Padovan Bezzegato, Secretary of International Inner Wheel Club of Padova in Italy.
---



INNER WHEEL CRAFT COMPETITION - DITTON
| | | |
| --- | --- | --- |
| | | |
| Jill Barber | Val Hinds | Rita Rowlett |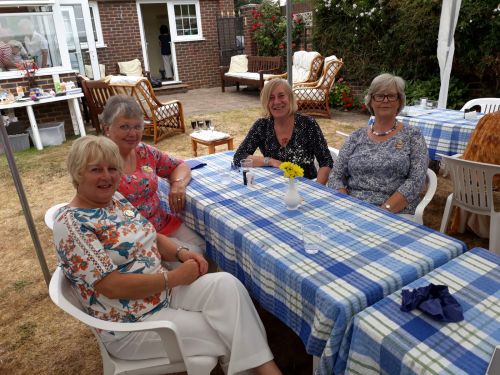 Broadstairs members attend MARGATE'S New Presidents' Lunch in July
CLUB PROGRAMME
2018
Sept. 17th Club Meeting @ Golf Club - International Produce Stall
Speaker Joan Styles: District Chairman
Sept. 18th Fashion Show @ Holy Trinity Church Hall Broadstairs
Sept 18th DISTRICT Cameo Lunch
---
Oct. 15th Club Meeting @ Golf Club - Speaker Russell Miles on "A Year in the Life of a Hare"
Oct. 16th DISTRICT meeting @ Ditton 10.00am for 10.30am
---
Nov 7th District International Rally @ Ditton 9.30am setup for 10.00am start.
Nov 11th Remembrance Sunday Broadstairs
Nov 19th World Toilet Day: Wateraid
Nov. 19th Club Meeting @ Golf Club - Speaker - Janet & Kevin Sayer on the 'Life & Achievements
of victorian engineer Thomas Russell Crampton', born Broadstairs 1816
---
Dec. 17th Club Christmas meeting @ North Foreland Golf Club, with husbands 6.45 for 7.15pm
Husbands, family and friends welcome.
---
2019
Jan 10th INNER WHEEL DAY
Jan 21st Club Meeting @ Golf Club: Speaker Lieut. Col. Carl Whitehead on "The beginning of the
Salvation Army and what they do"
---
Feb. 18th Club Meeting @ Golf Club - Business meeting (voting papers) CLUB BIRTHDAY
---
Mar 18th Club meeting @ Golf Club: JOINT CLUBS MEETING, Speaker: Denise Caitlin Davies
Mar 19th DISTRICT meeting @ Ditton

Mar 23rd QUIZ NIGHT @ St Peters Church Hall

---
April 8-11th IW ASSOCIATION CONFERENCE: Cardiff
April 15th Club meeting @ Golf Club: Speaker from the Air Ambulance - Club Charity
April 16th DISTRICT Quiz Ditton 6 for 6.30pm
---
May 20th Club meeting @ Golf Club: Speaker: Patrick Lamb on 'Ladies Hats'
---
June 5th DISTRICT Rally @ Manor Hotel Gravesend
June 17th Club AGM & Handover @ North Foreland Golf Club
June 20th DISTRICT AGM & Handover @ Ditton 6.30pm
---
LAST YEAR'S CHARITY
John Nichols is pictured receiving a cheque for £2,000 from Past President Rita Rowlett
The money is to go towards the renovation of the
FRANCIS FORBES BARTON
Broadstairs Life Boat 1896 - 1912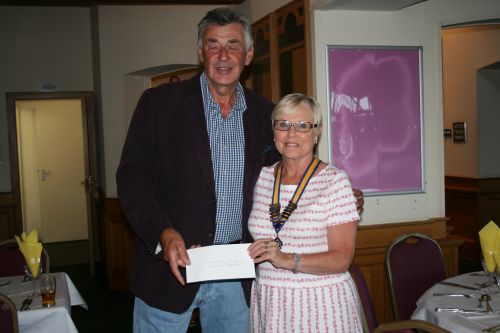 ---