Canterbury Inner Wheel Club
July - December 2020 Meetings by ZOOM VIDEO CONFERENCING
For the time being, due to the Coronavirus pandemic, we are unable to meet together. Reluctantly we have suspended our normal meetings until further notice, whilst arrangements are made to continue our contact by Zoom
About our Club

We meet USUALLY at Littlebourne Village Hall (CT3 1ST) on 2nd and 4th Tuesdays at 10.00am and at other times by arrangement. Our membership currently stands at 41.
The main focus of fundraising each year is the President's chosen charity. In addition the Club supports the District and Association selected charities, and a range of local and overseas causes**.
Representatives from the Club attend District Meetings three times a year and the Inner Wheel Association Conference (Blackpool in April 2021).
When Inner Wheel came into being in 1924 membership was open to the wives of members of Rotary and this continued to be the case until relatively recently. However, since the International Inner Wheel Convention held in 2012 in Istanbul we are able to offer membership by invitation to other ladies sharing our aims. If you are interested in finding out more about us please contact our Membership Officer via the "Contact Us" page of this website.
| | | |
| --- | --- | --- |
| Name | Office | Charity |
| Pauline Pybus | President | R.N.L.I. |
| Pat Wakeham | Secretary | |
| Christina Sloman | Treasurer | |
| Liz Jackson | International Service Officer | The Smile Train |
| Pauline Banks | Club Correspondent | |
| Pauline Pritchard | Membership Officer | |
| Immediate Past Presidents | Anne Arnold and Imogen Sayer | |
Report by Club Correspondent Pauline Banks
2020 will be a year to be remembered by all members of Inner Wheel clubs internationally.

The Inner Wheel club of Canterbury was fortunate to hold its Inter-club lunch just before the first "Pandemic Lockdown" in March, and enjoyed the company of members from other Clubs, not knowing, however, this would be the last such occasion for a long time. We were given a fascinating talk by our President's son about his conservation work in Africa with Rhinoceros.
We have had speakers talking to us via ZOOM which have been interesting and most educational. Our President's chosen charity is the RNLI and our speaker gave a most enlightening talk about the work that is carried out in the UK as well as abroad. Other speakers from FOOTSTEPS, and STRODE PARK have talked of the valuable work they do.
The club is honoured to have two of its members on the DISTRICT COMMITTEE.
Sheila Cragg is sharing the role of District Chairman with Christine Davies.
Pat Wakeham is juggling 2 hats at the same time as
our "Club Secretary and District Treasurer!"
Congratulations to them both.
Our most successful venture has been our outdoor COFFEE MORNINGS for 6, held in members gardens. Because of the wonderful weather we have experienced this year, these have been well attended and members' generous donations have resulted in our Fund Raising problems being solved. It has also enabled members to talk and get to know each other better. To add to this, individual members are undertaking sponsored walking and cycling and helping to add to the Fund Raising efforts of the club.
Some members have made masks in brightly coloured cottons, all generously donated.
| | |
| --- | --- |
| | |
| Outdoor Coffee Morning for 6 | Canterbury members made these face masks to donate to Porchlight and others were sold for charity. |
Now the weather is cooling we shall continue to chat via ZOOM in small groups of 6. Pat Wakeham and Pauline Pybus regularly change our chat groups, so we chat to different people each time.
The majority of our members have mastered the "Art of Zooming", so we have been able to chat to each other briefly before and after meetings. Our President Pauline Pybus was installed with the chain of office by her husband. I believe this must have been a FIRST!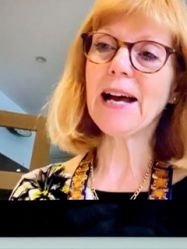 We have also acquired 4 new members but sadly lost 2 due to ill health. The pictures are of 3 of our 4 new members being presented with the Rose of Friendship by our President Pauline. They are top to bottom RAJINI Dasan. LINDA Witts. and MARY Brown.
| | | |
| --- | --- | --- |
| New member Rajini Dasan | Linda Witts | Mary Brown |
| | | |
We are currently compiling a RECIPE BOOK which will be for sale to members as well as being available in the RNLI SHOP. Also a ZOOM QUIZ is happening this week!
** During the year we plan to support the Inner Wheel Association's chosen charity: Riding for the Disabled; District 12 Chairmen's chosen charity: Air Ambulance (Kent, Surrey and Sussex) and District 12's International Service Charity Footsteps: plus our customary local causes and the Presidents' choice - The R.N.L.I. Internationally we hope to raise funds for The Smile Train, alongside the Club's regular charities, WaterAid and collecting Polio Pennies with the aim of eradicating Polio through the world.
July - December 2020 Club Meetings by Zoom at 9.30 am The following are dates for your diaries, but please check regularly for updates:
22nd July 10.00am D.12 Club Officers' Assembly (ZOOM with Breakout groups)

18th August 9.30 am Committee (Zoom)

25th August Presentation on The Smile Train (Club's International Service Charity) 9.30 am (By Zoom)
8th September Club Meeting

21st September United Nations Day of Peace
22nd September Speaker from R.N.L.I. 9.30 am (By Zoom)
13th October Social Meeting/Heart Cushions
22nd October Autumn District 12 Meeting (10.00am) by ZOOM
27th October Sarah Bingham: Strode Park
10th November Club Meeting District Chairman Sheila's Visit
12th November Int. Service Rally : New format
19th November World Toilet Day

20th November International Children's Day
24th November Heather Gallagher Talk
8th December Carols/Sing Song/mulled wine/mince pies
15th December Christmas Lunch 12.30/1pm Holiday Inn Express
(Donations to The Pilgrim's Hospices in lieu of Christmas cards)
Meetings at Littlebourne Lounge at 10 am unless stated otherwise -to be confirmed when Government guidelines allow us to do so.
---
Presidents 1925 - 2020

1925 - 1945 : Mrs. H. Bigglestone, Mrs. A. Baynton, Mrs. J.H.B. Young, Mrs. G. Browning, Mrs. W.H. Hamilton, Miss A. Page, Mrs. F. Brownscombe, Mrs. H. Rigden, Mrs. G.R. Barrett, Mrs. H. P Dawton, Mrs. R. Wood, Mrs. H.P. Dawton, Mrs. S.W. Bligh, Mrs. J. McLaren, Mrs. R.F. Dashwood, Mrs. G. Denne, Mrs. E.A. Wood, Mrs. W. Parker, Mrs. S.H. Jennings
1946 - 1965 : Mrs. A.M. Pennington, Mrs. J.A. Godley, Mrs. E.A. Wood, Mrs. G.A. Kennett, Mrs. T. McCallum, Mrs. J.A. Godley, Mrs. A.V. Wilson, Mrs. R. Tophill, Mrs. B. Dawton, Mrs. A.
Incles, Mrs. S.H. Jennings, Mrs. A.S.P. Mason, Mrs. H.W.F. Hooker, Mrs. G.H. Kennett, Mrs. R.M. Brazier, Mrs. R.L. Stanford, Mrs. F. Hooker, Mrs. E.N. Shephard, Mrs. S. Terry, Mrs. S.H. Jennings
1966 - 1985 : Mrs. Peggy Clague, Mrs. Joan Tyler, Mrs. A.S.P. Mason, Mrs. Gladys Young,
Mrs. Patsy Kerr, Mrs. R. L. Stanford, Mrs. B. A. Porter, Mrs. F. Hooker, Mrs. H.W. Hooker, Mrs. L. Incles, Mrs. Peggy Clague, Mrs. Grace Goodman, Mrs. Grace Goodman, Mrs. Joy Ruston, Mrs. Maimie Greene, Mrs. Elaine Constable, Mrs. Joy Ruston, Mrs. P. Burbidge, Mrs. B. Roberts, Mrs. Irene Roe
1986 - 2005 : Mrs. Patsy Kerr, Mrs. Valerie Martin, Mrs. Rosemary Dawkins, Mrs. Pauline Banks, Mrs. Jeanette Daniels, Mrs. Mary Beere, Mrs. Shirlee Sandy, Mrs. Mela Quarrell, Mrs. Margaret Wright, Mrs. Jane Rice, Mrs. Dorothy Southgate, Mrs. Sheila Cragg, Mrs. Pauline Beckett, Mrs. Jean Talbot, Mrs. Joan Hill, Mrs. Maggie Harris, Mrs. Shirley Hodge, Mrs. Sheila Cragg, Mrs. Diana Forrest, Mrs. Ann Lynch
2006 - 2015 : Mrs. Pauline Banks, Mrs. Bernice Barton, Mrs. Maggie Harris, Mrs. Valerie Reid, Mrs. Judith Wiltshier, Mrs. Anne Arnold, Mrs. Ann Lynch, Mrs. Maggie Harris, Mrs. Pauline Pritchard, Mrs. Judy Wiltshier (Jt) and Mrs. Val Reid (Jt)
2016 : Mrs. Judy Wiltshier (Jt) and Mrs. Val Reid (Jt), Mrs. Sheila Cragg, Mrs. Pat Wakeham, Mrs. Anne Arnold (Jt) and Mrs. Imogen Sayer (Jt), Mrs. Pauline Pybus.