Medical Award
The people of Kent were delighted when the Government gave the Go-Ahead for a new Medical School in Kent and our two Universities (the University of Kent and Canterbury Christ Church University) eagerly built the necessary Centres for the school to operate. The Kent and Medway Medical School threw open its doors to its first intake of students in September 2020.
What a golden opportunity this gave us within Inner Wheel.
It was proposed that District 12 should offer a £500 prize to the best student in relation to women's health matters. This will be donated from Year 1 for a period of 5 years.
During their period of study, the would-be doctors will have placements throughout Kent in its hospitals and in its GP surgeries, so any one of us could be meeting them in a medical setting near to us.
One feature in the design of the course is the emphasis on the importance of communications skills, thus reflecting the changing roles of medical professionals nowadays.
"It is great to be in at the beginning. We are thrilled to have the full support of all the Clubs within the District" said IPDC Sheila (D.12 includes one club that is just beyond Kent's borders – and even their members have offered their unwavering support to this District 12 venture). "We are often asked to promote the name of Inner Wheel" added IPDC Christine "and this prize will keep the name of Inner Wheel very much to the fore within our District and will help and encourage young doctors across the 5 year course of study to make their own money stretch a bit further and give a boost to their future careers".
We offer our congratulations to the two winners this year, Gabriella Saville and Mary McDonald. Each of the 2 successful students received £250 from IPDC Sheila at a Prize-Giving on Wednesday, 15th September. A District 12 Banner was presented to them to remind them of the happy occasion with best wishes from all our D.12 members as they now enter their second year of study!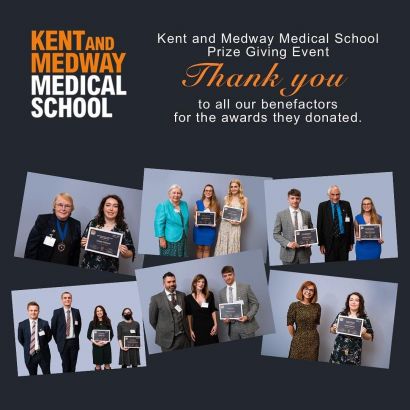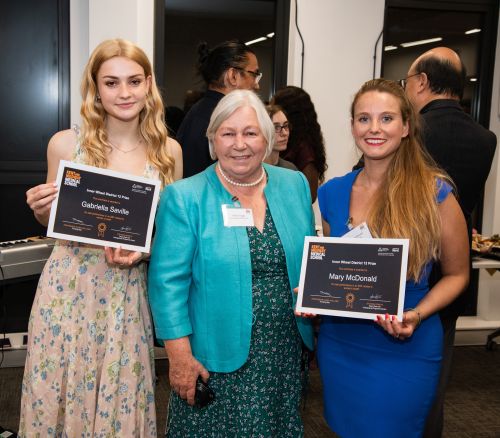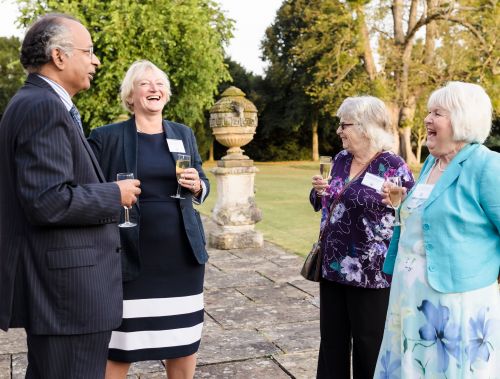 Pictured at Godmersham Park in October 2021, D.Treasurer Pat Wakeham and Canterbury Club member Pauline Pritchard share a joke with Hilary Edridge (Lady Melville) from the Kent and Medway Medical School and Canterbury Christ Church University's Vice-Chancellor Rama Thirunamachandran. Hilary attended our District Meeting by Zoom a few months ago to update us on the progress of the Medical School
and to thank D.12 members for supporting their Prize Fund.