Swedish District Contact Clubs Visit
Due to the Coronavirus Pandemic – the Exchange Visits are currently on hold.
Every 3 years, our District alternates with Swedish District 235 (Stockholm) to make an exchange visit.
District 12 was delighted to host the Swedish ladies in 2019.
Report of Visit from Swedish ladies in 2019 by International Service Chairman Pat Sanford
An invitation to my Swedish counterpart was sent early to try to ascertain whether or not they would wish to continue the links with District . No one was willing to confirm their attendance until the end of March. However, the District Chairman was coming and the District International Service Chairman. then the two became 4,and finally 8 Swedish members were booked, and the visit was on! Great news but this meant a lot of last-minute arrangements, I'd really have liked to have got it organised early! No matter-the visit was going ahead.
Hosts were found for our visitors; venues and meals booked and suddenly they were arriving!
Most guests were collected from Ebbsfleet, two travelled on to Birchington and Westgate. The first afternoon/evening the hosts arranged and our guests were given treats such as a tour of the coast followed by fish and chips. On offer was also a visit to see the Chagall windows in the church at Tudely followed by a visit to Rochester, a visit to Eltham Palace and a chance to see many more exciting local treasures.
The fist "official day" saw us meeting at Leeds Castle. The audio tour was a hit, and everyone learnt something new! Lunch was taken in the Fairfax Hall complete with a white peacock who showed off his plumage wonderfully! After lunching our guests enjoyed a tour of the moat by punt complete with lots of tales told by the punt man! He was hilarious and kept us very well entertained.
The evening allowed our guests to meet members of the host's club and enjoy a meal with them. My club had an Indian meal and a visit to an award-winning garden in Hartlip. The friendship was so obvious and even though not everything was understood by everyone the evening was terrific. It's wonderful what good food, good wine and good company can achieve!
The following day we met at Canterbury Cathedral and had a guided tour. The guide certainly added to our visit and was well received. All too soon we were on our way to Café de Soleil for lunch. This restaurant is housed in an old woollen market and the service was perfect; not too slow and not too fast. Some of our friends then left to return to London to visit Harrods! But those who remained were to meet for a farewell supper where gifts were exchanged and thanks to our district for their hospitality were given.
All too soon we were all waving goodbye to our visitors as they made their way back to London; some to return home and one or two to go on to visit other parts of our wonderful country.
Phew, so it was over but new friendships had been started, old ones had been strengthened and the links with Sweden will continue. A short but very sweet and successful visit.
My thanks go to the hosts; welcoming people into your home is never easy but was very well received by our guests, to those members of Inner Wheel who came along to the events or who welcomed them to their club meeting and finally to the Executive who had the trust in me to pull the visit off!
I know I am eagerly awaiting the invitation to visit Sweden!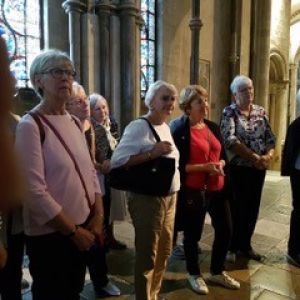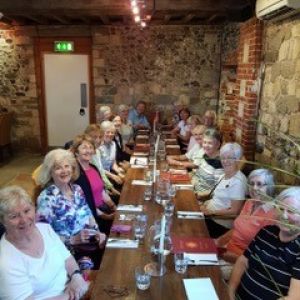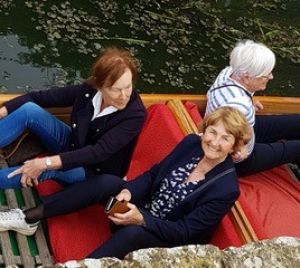 In 2016, unfortunately the visit to Sweden had to be cancelled as the date was unsuitable for us.
In 2013 it was the turn of our Swedish friends to visit England from 4th - 7th June. Here are the photos of their visit.

25 ladies from 8 clubs of Swedish District 235 (Stockholm) visited this year. Our visitors were from Eskilstuna, Katrineholm, Lidingo, Nykoping-Oxelosund, Stockholm Ekero, Stockholm Nord-Ostra, Stockholm Vastra and Uppsala. They stayed with hostesses in various parts of the District and the programme for their visit comprised of informal events put together by groups of local clubs. There was a District Farewell Dinner at 'The Falcons', Rare Breeds Centre, Woodchurch, TN26 3RJ to which many members came.