About our Club
Pre Covid - all meetings were held every third Tuesday of the month at the Royal Wells Hotel, Mount Ephraim, Tunbridge Wells, TN4 8BE - 7:00 for 7:15 pm - we hope to resume this when possible. For further information please use 'Contact Us' page.
Inner Wheel Programme 2019/20 (to give you an idea of our 'normal' sort of programme)

7pm for 7.15pm start unless otherwise stated
2019
16th July Presidentís Lunch Party
30th July Club Officers' Meeting - Ditton
7th August Visit to Godinton House & Gardens
17th September District Chairman's visit and Charity Talk

15th October A Schoolgirl's War - Mary Smith

23rd October District Meeting - Ditton
7th November International Rally - Ditton
10th November Remembrance Day Parade
19th November Hayley Tomlinson - Art Restorer
21st November Charity Coffee Morning, President's home.
10th December Christmas Fun & Games
16th December Joint Christmas Dinner with Rotary - Royal Wells
2020
11th January Inner Wheel Day at President's home
21st January Choice Joyce - Pat Bryer
18th February Women in World War 1 - Anna Astin
17th March District Meeting - Ditton
17th March The Jewels and Wardrobe of Duchess of Windsor - Janie Ramsay
15th April District Quiz - Ditton
21st April Theatre Trip - The Mousetrap
17th May Charity Plant Sale and Tea at President's home
19th May Cook - Summer Meals
2nd June District Rally
11th June Inner Wheel and Rotary Joint Presidents' Lunch & Visit
14th -19th June IW and Rotary Visit to Jersey
23rd June AGM & Handover
24th June District Meeting and AGM
Our Fit and Friendly Walks
Each month we organise a "Fit and Friendly" walk. This is a joint venture with our Rotary Club. We meet at a member's home and walk for approximately an hour and then return for the "Friendly" part, coffee and a chat, having been joined by non walkers.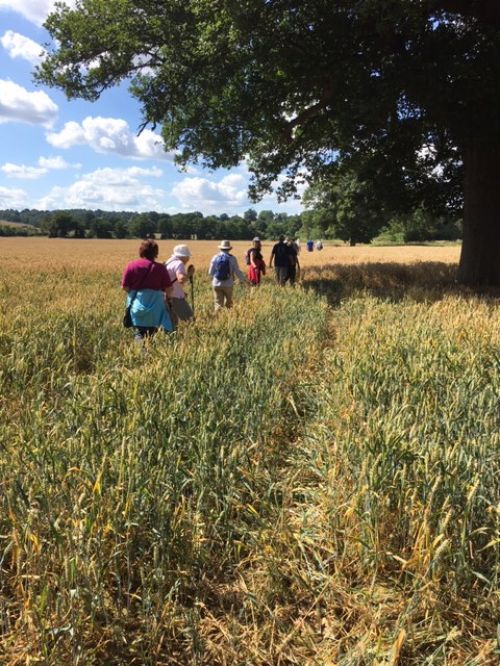 One of our monthly 'Fit and Friendly' (socially distanced) walks.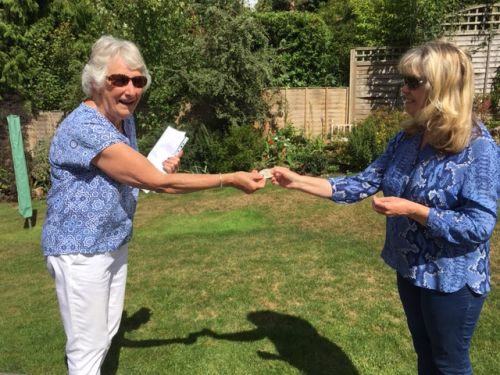 President Pam inducting new member Kay whilst socially distancing.
Club Officers for 2020-2021
President Pam Atkinson (Chosen Charity - Age UK Tunbridge Wells)
Vice President Philippa Berstein
Chairman Christine Davies
Treasurer Wendy Mulley
Secretary Marion Cook
International Jenny Saadat
Correspondence Mary Ranson
Membership Christine Baker
IT Shauna King
Events team Rosa Apps, Marion Basten, Christine Davies, Mary Ranson,
Denise Standen
Our 'Covid' programme (which will change as necessary to conform with Government guidelines)
Inner Wheel Programme 2020/2021

2020 -2021 Events
2020
June
Tuesday 16th - AGM - via Zoom
Wednesday 24th - District Meeting and AGM - via Zoom
July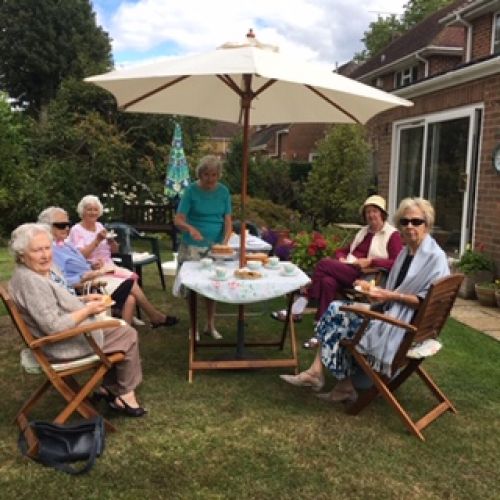 Tuesday 28th - Small group tea parties in members gardens
Tuesday 21st - Fit and Friendly - walk around Penshurst
Wednesday 22nd - Club Officers Assembly via Zoom
August
Saturday 8th - Fit and Friendly - walk around Bewl Water with picnic lunch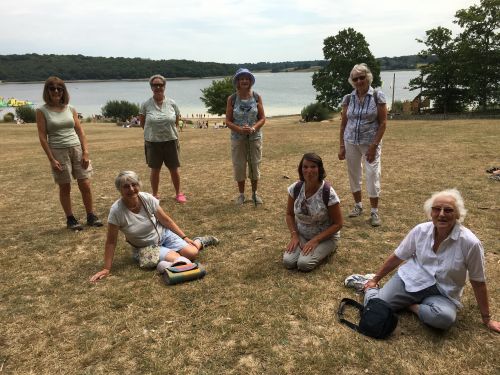 Thursday 13th - Small group coffee mornings in members gardens
Tuesday 18th - Members picnic lunch at Chiddingstone Castle
September
Tuesday 15th - Matthew Scott (Police and Crime Commissioner for Kent) and Sandra Springett (CEO Age UK Tunbridge Wells) - via Zoom
Thursday 17th - Charity Cameo Tea
October
Tuesday 20th - TBA
Thursday 22nd - District Meeting
November
Thursday 12th - International Rally (Cancelled)
Remembrance Sunday - Tunbridge Wells Parade cancelled
Tuesday 17th - International Meeting (Holiday photos and fancy dress)
December
Saturday 5th 10am - 'Dedication of Tree of Light' by the Mayor in The Pantiles
Tuesday 8th - TBA
2021
January
Saturday 9th - Inner Wheel Day
Tuesday 19th - Delia Taylor - The Glory of MGM Musicals
February
Tuesday 16th - Ernestine Lawrence - Let's Dance
March
Tuesday 16th - Janie Ramsay - Jewellery and wardrobe of Duchess of Windsor
Wednesday 24th - District Meeting
April
Monday 12th - Wednesday 14th - Association Conference - Blackpool
Tuesday 20th - Theatre visit/meal
Wednesday 28th - District Quiz
May
Tuesday 11th - Cook Meals

Wednesday 26th - District Rally
June
Tuesday 15th - AGM and handover