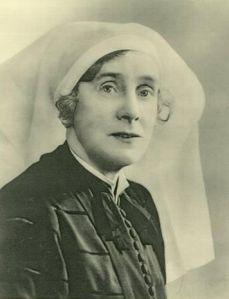 Margarette Golding - Founder President, Association of Inner Wheel Clubs Great Britain & Ireland
Described by someone who knew her intimately as 'a truly remarkable woman with great courage, foresight, intelligence and business acumen', Margarette Golding, Peggy to her friends, was the moving force which inspired those innovative Manchester members to firstly appoint her as Chairman of the interim organising committee, then at the next meeting elect her as Founder President of 'The Inner Wheel.' A name she herself had coined.
Of Welsh extraction, born in Blaenau Ffestiniog, Margarette (nee Owen) trained as a nurse, serving throughout World War 1, before becoming co-owner and director, alongside her husband Oliver, of the Nurses Outfitting Association Ltd, where her vital personality, combined with a clear brain and the ability to convey ideas to others made her a very capable business woman.
She was said to be an excellent speaker, with a lively sense of humour and the gift of inspiring friendship – her 'At Homes' were renowned!
A great philanthropist, her chief social interests being The Manchester Girls' Orphanage and Ancoats Hospital, she was described as having a heart of gold and a generosity that knew no bounds. She was equally generous with her time. A journal written by one fledgling Club Secretary in those early days records how, on realising her knowledge of the Constitution and By Laws was somewhat inadequate she plucked up the courage to enlist Mrs Golding's personal help and was invited to a private meeting at the Golding home, to learn more about the workings of the Association. "Mrs Golding's understanding of human nature and her faith in women, urged her to create an organisation where friendship really could grow." she wrote.
After battling ill health for a number of years, Margarette Golding died in 1939. Her legacy to us: an Association of friends working together for the good of others.
At the 11th International Convention in May 2000 it was decided that:
'An award be created in the name of Margarette Golding for highly commendable personal service through Inner Wheel or in the community.'
The award – a neat floral brooch – a marguerite!
In 2019 a Margarette Golding Award was presented to PDC Betty Selfe for her 37 years of service as a Justice of the Peace and 14 years, serving as a prison visitor. She is seen here wearing her brooch at an Afternoon Tea.