The Charity chosen by the Association President
Association President for 2020 to 2021 is Enid Law.
She is a member of Llangollen Club in District 18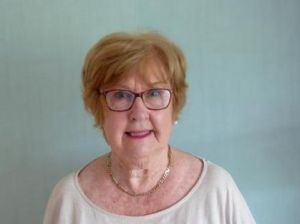 She has chosen Riding for the Disabled as her Association charity this year.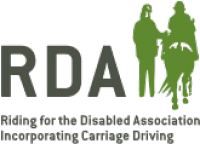 Dear Fellow Members,
I am writing to you all to wish you well as another Inner Wheel ends and a new one begins. To say that this has been a strange year is indeed an understatement.
As I visited the District Rallies, I spoke about adopting new ideas and adapting them to our needs. Little did I think how much adopting of new ideas we were to be faced with, but we certainly have adapted them to our needs. I am so proud to be part of this Association whose members have found such strength to face new challenges. We have embraced technology, new to many of us. We have used Zoom and other online programmes to conduct formal business meetings and to enjoy fun and friendship. We have not been idle in lockdown but we have kept busy using our skills to help out those working on the frontline in the crisis.
The months ahead could prove to be even more difficult as we adjust to a new way of life which contains the threat of a returning epidemic. We may have to continue with "virtual "meetings and whilst that is the case, we must make sure that we make arrangements to include those members who do not have access to the internet. The health and safety of our members must be of paramount importance so meeting physically may not be possible for some time yet. I am sure all our Clubs will adhere to the safety guidelines set out by those governing us and only meet physically when it is safe to do so. This gives us an opportunity to plan ahead and to give ourselves time to consider what improvements we can make at all levels of the Association.
As an Association Executive we have held regular meetings to find a way forward and we recognise the difficulties we are all going to have to face. We will have to be flexible in these times and not rely on the old ways. Many clubs have successfully experimented with job– sharing and proved it to be workable. Your club may have other solutions to tide you over this difficult time. Members of the Executive are here to help you if you have alternative suggestions you wish to put forward.
I put these ideas before you because I know that you realize, as I do, what a valuable contribution our clubs make to local communities and to those beyond these shores. Many of these communities are going to need our help more than ever in the near future. I also know what the friendship of Inner Wheel means to so many of us, never more so than in the present day. Coming from a period of isolation we are going to need the support and friendship our organization provides.
I know that many of you are struggling to keep your clubs going and it seems an uphill task but please see the value of maintaining all that is so good in Inner Wheel. There is a lot of truth in the old saying "every cloud has a silver lining". Covid 19 has presented us with many challenges if we can find a way forward our Association can emerge from these difficult times with renewed vigour and enthusiasm.
I wish you all well in your endeavours.
Yours in Inner Wheel Friendship
Enid
Association President Enid Law 2019-2021
INTERNATIONAL INNER WHEEL PRESIDENT 2020 - 2021
DR BINA VYAS
Inner Wheel Club of Anand District 306 India

Inner Wheel is the largest Women's Voluntary Service Organisation in the world, very soon ready to celebrate our centenary year in 2024. In the last 96 years, times have changed, needs have changed, humanitarian problems have changed, technology has changed and requirement of infrastructure is totally changed. Inner Wheel has been accommodating changes since years. However, we need to keep pace with the changing times. In fact, we need to have a vision to remain one step ahead of the coming changes.
However, it is we, members of Inner Wheel, who have to ultimately take initiatives and adopt a structured approach to continue fulfilling our programmes and ideology.
We need to make an impact internationally by focusing on sustainable large community development projects, making larger clubs and branding of Inner Wheel in the public through our work.
Inner Wheel is being represented in the United Nations on the Commission for Status of Women and Girls. From time to time, United Nations has been giving recommendations to NGOs on which we need to work. UN has a lot of expectations from us to cooperate and help in implementing programs as per their guidelines, with special emphasis on Youth, Women and Senior Citizens.
Inner Wheel needs to implement the recommendations of the UN to bring about change in our community development programs.
We need to 'Lead the Change' in: our thinking, attitude, working, interpersonal relations, communication, publicising our brand of Inner Wheel, growth of our organisation both financially and in membership strength and cooperating with other like-minded organisations by establishing networking.
As we head for the centenary year, let us lead the changes in
Having our own Organisation's Strategic Plan and Goals
Targeting Membership Growth
Targeting increase in number of clubs
Initiating Youth Clubs (18 - 25 age group)
Initiating Youth Development Projects for Girls (12 - 25 age group)
Promoting brand image at Club, District, National and International levels
Creating awareness about health, financial independence and education in our own members and among women everywhere
Shortlisting like-minded cooperating organisations and establishing communication with them
Working for Collective Leadership
Executing Corporate International Projects

If we have to achieve all this, we need to lead the positive change by empowering our own members by guiding, recognising them as leaders in their own rights and accepting and believing in their leadership.
Then only we, the proud members of such a wonderful organisation, can contribute more effectively in developing and bringing a ray of hope in the lives of the needy and underprivileged. We are privileged to have the opportunity to serve those who need us.
Let nothing stop us in becoming a force to reckon with in the world.
Let us then LEAD THE CHANGE collectively to bring about positive, significant and meaningful difference in the world.
The World is waiting for us.
International Vice President Ebe Panitteri Martines (Italy)