About our Club
We meet on the 3rd Tuesday of the month (not August) at 6.30 for 7pm at Chalk Farm Hotel, Coopers Hill, Willingdon, East Sussex, BN20 9JD
For further information please use the 'Contact Us' page.
Club Officers for 2019 to 2020
Name
Office
Chosen Charity


Mrs Hayzen Elphick

Mrs Pam Wood

Joint Presidents




Dementia

Mrs Margaret Field
Secretary


Mrs Joyce Taylor

Treasurer


Mrs Val Procter

International Service Organiser


Mrs June Christophi

Club Correspondent


Mrs Judith Cooper


Membership Officer



2019 - 2020 Programme
Tuesday 4th September

Executive Meeting
7pm
Tuesday 18th September

Business Meeting

6.30 for 7pm

Tuesday 16th October
Speaker Meeting
6.30 for 7pm
Wednesday 7th November
International Rally
Saturday 10th November
Race Night
6.30 for 7pm
Tuesday 20th November

Speaker Meeting

6.30 for 7pm
Tuesday 18th December

Christmas Meal
6.30 for 7pm
2019

Thursday 10th January
International Inner Wheel Day
10.30am
Tuesday 15th January

Business Meeting with Guest District Chairman

Joan Styles

6.30 for 7pm
Tuesday 19th February
Speaker Meeting
6.30 for 7pm
Tuesday 5th March
Ten Pin Bowling and Supper
4.00pm
Tuesday 19th March
Spring District Meeting at Ditton
10 for 10.30am
Tuesday 26th March
Interclub Lunch at Willingdon Golf Club
11.45 for 12.15am
8th 9th 10th April
Inner Wheel Association Conference in Cardiff


Tuesday 16th April
Business Meeting
6.30 for 7pm






Tuesday 15th January 2019
District Chairman Joan Styles Visit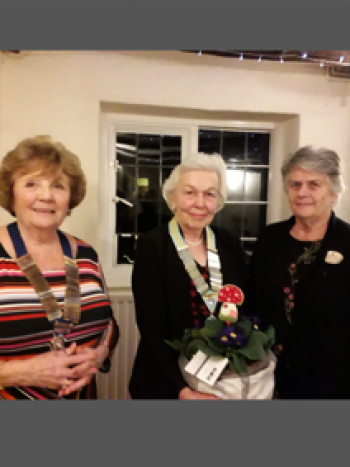 Thursday 10th January 2019
International Inner Wheel Day
Tuesday 18th December 2018
Christmas Dinner
at Chalk Farm Hotel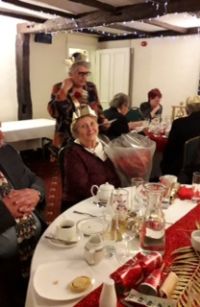 It was also Francine's Birthday

Sunday 16th December 2018
Pre-Christmas Drinks and Mince Pies
at Joint President Hayzen's House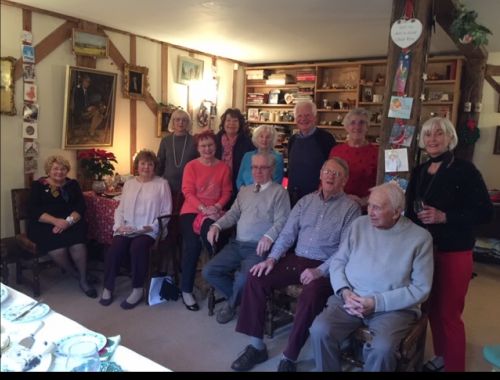 Tuesday 20th November 2018
Speaker Meeting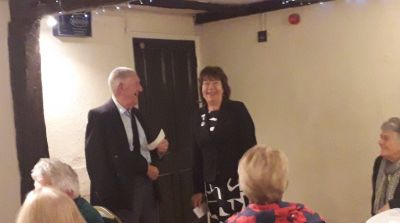 Frederick Smith from Dementia Action Alliance Accepting our cheque for £1500 from Freda.
Fred had given us a very informative and interesting talk on Dementia. His wife had suffered from it and having looked after her for many years, he could speak from first hand experience. He told us not only about the difficult times but also the fun and funny times... it was very obvious that Fred loved his wife very much right up to her sad passing.
Twiddle Muffs knitted and
stitched by members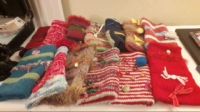 President Pam inducting New Member
Yvonne Watson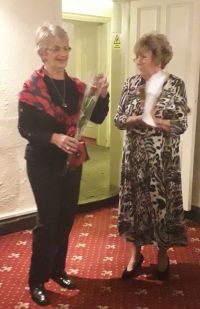 International Rally 7th November 2018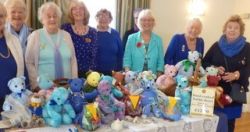 Great Day had by Pat, Judith, Val, Margaret, Joyce and Pam at the International Rally with our Tombola. A lot of hard work beforehand but well worth it all on the day.. Well done to Val for the organisation of it, Well done to those that packed and wrapped and Well done to all her helpers on the day.
16th October 2018
Club Members with their Knitted Poppies for WW1 Memorial Day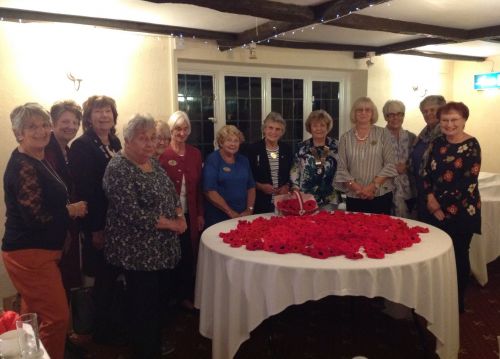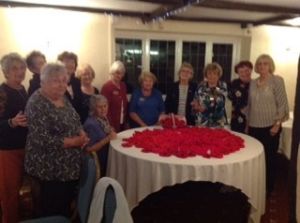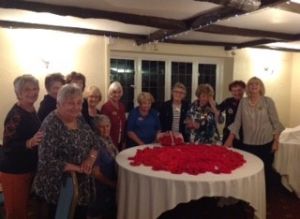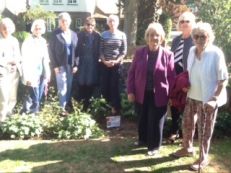 Friday 21st September 2018 International
Peace Day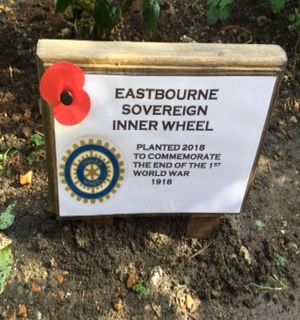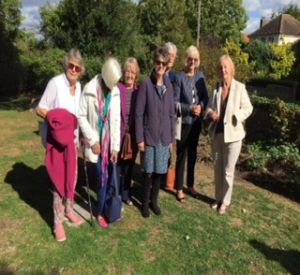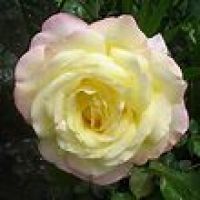 Planting a Rose
Inner Wheel friends planting a Peace Rose to commemorate the end of World War 1 in 1918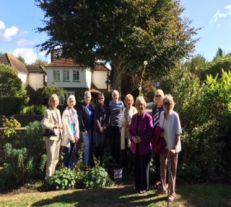 June Christophi making a tandem skydive in aid of Alzheimer's Research UK.
June 9th 2018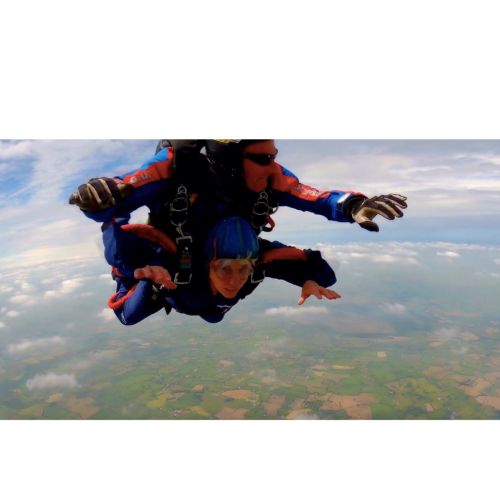 Our Swedish Visitors
Two members of Eastbourne Sovereign I.W. Club Judith Cooper and Una Genty, hosted three Members of the Swedish Inner Wheel Club of Nyropin-Oxelosund at the beginning of June.

The ladies, Gunilla, Siv and Kerstin were shown around Alfriston, a lovely old Sussex village, and together with other Members of Eastbourne Sovereign, enjoyed a cream tea in one of the gardens.




That evening they were hosted by Judith for a meal at her home.

The following day they visited Fairlight Glen, for lunch, followed by tea in the garden at PDC Liz Jackson's home.



In the evening a superb buffet dinner was provided in the garden and home of one of our members Hayzen Elphick.

On Thursday lunch was enjoyed at Chartwell, the home of Winston Churchill, followed by a delicious dinner at The Rare Breeds Centre, Tenterden, before returning to London on Friday We enjoyed being with our visitors very much and were sad to see them leave.