Cranbrook and Hawkhurst Inner Wheel Club
About our Club
We are a small, friendly group, with 13 members meeting on the 3rd Tuesday of each month at the Queens Inn in Hawkhurst for business with the occasional speaker. We also organise a social meeting, usually on the 1st Tuesday monthly

For further information please use 'Contact Us' page

Club Officers for 2023-2024
| | | | |
| --- | --- | --- | --- |
| | Name | Office | Chosen Charity |
| | Dinah Chamberlin | President | |
| | Dinah Chamberlin | Secretary | |
| | Karin Jones | Treasurer | |
| | Janet Knuth | International Service Organiser | |
| | Marion Luckhurst | Club Correspondent | |
| | Dinah Chamberlin | Membership Officer | |
Programme:
15th August Social meeting. Plate lunch at Geraldine's home 12noon
5th September Social meeting
19th September Monthly Business Meeting at The Queens Inn Hawkhurst 12noon

3rd October Social Meeting
17th October Monthly Meeting in Hawkhurst 12 noon
7th November Social Meeting

21st November Monthly Business Meeting in Hawkhurst with District Chairman attending 12noon
December Christmas Lunch
10th January 2023 Inner Wheel Day...100th Anniversary
16th January Monthly Meeting at the Queens Inn Hawkhurst 12 noon
6th February Social Meeting

20th February Monthly Meeting in Hawkhurst 12noon
5th March Social Meeting
19th March Monthly Meeting in Hawkhurst 12noon
2nd April Social Meeting
16th April Monthly Meeting at the Queens Inn 12 noon
7th May Social meeting
21st May Monthly Meeting in Hawkhurst 12noon
4th June Social Meeting
18th June Business meeting, followed by the Club AGM & Handover at the Queens Inn Hawkhurst 12noon
---
Events during 2023-2024
A last minute change of plans saw us heading off down to Marion's home at the end of August for coffee and cakes where we were again delighted to welcome Pat O'Connor from New Zealand and President Val from Maidstone club. It was lovely to catch up and hear about Inner Wheel in New Zealand and also chat to Val about the general challenges of getting new members and keeping our clubs active.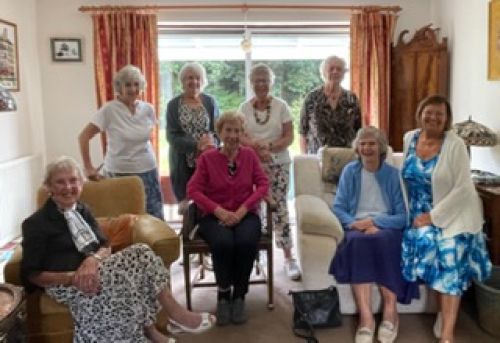 No business meeting in August, but we descended on PP Geraldine for a plate lunch in the sun and chatted about plans for the coming year.
We started our new year with an outing in July to Tenterden Garden Centre. Much changed since our last visit and very enjoyable.
EVENTS DURING 2022-2023
In June at our AGM we thanked Geraldine for leading us in her year of office. Although we are a small club, sadly marred by illness and commitments over the past year, we look forward to an interesting and enjoyable new year with Dinah as our President.
Like everyone else in May, we celebrated the coronation of King Charles and again Marion kindly invited us to her home, where we enjoyed a Fish and Chip lunch.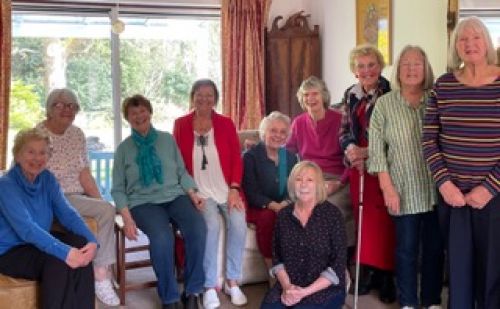 At our business meeting on 18th April, it was celebrations all round as we welcomed back our President Geraldine and past president Jill, and wished past DC Marion a very happy birthday, congratulating her on entering her 90th year.
Marion opened her home to us again in April for an Easter tea party with an Easter egg raffle to swell our charity account funds. We indulged in sandwiches, hot cross buns and tea cakes brought by members to share and a rather boozy delicious trifle made by Marion. At last it was fine and dry and it was lovely to see all the spring flowers and blossom emerging.
With 2 members, including our President, sadly in hospital, it was down to our very able secretary Dinah to preside over the meeting in March, where we all wished them a speedy recovery.
March saw us travelling down to Blackbrooks Nursey on yet another wild and wet day. We always enjoy our lunches there and wandering round the many sales areas to see what's on offer.
As the weather was so unsettled, we met at the Queens Inn for our social event in February. With good company and good food and wine we enjoyed a fun relaxed lunch.
On a wild and wet Inner Wheel day 10th January 2023, we descended on Janet in Rye, where she had provided sausage rolls and jam doughnuts washed down with coffee or wine, whilst we sorted all the donations we had collected for the local food bank.
We held our Christmas lunch in December at the Wild Mushroom, Westfield and as usual had an excellent meal followed by a fun time opening our secret Santa gifts.
District Chairman Judith joined us at our November meeting, where she presented us with a framed certificate to mark the clubs 60th anniversary. We were due to celebrate in 2019/2020, but everything had to be cancelled due to lockdown, so it was good to remember the occasion, if a little late.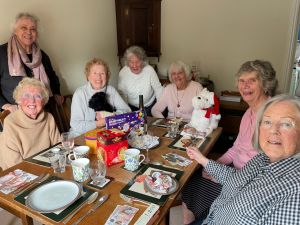 Marion opened up her home in November for a lovely fish and chip lunch to raise money for Demelza House.
We were fortunate to have another fascinating speaker at our meeting in October, talking about his time moving from the army to the Prison service with his various jobs in prisons all over the country.
October was again a social gathering for a very enjoyable lunch at the Hawkhurst Fish Farm, overlooking the large lake.
At our business meeting in September, we were enthralled by our very interesting and knowledgeable speaker on 'Romans in the weald' and their influence on the roads and iron works.
Back after our summer break, our planned social afternoon tea event at a specialist tropical garden centre, with a tour, had to be cancelled due to the very hot weather. We met instead for lunch at Blackbrooks nursery.
We don't have a set meeting in August, but a few members arranged to meet at the Boating station in Newenden. We weren't quite brave enough to venture out in the canoes, but consoled ourselves with coffee and cake in the café over looking the river :-)
President Geraldine's first business meeting at the Queens Inn was full of fun and laughter as we chatted over our meal about the future plans for the year ahead.
For our social meeting in July we met at the beautiful Bedgebury Pinetum. Unfortunately it was a very hot day for walking, so we just enjoyed the view from the café overlooking the lake.
EVENTS DURING 2021-2022
At the AGM, Jenny was thanked for her role as President over the past years, which had not been easy due to the Covid epidemic, but we were proud to note that we had gained a few new members to our club. Geraldine was welcomed as our new President and she is hoping the club can move forward again this year with charity events, speakers and interesting social outings.
Marion again hosted afternoon tea at her home in June. Taking a plate of goodies each to share and sitting on her patio is always a lovely treat.
A couple of us managed an afternoon to view the stunning Tulip display this year at Pashley Manor, as portrayed on Scene South East. We vowed to try and return as it was a most beautiful walk round the gardens and lake. And how could we miss a wander through the amazing bluebells and rhododendrons at Hole Park in May, with of course the inevitable coffee and cake to round off the morning.
It was so nice to again feel comfortable welcoming a speaker to our business meeting in April. Roy is a very accomplished Harmonica player and with recorded guitar accompaniment, as his companion was unwell, he played us his take on many old and new favourites. Thoroughly enjoyed by all, including the Hotel staff and other diners.
In true Inner Wheel style our social gatherings tend to involve food, Firstly in March when we met at Planters for coffee and cake and then a lovely wander round the shopping area where you could buy anything from second hand designer clothes to antiques. And secondly in April with coffee at Sissinghurst Castle and beautiful walk circling the gardens.

At our business meeting in February, we again welcomed Veronica who has moved to the area and transferred to our club. Over lunch, Karin gave a short talk about a " Tombolok" she had recently attended...a traditional Engagement celebration party from Southern Iran. She brought photos of the bride to be and her entourage in their colourful costumes handed down through the generations and the traditional dancing in the evening. There were about 130 people of all ages from different countries, cultures and religions, all happily celebrating together.
On a beautiful sunny February morning we set off to the coast, where Janet had invited us to visit for lunch. Her calming, sea themed home overlooked the Cinque Port town of Rye and we enjoyed sausage, bacon and cheese rolls, washed down with wine and followed by delicious home made cake. It was a lovely relaxing, fun day.
Inner Wheel day was celebrated in friendship at Penny's home, where we wrote greetings cards to other clubs that members had attended previously, or we had association with, and to past members and Inner Wheel friends living abroad.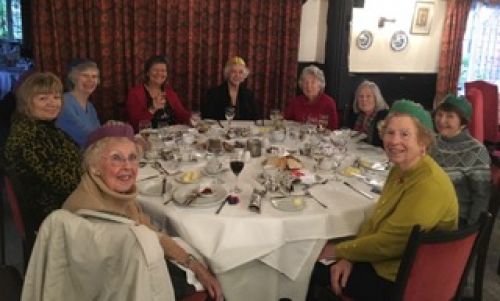 After last year's Christmas cancellations it was so lovely to be back at the Brickwall Hotel again for our celebrations, with a delicious meal and fun secret Santa gifts. We were to have had a full house but sadly our President Jenny was unwell that day and 3 other members were absent due to illness or commitments.
President Jenny and Secretary Dinah were again able this year to put up the Club Christmas tree in Hawkhurst Church and it was the usual wonderful display from clubs and organisations in the area.
Our October social took us to Blackbrooks garden centre. Marion joined us for coffee and then 8 of us, including Fiona, had a fun chatty lunch. It is so nice to carefully get out and about again and socialise...something we have all missed over the past months. There were lots of shops inside to peruse, and the Christmas displays were very tempting.
We had a very enjoyable, accommodating first Business meeting of the Inner Wheel year in September at our new venue, where we outlined the coming year and were very pleased to welcome Janet again, who has now transferred to our club.
Finding suitable venues posed difficult so we had our September social evening dinner at the Queens Inn, where we were joined by Fiona and Jeanie.
Geraldine's home was the venue for our summer afternoon tea get together in August.
On a rather wet and windy day in July we met at the Hawkhurst Fish Farm, but it did not stop us enjoying our snacks and afternoon tea overlooking the lake. Eventually the wind dropped and some of us even took a walk, admiring the scenery and fish and swooping swallows.
EVENTS DURING 2020-2021
We were at the Queens Inn Hawkhurst again for our evening AGM in June. We were able to be socially distanced on two tables, in a room on our own with a full compliment of members where we welcomed Janet Knuth, who had come to join us. Oh for the day when we can all enjoy the closeness of the company of our friends and families again. We were all delighted to congratulate Past Club President and Past District Chairman Marion on receiving her certificate on being a member of Inner Wheel for 50 years. It was agreed that from September 2021, we would hold our monthly business meetings at the Queens Inn, as they are happy to accommodate us in a quiet area for a reasonably priced meal, which the Great House will no longer do.
Jenny was again elected President for another year, to hopefully give her a better opportunity as we come out of Covid restrictions. She stated how lovely it was to see everyone together again, having come through the past 18months, and she looked forward to leading us into brighter times.
Our May lunch meeting was still outside, but thankfully with some protection from the weather under the marque at the Queens Inn Hawkhurst. It was decided to investigate venues for when we resume monthly meetings in September 2021.

April 2021. Our first attempt at an outside reunion was aborted as the weather was still so cold, but Geraldine kindly offered her sheltered patio for morning coffee and biscuits for 6 members one week and afternoon tea and homemade cake the next for 6 more members to socially meet. It was so enjoyable to sit and relax and chat face to face again. We are hoping to resume full club meetings at the end of May, weather permitting, with a lunch. It will be nice to get back to business with some sort of normality and have a proper catch up with everyone.
It has been a tough few months for some, with isolation, illness and accidents, and distanced celebrations for others with family weddings and new grandchildren, and we have all greatly missed our families and friends. But hopefully, it is now back to what we do best... meet, chat and eat !
Who would have imagined that on 10th January 2021 we would be in lockdown again.
No club gathering or sending cards like last year, as the postal service can be severely delayed or suspended to many countries. But that does not mean we are not thinking of all Inner Wheel members across the world dealing with this pandemic and keeping in contact by email to our friends abroad.
At home we chat on the phone and email, have door step conversations and the occasional walk with other members.
It was a very quiet Christmas period for most of us. Our very talented secretary Di, spent some of her isolating time using her artistic talents to paint each member a beautiful, individual Christmas card...something to cherish. Unable to put our usual display in Hawkhurst church this year, President Jenny assembled our Inner Wheel Christmas tree on her landing...here's to next Christmas when we can all celebrate together again.

1st September and we were lucky enough to have a warm sunny day for our first "mini" meeting with President Jenny at the helm again. It will probably be another quiet year, with the unknown effects of "Covid" on our meetings and fund raising activities, but we chatted about the way forward and collected our 5p coins for the RNLI and "copper" for Lepra as usual.
Many thanks to Geraldine, who opened her garden again to accommodate us and our array of lunches brought from home. Her delicious apple cake was a wonderful treat for dessert.
We look forward to seeing everyone again in October.

After months of phone calls and messages, and with a sunny July day forecast, a few members arranged to meet at past President Geraldine's home. We were able to socially distance in her garden and enjoy fresh coffee and scrumptious scones made that morning by our secretary Dinah. It was nice to have a little 'normality' back in our club and wonderful to see everyone, although we did miss our President Jenny, who still wasn't to able to socialise as she is shielding because of the Covid virus.

We are hopeful that in August we can meet again and begin to discuss the way forward with our program for this Inner Wheel year.
EVENTS DURING 2019 -2020
We started a positive 2020 with a coffee morning on Inner Wheel day at past president Geraldine's home writing greetings cards to close clubs, past members and friends in Inner Wheel abroad, not forgetting our thoughts to all those suffering from the fires in Australia.
We enjoyed a very nice social lunch at the 8 Bells, Hawkhurst in February and managed two business meetings before Lock down!
Thankfully all members and their families are well and we have kept in contact with telephone calls and emails. Some newsy about how we are all coping, giving ideas on how we are keeping occupied and fit, and others great fun with jokes and poems to share.
The true meaning of a friendship club, helping others as best we can, especially those self isolating, has certainly been evident during this crisis and we look forward to gradually being able to get back to some normality in our lives and the day we can all meet up again and continue planning for our 60th Anniversary.
Though small in number, our members are imaginative and enthusiastic and again created a wonderful Christmas tree display at Hawkhurst Church in December. They also arranged a 'Human Fruit Machine' at the Christmas fete and with fruits hidden in their bags and chocolates as prizes, raised £87 for the District charity 'Porchlight'.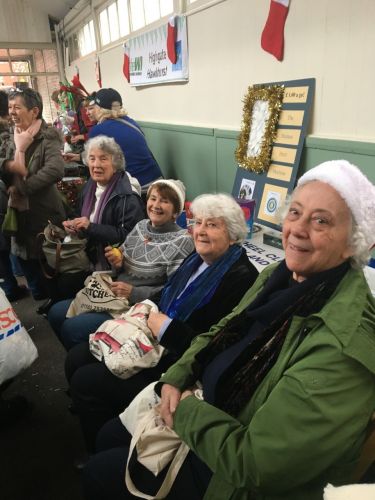 After a busy month it was nice to relax at the Brickwall, Sedlescombe for a most enjoyable Christmas meal followed by our fun secret Santa gifts.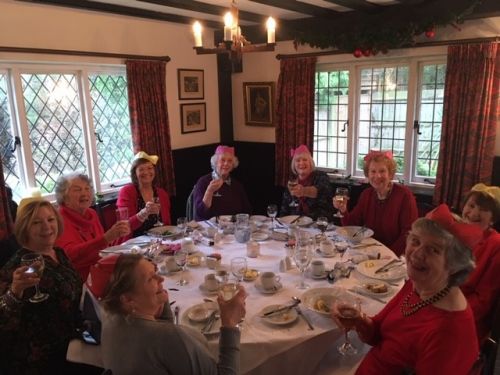 Our November social gathering was for a light lunch at Tenterden garden center. It was beautifully decked out for Christmas and so it was also a great chance to start the festive shopping. We were pleased to welcome District Chairman Liz to the club meeting in November for a lively lunch and chat.
It was decided to abandon our sea side trip to Hastings in October as the weather was so unpredictable and instead we ventured to The Fish Farm in Hawkhurst. After coffee and a chat we thoroughly enjoyed a relaxing 'little Bites' lunch with a lovely background of lakes and a variety of water birds to keep us amused.

Four members attended the Cameo lunch, held this year in September at our clubs meeting venue, The Great House. The pleasant company and exchange of views from other clubs was interesting and fun. A great get together.

The sun shone in August, and after a glass of Pimms, our bring and share lunch by the beach was, as usual, delightful and filling with a very tasty Gin and Tonic based dessert to round it all off! At high tide we climbed over the dunes and whilst most watched or had a quick paddle, two intrepid ladies braved the water and went for a swim. Some jars full of 5p coins that we collect for the RNLI were handed over as we enjoyed a relaxing cup of tea and a chat in the garden before heading for home.

At our July business meeting, after a handover from Geraldine, who was thanked as our outgoing President for her work and leadership during her year, Jenny was warmly welcomed as our new President for 2019/2020. As we discussed the forthcoming program, we look forward to a year of fun and friendship and supporting Jenny in her year of new ideas.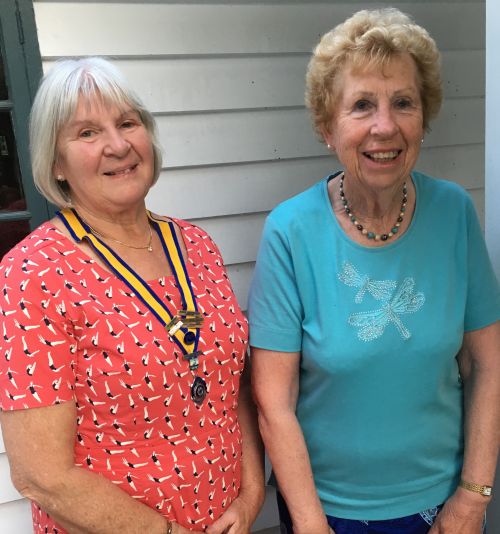 Events during 2018 - 2019
Our final rendezvous of the year was tea at Marion's home. On a slightly damp afternoon, 6 members were plied with yummy cakes with even a Birthday cake and song for secretary Dinah, so a fun time was had as usual.
In May, with the sun shining and a light breeze, we meandered through the bluebell woods and Wisteria garden at Hole Park, Rolvenden. Again, it was afternoon tea after our exercise in the gardens!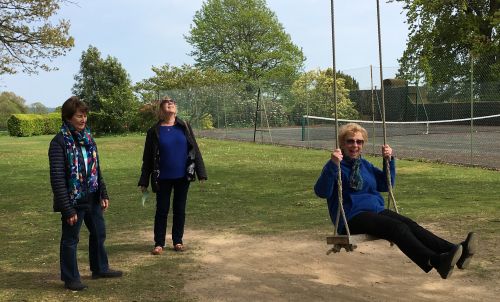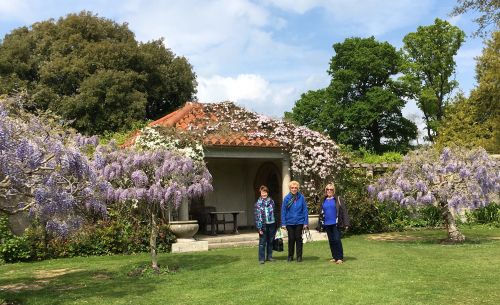 Our meetings have now moved to the evening but as usual we are well catered for by the Great House with a lovely meal following our business discussions.
Food always seems to be at the centre of our club get togethers, with coffee and scones at past presidents Jill's home, followed up in March , where despite high winds and rain, members tried out the 8 Bells in Hawkhurst for lunch. April's social gathering found 6 members enjoying a chat and hearty breakfast overlooking the lakes at the Fish Farm.
This year we had a fine day for our trip to the Wild Mushroom for our Christmas lunch, where Marion's singing festive dog made up the numbers to 14! Again, a delicious meal and great fun opening our Secret Santa parcels.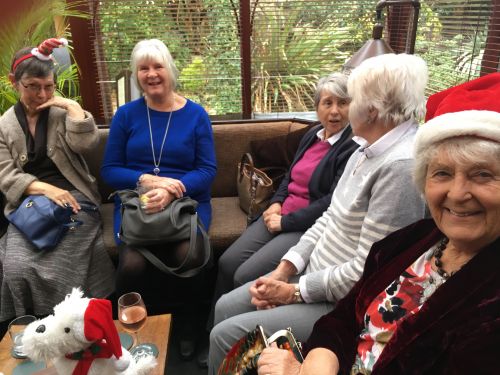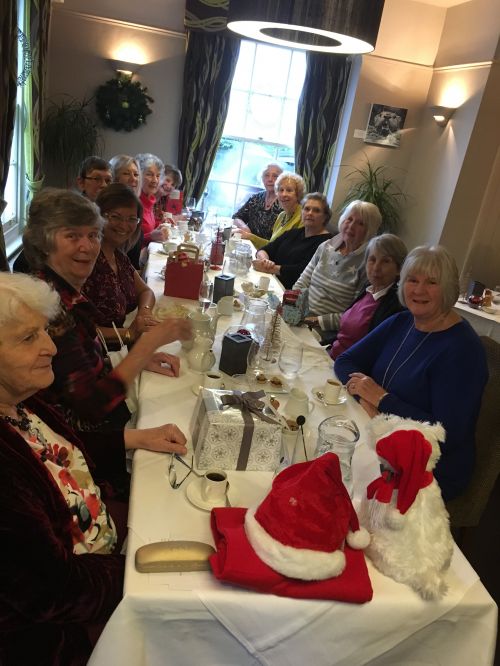 In December the Christmas festivities started at the Winter Festival in Hawkhurst with us running a stall in aid of Diabetes UK.
We were joined by District Chairman Joan and her daughter Jane at the business meeting in September, where we welcomed our latest member Penny, who was inducted by President Geraldine. Joan emphasised the need to move forward, cut unnecessary red tape and have fun. I think we can safely say our club does just that!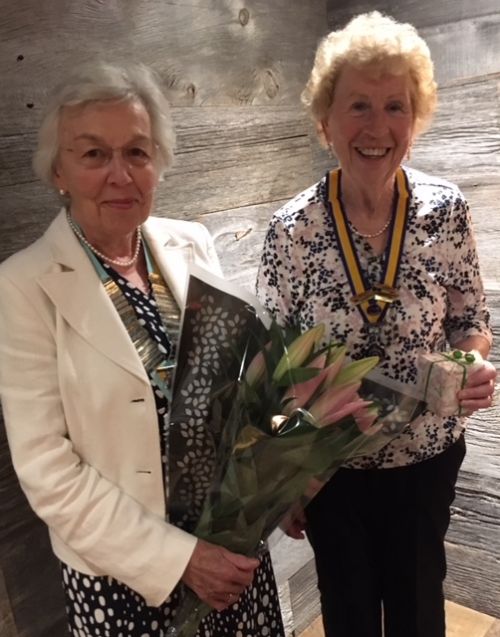 Presentations at D.C. Joan's visit
Members and friends again had a lovely meal at Zans Chinese restaurant for our social meeting in September.

With no business meeting in August, it was down to the seaside for lunch at Karin's beach house. After weeks of sunshine, the rain fell, but undeterred we gathered up our drinks and pudding and headed inside for a chat and coffee.
July saw us in our new President Geraldine's garden for a bring and share lunch. It's amazing how no one knows what we are all contributing but it all mixed well together to make an enjoyable meal in the sunshine.
Our first post for the new Inner wheel year is to wish Dinah Chamberlin a very successful year as District Secretary. We are sure her dedication and experience will be a great asset to the District.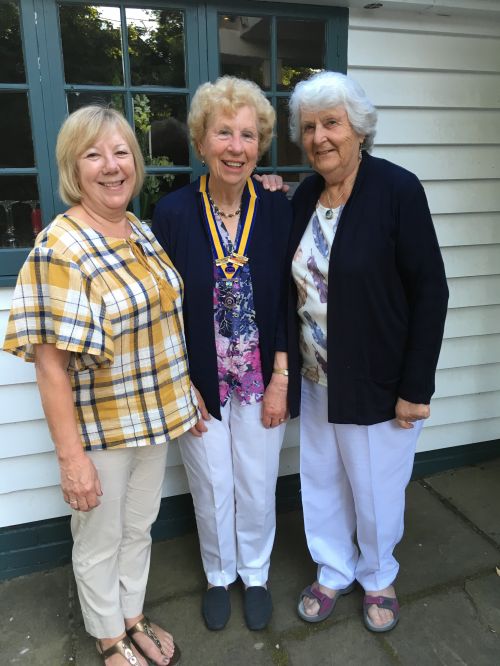 Handover to our new President Geraldine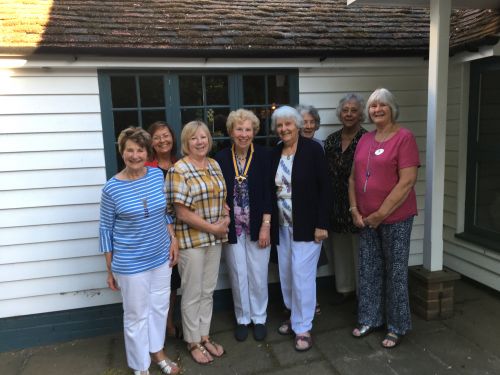 Club members present, ready for the coming year.
---
Events during 2017 - 2018
The past Inner Wheel year has been quieter for our club. Illness, both in members and their families has resulted in Marion being unable to continue in her joint President role. However, Anne has done a brilliant job of taking the reins for the year, aided and abetted by her experienced secretary Dinah.
We are small in number but continue with our meetings and fund raising and of course our socials, in keeping with the spirit of Inner Wheel.
At our AGM in June, the collar was proudly handed over to Geraldine and with our support we wish her a happy and successful year as our President for 2018-2019
It is with much sadness that we report the death of one of our members, Jenni Brand. She was a lovely, courageous woman who wouldn't let her Multiple Sclerosis get in the way of her ambitions to travel abroad and to have fun. She will be greatly missed.
On a sunny day in May, members met for afternoon tea and a chat at "Planters" near Hurst Green, where we indulged in sausage rolls and cake before strolling round the interesting shop and garden center.
We missed Jenny Peacock at our evening meeting in April, but she was forgiven as she was preparing for her marriage the next day. At our brunch meeting earlier in April at the Fish Farm in Hawkhurst, we had presented her and Phil with a delicate pink rose named "Bride and Groom". We wish them both much happiness.
Following the greetings cards we sent in January, we were delighted to receive an email from Pat O'Connor in New Zealand giving news of the activities of her club in New Plymouth. Also a dear former member of our club, Margaret Hale, who now lives in Australia, sent greetings to all her friends in Cranbrook and Hawkhurst.

We welcomed District Chairman Ruth Portway in February and after our business meeting and her informative speech we presented Ruth with an Orchid.
A change of venue for Inner Wheel Day in January meant coffee and home cooked snacks and chocolates at Treasurer Pats home, whilst we chatted and wrote greetings cards to send to our contact clubs both abroad and in the UK.

Christmas Lunch
With the onset of the wind, rain and a smattering of snow it was time for some festive relaxation at our usual Christmas lunch venue. Delicious food, a little wine, secret Santa gifts and even a brave husband of one of our members, who as taxi driver was invited to join us when one of our ladies was unable to attend. A fun day.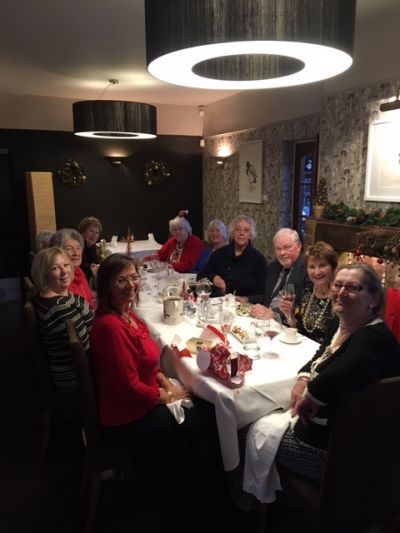 December saw our hard working team erecting the Inner Wheel Christmas tree at Saint Laurence Church, Hawkhurst again and manning an impressive stall at the Hawkhurst Winter Festival, making over £200 for Multiple Sclerosis UK.
Our first social outing in September was at a favourite restaurant..Zans in Hawkhurst, where a select few had exceptional service and a fun evening.
With no meetings in August, President Marion invited members and friends to a bring and share lunch at her home, again providing sunshine and an excellent meal.
On a hot and sunny day in July, members and friends once again indulged in a "picnic at the beach" at the home of Karin in Greatstone. After tucking in to a variety of dishes brought along by members and washed down with Pims and soft drinks, we enjoyed a walk in the beach collecting shells, only returning to top up with puddings and tea before heading for home.
Geraldine handing over at the A.G.M

Our two Presidents, Marion and Anne, ready to take office for 2017-2018
---
Main events from 2016-2017
As the Inner Wheel year draws to a close, we reflect at the AGM on our achievements.
Although we are small in numbers we are big on friendship and enjoy our club activities. Jill and Geraldine guided us through another year of fun socials, interesting business meetings and various fund raising events. As they hand over to Marion Luckhurst with her vast experience of Inner Wheel and Anne Fizgerald, who will no doubt bring a fresh eye to proceedings with new ideas, we look forward to the meetings and friendship of the coming year.
Dinah invited us for afternoon tea in June, where it was nice to sit and chat and sample various sandwiches and cakes in the cool of the lovely lounge. Dinah also organised a stall at the Hawkhurst Summer Festival, filling "lucky dip" jars with fun prizes and raising £130 for the Stroke Association.
At our May business meeting, we welcomed District Chairman Dot and enjoyed chatting over a delicious evening meal.
We held a very successful coffee and cake morning in May at the home of Pat. Organised by Jenny Peacock, £274 was raised and donated to Health Ethiopia Partnership.
Again entering the District Quiz, we found ourselves 'one lady down' on the day. Hazel Hedges ably stepped in to make up our team and we tied for first place, only to loose on the tie-break. Very well done to Dinah and Jenny.
At our meeting in April, we welcomed guests to join us for a meal and to hear our fantastic speaker, Sharon, from Medical Detection Dogs.
Medical Detection Dogs is a charity dedicated to training dogs in the detection and recognition of human disease by odour. The dogs prevent medical emergencies, save lives and improve quality of life. It is incredible the things these trained dogs can detect and how future world health may benefit from this amazing charity.
We had a great time at the Walled Nursery in April, indulging in cakes and cheese scones.
Our social meeting in February was at Blackbrooks Nursery, Seddlescombe where we were delighted to be joined by five members of Battle Club.
After a natter over lunch, members indulged in a little retail therapy exploring the nursery and specialist shops. A lovely day of friendship and fun.
Inner Wheel Day was celebrated with a bring and share lunch at President Jill's home. Nine members and one guest thoroughly enjoyed their meal of nibbles, dips, cold cuts and salad, followed by some delicious home made cakes, all washed down with the odd glass of wine! The day was rounded off with a fun quiz set by Jill.
Cranbrook & Hawkhurst enjoy their Christmas Lunch
December 13th 2016
Dinah again took on the responsibility of erecting the Inner Wheel Christmas tree at Laurence Church, Hawkhurst and our club celebrations took place in December at the Wild Mushroom, where we were joined by friends. It was reserved chat at first, followed by an excellent lunch and then great merriment as we all opened our 'secret Santa' gifts.
We started our year with a social gathering at our favorite Chinese restaurant in Hawhurst. Great food and a fun evening. At our first meeting at the Great House with Jill at the helm, it was down to business, deciding on our plans for the coming year.
With no business meeting in August, we decided to hold a bring and share beach party at Karin's home in Greatstone. Unfortunately, the weather was unpredictable, but we enjoyed a fun lunch in the garden with all the goodies that members had brought. The sun finally shone and it was a dash across the Dunes and onto the Beach for a paddle.
Our three new Presidents covering this year. ( trying to avoid the mud flats)

Geraldine - Jill - Ann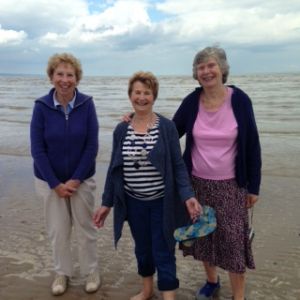 Our July social meeting was hosted by Dinah, who provided a lovely lunch at "an oasis in the heart of Cranbrook" - a beautiful 'designer' home, peacefully hidden away.
Main events from last year
Di has now handed over to Geraldine, who will start our new year as President, sharing the role with Jill and Ann. We have had an interesting and different year with all four Presidents bringing their own special touch to our meetings. We thank them for the effort they have all put in to keep our club alive and welcoming whilst raising funds for needy causes.
An enjoyable lunch was had at the Goudhurst Inn for our social in June and so to our final Business meeting in June, where it was our pleasure to welcome Anne Fitzgerald as a new member of the club. Following this, we were presented at the District Meeting with the Shield for getting new members.
Pamela Hudson, who writes as 'Pamela Pope' gave an interesting account of being an Author and how it affects her life at our May Business meeting.
Our May social was a trip to the seaside. The weather was fine and sunny and 8 members enjoyed lunch at Karin's home on the beach at Greatstone.
Di,Marion and Jenny made up our very successful team for the District Quiz in April, coming joint 7th out of 20 competing clubs.
In April, Jill hosted a very successful 'Bake-off' morning.Despite being the Easter holidays, members and friends and Barry and Claire from 'Mission and Friendship' gathered for coffee and cakes. Together with raffle monies and a table top sale £290 was raised for this worthwhile International Charity.
We welcomed a speaker after our Business Meeting in March from Staplehurst Nurseries. An entertaining talk was given by Marcel about the journey the plant cuttings take before being prepared for sale at the nurseries. We hope to plan a social meeting to Staplehurst Nursery later in the year.
th Birthday" alt="Pat Harker's 80th Birthday" src="/images/FullSizeRender 1.jpg">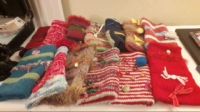 Left above: It was Ann's turn to take the President's chair at our February meeting. After business was concluded and a sumptuous lunch, Ann surprised Pat with a lovely cake and flowers to celebrate her 80th Birthday. We concluded the afternoon with fun games of Beetle and Bingo.

Right above:Marion Presided at our business meeting in January 2016 where we welcomed District Chairman Hazel who joined us. Hazel's talk on her chosen charity 'Sing for Your Life' was entertaining and very informative.

Our first New Year event was Inner Wheel Day and Marion hosted a very successful coffee morning, raising £218 for the charity Parkinson's Disease.
Christmas was a busy time:
Di filled jars with various donated goodies for children, men and women and a tombola stall was booked at the Hawkhurst Christmas fair, raising £228 for the Air Ambulance.
Local members decorated an 'Inner Wheel' Christmas tree, which was displayed in St Laurence Church, Hawkhurst. We didn't win the competition but hope it helped spread Knowledge of our organisation.
Our final event of 2015 was an excellent lunch at the Wild Mushroom with fun opening our 'secret Santa' gifts.
We were joined at our October meeting by Barry Langford and his wife, where we enjoyed a very interesting talk describing how the charity 'Mission and Friendship' flies staff, goods and services to Third World Countries. Jill will be holding a coffee morning in 2016 to raise funds for this worthy charity.
In July a sumptuous tea of scones made by Dinah was enjoyed at Geraldine's home whilst we discussed our calendar for the year. Jill welcomed everyone to her home for a BBQ in August and we enjoyed afternoon tea in September at Marion's home with members from local clubs.
At our meeting in June we welcomed new member Jenny to the club.
We also thanked Dinah for all her hard work and commitment in making her year as President fun and fruitful.
Next year should be different and interesting as four members are sharing the role of President.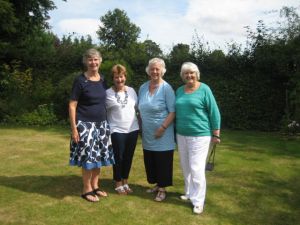 Main Events from 2014-2015
The weather was beautiful and the support amazing for our International coffee morning at Pat's home on 14th April. Together with visiting local club members, friends and family, we raised £293 for Water Aid.
Unfortunately Jenni was unwell and unable to join in with the District Quiz. Pat took her place on the team with Marion and Di and they came 5th out of the 20 clubs competing. Very well done.
We were delighted to entertain Sheila Grainger our District Chairman, in January, who joined us for our luncheon business meeting.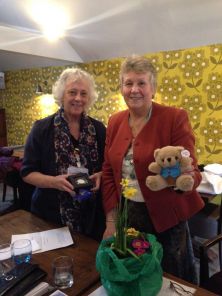 We do not hold a business meeting in December, but we do celebrate with a lunch at the Wild Mushroom, Westfield where eleven members and friends enjoyed a lovely occasion. Some of us were also able to attend the Rotary Christmas Dinner at the Great House.
In October we held our main fund raising event at Headcorn Airfield. Everyone enjoyed a fish and chip supper in the Wings Restaurant where a Quiz was held and a Draw, with the first prize being a flight with Max Couch. Second prize was a balloon trip, won by our member Jill and among other prizes was a round of golf for four. A very successful evening, with proceeds going to the local Stroke Club.
Our year started with the handover of President to Di Chamberlin, to whom we wish a very happy term, from Marion Luckhurst who we thanked for a very successful enjoyable year.

WHAT HAVE WE DONE
30th May 2014
At the end of May, nearly all our members, together with some husbands, visited the Kent, Sussex and Surrey Air Ambulance base in Marden to present them with a cheque for £100.00 as part of the "Wheels" project. Our photos below show the outsize cheque being presented to Kent, Sussex and Surrey Air Ambulance as well as a helicopter. We were very impressed by the organisation and the commitment shown by the staff. We were lucky to have a talk given by a medic - just back from a call out in the early morning when they attended an accident in Eastbourne - and a doctor.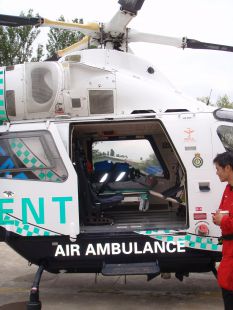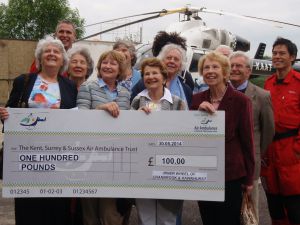 1st April 2014
After sending a press release to our local newspaper, the Courier, about our search for recipients for the Wheels we were planning on purchasing from our fund raising efforts, they sent out a photographer! Here we are with one of the rollators we are planning to purchase for people with mobility issues. We hope we will be appearing in the newspaper!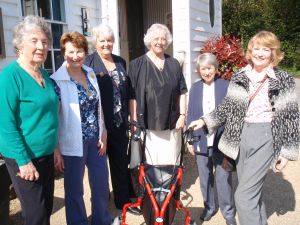 4th March 2014
Members and guests got together at Jill Fitzpatrick's house for a "share a plate" lunch followed by yummy scrummy Pancakes! It was a relaxing and enjoyable day and thanks to Jill for hosting.
4th February 2014.
On a sunny lunchtime, on 4th February our Club were delighted to greet 29 guests to our Overseas Interclub held in the Golf Club, Hawkhurst. Not only had we the pleasure of our District Chairman, Judith Cooper, District Overseas Chairman, Lynda Taylor, and Southern Area Overseas, Una Genty, but also Members from 8 other Clubs. We had also invited supporters of Inner Wheel including John Tapper, the Rotary President, some Rotary husbands and also other friends from both near and far.
After the lunch, Rosemary Cole gave us a fascinating insight into the work of 'Hosts UK'. This Organisation provides very useful connections for Students studying in the UK from all over the world to live for a short while with Host families and so sample the life of a British family - an experience they will not find living on a Campus. Rosemary read from the Students' thank you letters that had been received by 'Host' after these visits, and they gave an idea of the little every-day experiences had made an impact on them. These ranged from the places visited to the food, but always they were glowing and positive, and were very appreciative of the kindness of the Host family. In return, the Students had themselves left a warm impression on the family they had stayed with - each had contributed to a better understand of the other across the miles. Of course we held a Raffle, and Di Chamberlin sold the remaining few Jam-jars [each of these were filled with sweets or something more valuable] so to date a good sum has been raised for 'Practical Action' - the District Overseas Charity. All in all I feel that a memorable day was had by all. Jill Fitzpatrick

21st January 2014. We were delighted to welcome District Chairman Judith to our meeting - changed to a luncheon. We were also pleased to have guest Freda Hampson of Eastbourne Sovereign - both Inner Wheel and Rotary and visitors Jenni Brand and Anne Davey - formerly of IW Sutton Coldfield. Our photo shows an exchange of gifts between our President Marion and District Chairman Judith.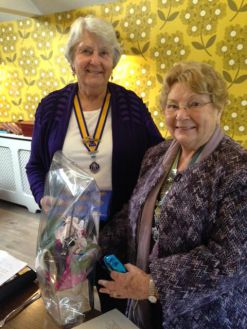 16th November. Jam jars galore! At the beginning of November we gathered at Secretary Geraldine's house to fill and decorate over 100 jam jars. They were then on our stall in the local Cranbrook village hall where there was a special event in aid of Breakthrough Breast Cancer. We raised funds for our Wheels project as well as a donation for Breakthrough Breast Cancer. In December - with stocks still of jam jars we took a stall at the Happy Christmas Hawkhurst event and raised yet more funds for the wheels project.
Photo shows Pat and Dinah in Cranbrook with jam jars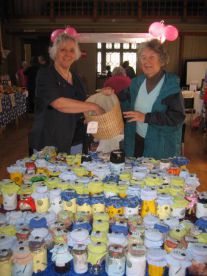 22nd October. A very successful coffee morning in aid of Overseas, held at Jill's house. This was well attended and we raised over £300.00 for chosen Overseas charities, such as Sightsavers. Thank you to all who supported the event.
4th October. Report of our Visit to the London Eye as seen through Rotarian, husband, Brian Fitzpatrick's eyes. Di, Pat,
Jill and I assembled at Staplehurst station on a cold damp morning to take the train to London to join 250 Inner Wheel members not only from District 12, but also all over the UK. They included Association and the Members of Council who had been meeting at Warwick Square and had stayed overnight to take part. We were there to promote District 12's 'Wheels Project' which aims to help provide wheeled assistance for needy people.
Before we joined the group we had a tasty lunch and thus fortified we headed for the 'Eye'' Lots of friendships were renewed and many photographs taken and by then the weather had changed to bright sunshine and blue sky - only Inner Wheel could arrange this! There were also Representatives from various Charities that had been helped by funds raised through Inner Wheel, who wished to take the opportunity to say 'Thank You'. I met up with several other Rotary husbands from various Clubs in our District.
2 pm saw us in the queue for the Gondolas and then up, up and away. The views of London were exceptional and in the bright sunlight we could see to the horizon. All too soon we were back on the ground. Jill and I said our farewells to the rest of the Club, and enjoyed the rest of this memorable day in London before returning home. I was very impressed with the friendship and commitment of the Inner Wheel. [Rotary take note]. Brian Fitzpatrick
1st October We visited Biddenden Vineyards for a conducted tour of the vine fields with accompanying guide. We were welcomed with a hot cup of real coffee...delicious and a very friendly atmosphere in the vineyard shop. Other visitors arrived, nine of us altogether, a cheerful bunch ranging in age from two months to ... well you can guess. Our first call and info was in a building where huge containers of apples were being noisily crushed for apple juice and cider. The juice is pumped into enormous, twenty feet high, vats to settle for a couple of days before the sediment would be pumped off, bottled for apple juice or mixed with yeast and some sugar to end up as cider.
Next we wandered out to the fields to see large bunches of grapes waiting to be picked, some rows of vines were forty years old, some only planted this year, and even some red grapes, very vigorous vines, which will end up as sparkling and still white, rose and red wine. Although there had been early rain we were lucky to have a dry visit, it has been a good year for the harvest though picking has barely started. We had a lesson on the history of grape growing in England over the centuries during our walk and why the Weald of Kent and Sussex was so perfect for that purpose.
It was a very interesting morning.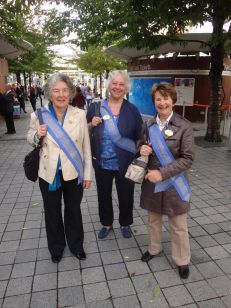 3rd September 2013. A proper afternoon tea at Jacqueline's house - on the patio in blazing sunshine! Pots and pots of tea, sandwiches, scones, meringues and cakes! Yummy scrummy!

| | |
| --- | --- |
| | 19th June 2012 AGM and Handover. Picture shows incoming President Jacqueline presenting outgoing President, Jill Fitzpatrick with a "patriotic" cushion from the club with thanks for her previous year. |
9th August 2012 Tea and cakes at VP and Overseas Secretary's house. It was a truly scrumptious affair with piles of dainty sandwiches, scones with jam and cream (of course!), a very boozy trifle and cakes of every kind! It was all washed down with pots of proper tea! After a hesitant start, the sun came out and we were able to enjoy Marion's lovely garden whilst sipping tea.
4th September 2012 Defying the odds, President Jacqueline hosted her first social event of a bbq in the garden. The weather surpassed any hopes - it was the warmest and sunniest day of the summer! We stayed outside all evening until darkness fell, stars (and candles) came out and still we were not cold. There was enough food for the proverbial army and members - some of whom brought husbands - and potential members contributed delicious starters or deserts.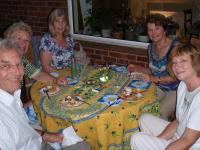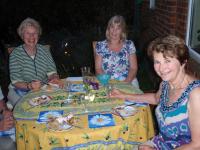 11th October 2012 After an early train ride under the channel, we were met by enthusiastic and friendly Rotarians and wives of the St. Pol Club. Leaving our own cars parked, we were whisked into the centre of Calais to the new Lace Museum. Housed in an excellently refurbished old lace factory - with a most futuristic frontage - there was much to see and learn. At the Hotel Mercure a lovely reception awaited us; champagne and canapés were followed by a truly excellent meal, fine wines and friendly banter in both languages! There were bi-lingual speeches warmly welcoming us, embracing the philosophies of Rotary worldwide and highlighting the wonderful friendship between our two clubs. We returned the compliment. And then it was time to head for home!
Outside the Lace Museum Exhibits of Lace The group photo
3rd November 2012 Quite a sizeable group of us, with partners in tow, attended the local amateur production of Oklahoma! What an excellent cast...we all came out singing the songs that we had enjoyed hearing.
23rd November 2012 we held our Quiz Night in aid of the Alzheimers' Society and local Children's Charities. There were questions, a delicious supper and a raffle sponsored by many local businesses and much laughter! Thank you to the Rotarians and wives who supported us! We are very grateful for your participation!
Quiz Master + compiler Putting up publicity materials The winning team
18th December 2012We all met at the Wild Mushroom Restaurant for a truly delicious lunch - traditional and non traditional - to celebrate Christmas together. We exchanged Secret Santa gifts and so Christmas was definitely on the way!
10th January 2013 World Inner Wheel Day at President Jacqueline's house. We met in the morning and over coffee, cakes and biscuits we wrote cards that we had all brought along, each with a rose theme, for various international clubs, sending them our greetings and thinking of them on this special day. We sent cards to Denmark, Turkish Cyprus, Tasmania, USA and France - each selected country having special meaning for one or more of us.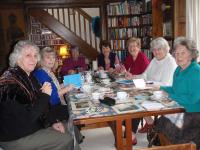 February 2013 : Handover of cheque to the Hawkhurst Youth Club. Photo shows the handover and some club members! At the same time Rotary Club presented a table tennis table to the club.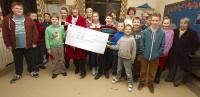 26th March 2013: Hunger Lunch in aid of Water Aid and Save the Children. We were treated to delicious home made soups - several varieties - bread and cheese. A popular raffle and bric a brac table helped boost the funds.
11th June 2013 Bring and Share lunch at President Jacqueline's house. In spite of pouring rain our spirits were not dampened and lots of food made for a very jolly lunch. Members of other Inner Wheel Clubs were invited, but sadly none came along. We were pleased however to have one guest and one Rotarian wife!
20th August 2013 Visit to Scotney Castle. The day was lovely, warm and sunny and we enjoyed friendship and lunch in the Castle café, sitting under a sunshade. Flowers in the gardens were beautiful and inspiring.