International Convention
An International Convention for 'International Inner Wheel' is held every three years.

International Convention 2015 held in Copenhagen


An intrepid group of PDCs accompanied District Chairman Sheila Grainger (seated left) to the International Inner Wheel Convention in Copenhagen, Denmark. Pictured at their Gatwick Hotel prior to an early flight the next day: L to R: Edna Bennett, Wendy Smith, Elizabeth Weaver, Elizabeth Jackson, Barbara Bingham and Elizabeth Martin (seated). PDC Sheila Cragg took the photograph. Their verdict on the Convention? A great time had by all – with new friendships forged and many old ones renewed!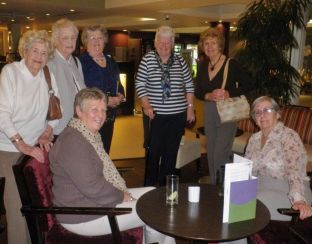 The next Convention will be held in Melbourne, Australia in 2018.
In 2012 the Convention was held in Istanbul.
The membership criteria have always been dependent on a 'Rotary connection', which meant that all prospective members were allowed to join only if they had a family connection with either a past or present Inner Wheel member or a past or present Rotary member. Each club was also allowed to have a maximum of 4 Honorary Members, (with no Rotary or inner Wheel connection) who were allowed at the discretion of the club to attend for two years and then to be made full members. However, that meant that the club could have no other honorary members.
The resolution debated and passed made provision for three categories;
1) Ladies who have a Rotary connection
2) Ladies who have an Inner Wheel connection
3) Ladies who are invited to join provided that the majority of the club agree.
It is hoped that this change may allow some clubs to expand and grow.
Several members of District attended the Convention.
| | |
| --- | --- |
| | A total of 8 Past District Chairmen enjoying a champagne breakfast, at Heathrow waiting to take off for Istanbul. |
| | The present District Chairman, Elizabeth and the future District Chairman, Lynn, with their husbands enjoying a breakfast without champagne! |
| | |
| --- | --- |
| | Member of Council, Liz Jackson shares joy with International President, Catherine Refabert after the vote for 'Open Membership'. Catherine had been particularly keen for this motion to be passed and was delighted as were all the District 12 delegates. |
| | District Chairman Elizabeth exchanges a banner with a District Chairman from Egypt. Our new District Banner depicts the two cathedrals within our District, Canterbury and Rochester, the countryside of the 'Garden of Kent' and the seaside. |