District Rallies
A Rally is an opportunity for members from all over the District to get together to enjoy renewing friendships, meet the Association President and other District Chairmen from our 'linked' Districts, and to enjoy a meal.
District 12 Rally is usually held towards the end of the District Chairman's year in office. It is an occasion for ladies to dress up and many choose to wear a hat for this event.
A District Rally is held every year in late May or early June. The venue tends to vary but to be fairly close to the District Chairman's home town, because the night before is the 'Pre-Rally Supper', when the Executive have a chance to meet the Association President in more informal surroundings than at the Rally. Usually the Pre-Rally Supper is held at the home of the District Chairman or in another informal setting.
Unfortunately, this year's District Rally for 2019 to 2020 did not take place because
of the Covid 19 Pandemic.

For pictures and information about previous rallies see the sidebar of the Events page.
2019 District 12 Rally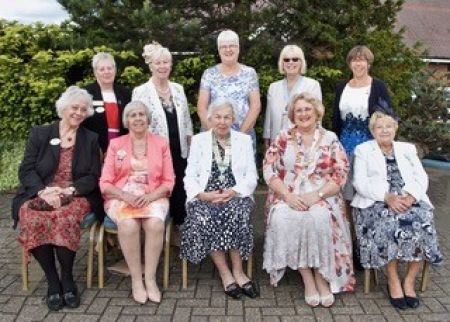 District 12 Chairman Joan Styles with Association President, Ann Acaster and the Executive
L to R Back Row: International Service Chairman, Pat Sanford, Immediate Past District Chairman, Ruth Portway, Treasurer, Shirley Blackman, 1st Vice Chairman, Liz Lister, Editor, Chris Head-Rapson
L to R Front Row: Secretary, Dinah Chamberlin, Member of Council, Elizabeth Martin, District 12 Chairman, Joan Styles, Association President, Ann Acaster, Membership Officer, Judith Cooper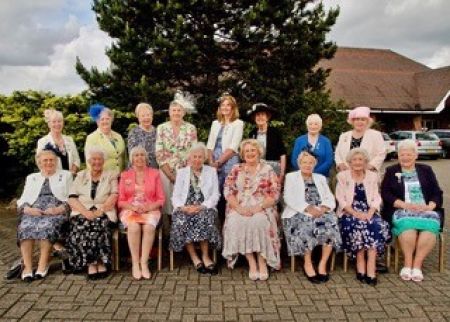 District 12 Chairman Joan Styles with some of the Past District Chairman
L to R Back Row Ruth Portway, Elizabeth Weaver, Joan Knight, Sheila Grainger, Lynn O'Meara, Barbara Bingham, Dotty Boardman and Sheila Cragg
L to R Front Row Valerie Martin, Betty Selfe, Elizabeth Martin, Joan Styles, Ann Acaster, Judith Cooper, Edna Bennett and Elizabeth Jackson