Award to Medical Students in Kent
Opportunity knocks!
The "game-changing" Kent and Medway Medical School (KMMS) has taken on its very first students in September 2020. A joint venture between the University of Kent and Canterbury Christ Church University, the finishing touches have now been added to the new facilities in the city. Bosses say the school will be "a beacon for first class medical education and research", and the first choice for all those aspiring to achieve excellence in medical care in the UK.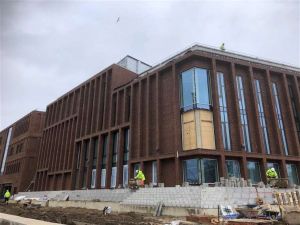 The new building at the UCC Campus
The people of Kent were delighted when the Government gave the Go-Ahead for a new Medical School in Kent and our two Universities (the University of Kent and Canterbury Christ Church University) eagerly built the necessary Centres for the school to operate. The Kent and Medway Medical School threw open its doors to its first intake of students in September 2020.

Once qualified, it is hoped many of the new young doctors will continue to work in Kent as they start their careers in healthcare. Students will study at two state-of-the-art facilities - one on either campus. Despite lockdown, construction work continued at both sites in order to reach this autumn's opening date.
The tuition is planned to be very patient-led, with students learning how to build relationships and inter-personal skills. During their studies they will have hands-on experience with placements in primary, community, mental health and secondary care settings across the county.
What a golden opportunity this gave us within Inner Wheel.
It was proposed that District 12 should offer a £500 prize to the best student in relation to women's health matters. This will be donated from Year 1, for a period of 5 years.
During their period of study, the young would-be doctors will have placements throughout Kent in its hospitals and in its GP surgeries, so any one of us could be meeting them in a medical setting near to us.
One feature in the design of the course is the emphasis on the importance of communications skills, thus reflecting the changing roles of medical professionals nowadays.
"It is great to be in at the beginning. We are thrilled to have the full support of all 20 Clubs within the District" said JDC Sheila (D.12 includes one club that is just beyond Kent's borders – and even their members have offered their unwavering support to this District 12 venture).
"We are often asked to promote the name of Inner Wheel" added JDC Christine "and this prize will keep the name of Inner Wheel very much to the fore within our District and will help and encourage young doctors across the 5 year course of study to make their own money stretch a bit further and give a boost to their future careers".