INNER WHEEL
88 Challenge in aid of KSS Air Ambulance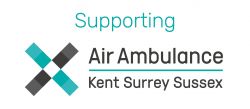 On Saturday, 8th August - One of the hottest days of the year - we are launching our 88 Challenge in aid of the Air Ambulance!
District 12 is 88 years young this year, and we think it's great TO BE 88!
What can you do to help raise funds and keep them flying high?
Our intrepid Chairmen will be walking 88 miles over the coming months and they are thrilled that some D.12 Clubs will be challenging themselves too on Day One.
Others are planning to make quilts using 88 squares, or walking 88,000 steps - There have, so far, been no offers to give up chocolate for 88 days, but the sponsorship opportunities are endless ............. And don't forget that all of the above will be seeking sponsors! We hope that each member of D.12 will respond in whatever way they can, to keep the Medical Teams flying for the benefit of everyone living in Kent, Surrey and Sussex.
(TAKE CARE IN THE HEAT - We do not want you to associate too closely with these amazing helicopters!!) Good Luck to you All
from your Joint District Chairmen, Christine and Sheila
The next instalment of our DC's Challenge 88!
It is hard to believe that we have not met each other since Lockdown! Here we are at Godinton House meeting face to face and 2 metres apart in early September!

Between us now we have clocked up 44 miles – Half way to half way – but with still 7 months to go!

And so it continues with DC Christine's Walk 2 and Sheila's Walk 2
| | |
| --- | --- |
| | |
| A lovely 4 mile walk along the beautiful North Cornwall Coastal Path, this time in perfect walking weather conditions. 12 miles down only 76 to go! | Not to be outdone DC Sheila's second walk was for 3 miles along the North Kent Coast - at perfect temperatures too - until rain stopped play! "I am still playing catch-up - Just 82 miles to go!" |
Bromley member Diana Sargeant did a sponsored swim!
It is Bromley Club's88th year too, so they are celebrating with the District!
Starting in August, the 8th month of the year, she set herself a challenge of swimming 88 lengths of her swimming pool, (25feet long), every day for 10 days.

She has accomplished that target and hopes that this will be a start for Bromley's charity as well as the District's.

Tunbridge Wells Club have come up with some imaginative ideas for the 88 Challenge!

Members are putting a coin in a box everyday for 88 days. Even if only a penny a day each member will raise £8.88




Sheila is being sponsored for making a craft item everyday for 88 days.


Christine enjoyed a 4 mile walk through the magnificent Redwoods at Nymans NT Estate.

Christine enjoyed another NT walk at Sissinghurst.

A lovely evening walk with Eastbourne Sovereign Club. Their Challenge was to walk for 88 minutes.

Eastbourne Sovereign club's walk ended with fish and chips!

Is Sheila searching for the pot of gold at the end of the rainbow at Swalecliffe?

Sheila is lost and dishevelled in the 'Maize Maze'.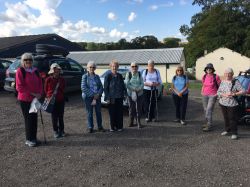 Here is an article that was published in the local paper about the Dover club's 88 Challenge! For the purpose of the attached photo they temporarily ignored social distancing for a few moments!
'Inner Wheel members have been challenged by their District Chairmen to find ways of raising money for the Air Ambulance in the year in which the organisation has been flourishing in the Kent and East Sussex area for 88 years.
Already two such events with an "eight" theme have been held. In August one member hosted three "swim and tea" afternoons at her home where (some) of her guests swam 8 lengths of her pool and all enjoyed a delicious tea, safely distanced in the garden. Then in early September an 8 km. walk around Bishopsbourne followed by lunch was organised by Evelyn and Stella. This began and ended at the Tadpole Tearooms where there is a large outdoor seating area. Nineteen members attended together with 4 husbands but the highlight for the 9 walkers was the gift of a punnet of strawberries from the manager of one of the farms en route. The designated footpath also passed by rows of Kentish apple trees waiting to be harvested.
These events, together with another al fresco picnic, were very much welcomed by those who were able to attend and to meet each other again and grateful thanks are due to all the organisers.'
Below see pictures of The First Day of the Challenge
starring Joint District Chairmen, Christine and Sheila!
| | |
| --- | --- |
| | |
| DC Christine completing an 8 mile walk with some members of Tunbridge Wells club | Tunbridge Wells members who walked with DC Christine |
| | |
| DC Sheila with 5 members of Canterbury Club | DC Sheila with the Canterbury members searching for some shade! |
DC Christine says, 'Here are two pictures of my walk around Bewl Water, 8 miles on the 8th of the 8th in temperatures over 88 degrees Fahrenheit. Two Club members are taking up the Challenge of the 88 miles in 8 months and other Club members gave great support by walking some of the 8 miles with us.'
DC Sheila went for a walk near Littlebourne with 5 members of the Canterbury club.
Also on the first day:
Eastbourne Sovereign D12....
June Christophi, Club Correspondent says, 'In the gruelling heat, we, as in 8 Ladies and 5 Gentlemen, attempted to do our Inner Wheel 88 Challenge...a walk for 88 mins on the 8th Of the 8th month... In Aid of Air Ambulance Kent Surrey and Sussex....We began in high spirits with a gentle sea breeze urging us along... sadly that breeze disappeared and the heat became a little bit too much.... it was agreed we would stop and it was decided at a later date we would continue with a further walk and finish our challenge... Thank you to everyone both in the club and friends who sponsored and donated to this worthy cause... Fear not we will do this challenge, it will not beat us.... and we will donate all monies collected to Air Ambulance....

As we began …. with that slight sea breeze
and everyone raring to go…
Get set … and away!


Sadly the breeze stopped and so did we.... just discussing, .. should we surrender and turn back??
After a quick refreshment break, time to decide....

Yes? 🤔🤔


Enough is enough!

Whew... hot, exhausted and yes, it was enough...


Quick catchup!


The last few joined us and …

Time to say Goodbye, until another day when we will finish that challenge...
Also on the first day of the challenge;
Herne Bay D12..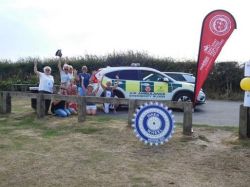 Mary Hedges, secretary says, 'Last Saturday the 8th August , Air Ambulance with the support of SERV Blood Runners helped to raise the profile of the ladies of the Inner Wheel of Herne Bay when the ladies made their first attempt to fund-raise for those charities since the lockdown in March.
The members of the Inner Wheel Club of Herne Bay were responding to the District 12 Challenge 88 to raise funds for Air Ambulance in celebration of the formation of the Inner Wheel District 12, 88 years ago. Several members have pledged to walk 88 miles throughout the year and sponsorship is going well.
It was the first time members had had the opportunity to meet since March and it was great fun to greet our friends after so many months. The walks will continue next Saturday, 15th August commencing at Reculver Country Park and SERV Blood Runners will be present with their bikes to support the walkers and to raise awareness in the community.'
Member at Large Shailaja Joshi;
88 Challenge - The Esplanade, Rochester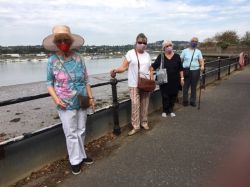 Shailaja says, 'We were only 4 of 8, Margaret, Felicity, Ruth and myself. Some having apologised for not walking have pledged support. I had reorganised the time and we were glad to set out in the morning, as it was pleasant and the temperatures were quite comfortable. We covered 1.2 miles in over half an hour, and the riverside walk was enjoyable. It was a great time for reconnecting too, as we hadn't seen each other for a long time!'