INNER WHEEL
88 Challenge in aid of KSS Air Ambulance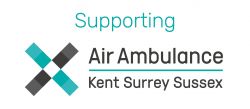 On Saturday, 8th August - One of the hottest days of the year - we are launching our 88 Challenge in aid of the Air Ambulance!
District 12 is 88 years young this year, and we think it's great TO BE 88!
What can you do to help raise funds and keep them flying high?
Our intrepid Chairmen will be walking 88 miles over the coming months and they are thrilled that some D.12 Clubs will be challenging themselves too on Day One.
Others are planning to make quilts using 88 squares, or walking 88,000 steps - There have, so far, been no offers to give up chocolate for 88 days, but the sponsorship opportunities are endless ............. And don't forget that all of the above will be seeking sponsors! We hope that each member of D.12 will respond in whatever way they can, to keep the Medical Teams flying for the benefit of everyone living in Kent, Surrey and Sussex.
(TAKE CARE IN THE HEAT - We do not want you to associate too closely with these amazing helicopters!!) Good Luck to you All
from your Joint District Chairmen, Christine and Sheila
The next instalment of our DC's Challenge 88!
Unfortunately Sheila is taking quite a long while to clock up her 88 miles owing to the fact that she has been isolating with husband Harry, between his hospital appointments. Treatments are nearly over and she will then hope to get back into the swing of it all.
Pictured here on a short Autumnal walk in the neighbourhood of Britain's smallest town, Fordwich.

A couple of months ago, she enjoyed a cold and blustery walk on the White Cliffs.




"I am very pleased to be doing my bit for the Air Ambulance - and it is great to dream up new areas to visit"

A walk along the North Cornwall coast near Tintagel on a very windy day. Hurray!

44 miles completed, 44 to go!
It will have to be walks nearer to home for the next few weeks during the lockdown!


Our Club's walking group has a saying, "We go whatever the weather" and we did just that! Another four miles completed.

Christine says, 'I seem to be attracted to water! This is by the lakes on Sissinghurst Estate.

Christine walked from St Enodoc Church, near Daymer Bay in Cornwall where John Betjeman is buried, to Polzeath beach and back.

Sheila walked in Clowes Wood.



It is hard to believe that we have not met each other since Lockdown! Here we are at Godinton House meeting face to face and 2 metres apart in early September!

Between us now we have clocked up 44 miles – Half way to half way – but with still 7 months to go!

And so it continues with DC Christine and Sheila's Walks
| | |
| --- | --- |
| | |
| DC Christine in Cornwall! | DC Sheila on her second walk! |
| | |
| Christine enjoyed a 4 mile walk through the magnificent Redwoods at Nymans NT Estate. | Christine enjoyed another NT walk at Sissinghurst. |
| | |
| Is Sheila searching for the pot of gold at the end of the rainbow at Swalecliffe? | Sheila is lost and dishevelled in the 'Maize Maze'. |

Below see pictures of The First Day of the Challenge

starring Joint District Chairmen, Christine and Sheila!
DC Christine says, 'Here are two pictures of my walk around Bewl Water, 8 miles on the 8th of the 8th in temperatures over 88 degrees Fahrenheit. Two Club members are taking up the Challenge of the 88 miles in 8 months and other Club members gave great support by walking some of the 8 miles with us.'
DC Sheila went for a walk near Littlebourne with 5 members of the Canterbury club.
| | |
| --- | --- |
| | |
| DC Christine completing an 8 mile walk with some members of Tunbridge Wells club | Tunbridge Wells members who walked with DC Christine |
| | |
| DC Sheila with 5 members of Canterbury Club | DC Sheila with the Canterbury members searching for some shade! |