The Wheels Project 2013 to 2014
National President Gill Rowley has proposed a 'Wheels' Project this year to celebrate our 90th Anniversary. She is encouraging clubs and Districts to get together to provide 'Wheels' of any form, such as Wheelchairs, Pushchairs, wheeled walking frames, bicycles etc. with the Inner Wheel logo on so that we do good but also get publicity for Inner Wheel which is often overlooked.
District 12 Wheels Project
DC Judith proposed an idea of representatives from the District going on the London Eye.
The response has been incredible and Judith was so pleased that the National Council wished to take part. She has already received confirmation from many of them including the Association President. Many of them had asked if they can tell their District about it so we shall have people from all round the country.
As we need some kind of identification Judith suggested making sashes out of florist ribbon or material in blue. They are very easy to make, and Judith hopes that everyone taking part will do the same. Also we should all try to wear blue and yellow.
4th October 2013 'The London Eye' Trip
On the 4th October, we set off bright and early to go to London. District 12 Chairman Judith Cooper planned a publicity exercise for our 90th Anniversary year. Over 200 members from all over the country converged on London to ride on the 'London Eye' (Big Wheel). We all wore blue and yellow if possible, many clubs wore sashes and most carried flags with the Inner Wheel logo on.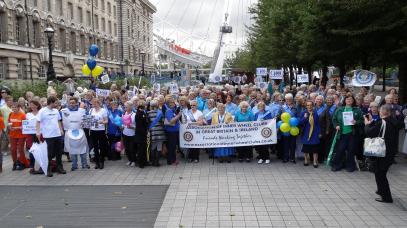 All 200 of us waiting to go on the 'Eye'
with the 'Eye' in the background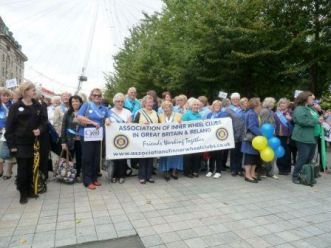 Members of Inner Wheel District 12 and the Association President with DC Judith in the centre and several charity representatives.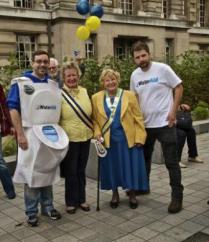 The Association President, Gill Rowley with DC Judith and some representatives of 'Water Aid', complete with a man wearing a toilet, to illustrate what a wonderful job Water Aid does, providing toilets and fresh water to thousands of people in the Third World.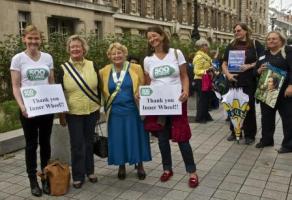 Association President Gill Rowley, with DC Judith Cooper and repsresentatives from the charity '500 miles'. '
500 miles' was started by Olivia Giles OBE, after she lost all four limbs with meningitis septicaemia. When she was fitted with prosthetic limbs she bagan the charity to help amputees in Africa obtain prosthetic limbs.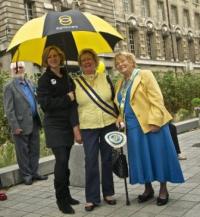 A Sightsavers representative with Assn Pres. Gill and DC Judith.
Sightsavers was the National Overseas charity last year.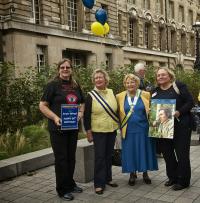 Representatives from Guildford Eye Project with DC Judith and Assn. Pres. Gill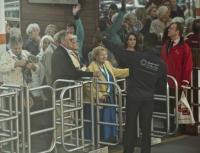 DC Judith goes through the turnstile to enter the final pod with members of her own club Eastbourne Sovereign and also members of the Assn Executive including President Gill Rowley.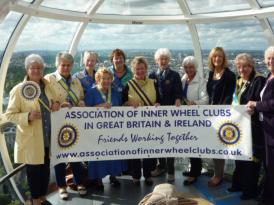 The final pod displaying the banner!