Herne Bay Inner Wheel Club
About our Club
We meet on the first Wednesday in every month except January at 'The Marine Hotel', 30-34 Marine Parade, Tankerton, Kent, CT5 2BE at 6.45pm for 7.00pm for a two course meal. Our Club currently has 33 members.
For further information please use the 'Contact Us' page.
Club Officers for 2018 to 2019
| | |
| --- | --- |
| Name | Office |
| Susan Heald | President |
| Andrea Jones | Vice President |
| Mary Hedges | Secretary |
| Sue Dale | Treasurer |
| Liz French | International Service Officer |
| Jean Lambert | Club Correspondent |
| Sandy Winkworth | Membership Officer |
The Inner Wheel Club of Herne Bay
have pleasure in supporting the following Charities
President's Charity: Hearing Dogs
District 12 Charity: Arrow Riding Centre. Riding for the Disabled
Association's Charity: Jessica's Fund. Music helping Children
International Charity: CARE
---
BREAKING NEWS
---
It is with great regret that the Cabaret Evening scheduled for 18 May has been cancelled due to ill health of the Host and Compere.
---
District 12 10 Pin Bowling Competition
The Results are now in. 2 teams each of 3 members. Pam Peters came first with an overall score of 174
and Mary Hedges came second with an overall score of 173
The Daily Mail Great Britain Spring Clean up. Great Fun!!
14 volunteers took part picking rubbish up from the Herne Bay area between Blacksole Bridge and our new Superstore. We filled 24 sacks in just over 2 hrs.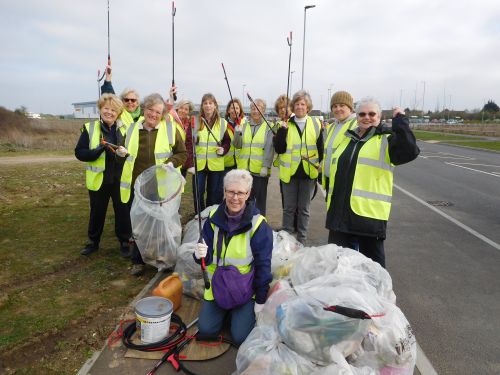 ---
International Day of Peace
We are pleased to announce that a Peace Rose was planted on 21 September 2018 in the grounds of SNAAP Special Needs Advisory and Activities Project, Reynolds Close, Herne Bay to commemorate the International Day of Peace. The children at SNAAP made a plaque in the shape of a poppy and placed their thumb prints around the edge of the plaque.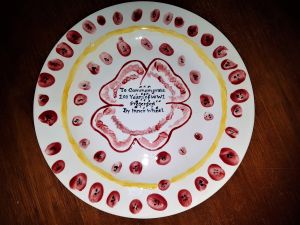 ---
Forthcoming Events
---
March
Tues. 19 District Spring Meeting Venue: Ditton, Maidstone

Weds 20 Cup Cake Walk with Jamie(Hearing Dogs) 10.30am Bishopstone Lane Car park

Friday 22 Spring Clean Up Herne Bay. 2.00pm Daily Mail Spring Clean Up Britain Campaign
---
April
Wed. 3 Plastic Free Herne Bay - Speaker
"Fun Time Without the Calories
Easter Craft Demonstration and Egg Jarping and Egg Rolling Games
Mon 8 - Weds 10 Association of Inner Wheel Clubs of GB&I
Annual Conference Motorpoint Cardiff
Tues. 16 District Quiz - Ditton

---
May
Weds. 1 Herne Bay Club Meeting
TBA Speaker
---
June
Weds. 5 District Rally - Manor Hotel, Gravesend
Weds. 5 Herne Bay Club A.G.M Handover

Fri 7 Handover Strawberries and cream with shortbread Tea Party - Chestfield Cricket Club
Tues. 25 District Meeting and A.G.M. - Ditton

Fri. 21 Summer Outing:
Runnymede with river cruise and coach trip to Savill Gardens
---
DATES FOR YOUR DIARY
See the PINKS

Forthcoming Events for other Clubs in District 12 2019
Eastbourne
Sovereign 23 March 47th InterClub lunch Willingdon Golf Club 11.45am for 12.15pm
Canterbury 30 March Quiz and Chips 6.30pm for 7.00pm
Westgate and
Birchington 17 April Chinese Buffet Year of the Pig
Maidstone 29 April Annual International Buffet Lunch 12.30pm
Folkestone 1 May Interclub Lunch 12.00 noon for 12.30pm
Margate 3 May Silent Auction Eastern Esplanade Margate 6 for 6.30pm
Deal - 15 May 80th Charter Celebration - Lunch 12.00 noon for 12.30pm

Gravesend - 20 May Interclub Tea
Annual Conference, Cardiff 8 - 11th April 2019
---
For information about forthcoming events please use 'Contact Us' page