National Assembly at Leicester 2015
Six of us attended the National Assembly this year. Our new Treasurer, Shirley and new Secretary Liz, soon felt at home and were glad to meet with others doing the same job from all over the country. After unpacking we went straight to the Conference hall where we heard Assn. President Trish Douglas, launch her charity, Parkinson's UK.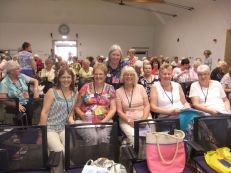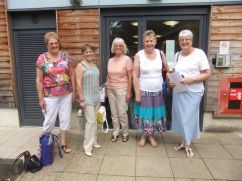 Here we are standing outside the student halls of residence, where we stayed. From left, DC Hazel, International Chairman, Susan, Secretary, Liz, Membership Officer, Sheila and Treasurer, Shirley.(MOC Sheila Cragg behind the camera.) In the second photo we are in the conference hall and MOC Sheila is standing behind us. The other photos show us in the restaurant and enjoying coffee.
National Assembly at Leicester 2014
Eight members of District 12 Executive Committee attended the Annual National Assembly at Leicester University.
The Assembly was an interesting mixture of hard work and hard play.
On the social side it was a chance to meet and exchange ideas with members from other districts. District 12 met with people from Districts 13 and 5.
The work began on the first afternoon with the handover for Association Officers. The Chain of Office was handed over to Thelma Pacsoo from the outgoing Association President Gill Rowley; she introduced her team of officers for the coming year and she announced her charity for the coming year. Her charity is Home Start.




The Executive Team 2014 to 2015

Front Row L to R;
DC Sheila, PDC Judith and Vice DC Hazel

Back Row L to R;
Editor Dorothy, International Chairman Susan, MOC Margaret, Secretary Di and Treasurer Dotty