District 12 response to the Covid 19 Pandemic
There is a new initiative promoted by the 'School in a Bag' charity in response to the Covid19 pandemic.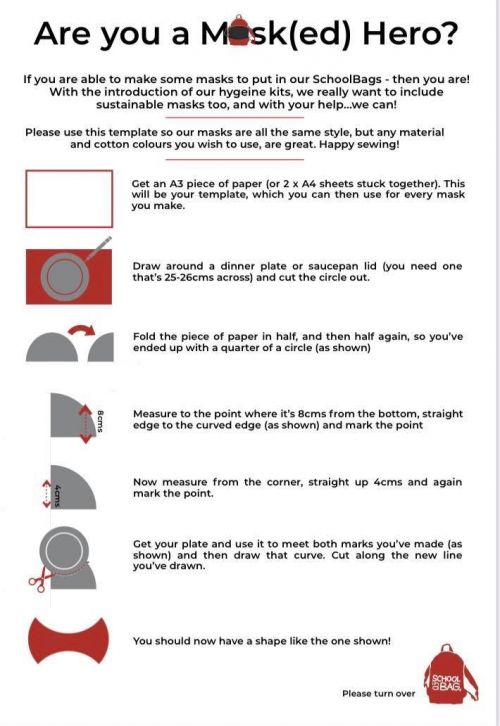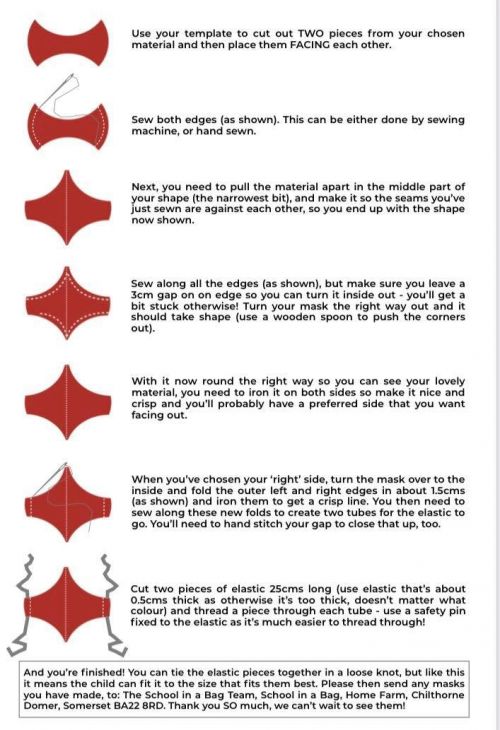 Mandy Berry from Crayford & Danson Club and Hazel Hedges from Westgate & Birchington club have already made some masks for the rucsacs. Mandy's are displayed on the Crayford and Danson page.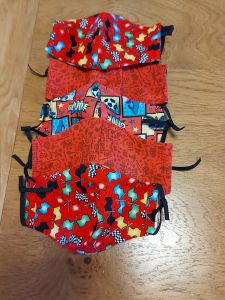 Many clubs have been involved in the making or purchasing 'scrubs', PPE for front-line staff and other charitable efforts during the 'Lockdown'.
Here is news from some clubs about their efforts!
Club Correspondent, Pam from the Deal Club says,
'My husband designed this rainbow for us to use in A4 or A6 and I have them without the Inner Wheel Club of Deal logo also to put on our mail box and wheelie bins as a token of appreciation for people. I have attached it so that you can use it as appropriate. I have been making uniform laundry bags, which have gone to a local hospital. Thea Utting, a prolific quilter, has been making quilted rainbows to put in her windows and scrub hats, masks and bags!'
Pam from Deal also says, 'Here are our sewing efforts for the NHS, three members including myself have been sitting at the sewing machine. I have been making scrubs wash bags, half of them went to Canterbury Hospital and the other half went to the Community Nurses in Deal. Thea Utting has been making some scrubs hats, masks and laundry bags also and Jan Critchett has been making Head Bands with buttons to attach the masks.
| | | |
| --- | --- | --- |
| | | |
| Deal's face masks | Deal's head bands | Deal's head bands worn by a member |
| | | |
| Another of Deal's head bands | Deal's wash bags | Maureen Trelfer from Maidstone wearing one of her face masks |
Two of our Maidstone members have been busy sewing for The Maidstone Group for NHS, who have provided 20,000 items for Maidstone and Tunbridge Wells hospitals and care homes. Many many local people are involved. Jane Yates has made 5 sets of scrubs. Maureen Trelfer has made 3 sets of scrubs and the bags for the nurses to put them in to be washed. She has also made 60 face masks. The photo above right is of Maureen wearing one of her masks.
Westgate & Birchington have been busy sourcing and sewing 'Scrubs' for the NHS. Every month when we meet, we hold a raffle at £1 a head. All the profit from the raffle goes to our 'Disasters Fund', which is kept separately from the ordinary charity account. Then when there is a disaster or trouble of any sort we can donate a sum quickly. As we felt that the coronavirus pandemic was likely to be the most disastrous event probably in most of our lifetimes, it was important to help in any way we could. A few of us joined the 'Margate Scrubbers' who were making 'scrubs' for the local hospital in Margate, The Queen Elizabeth the Queen Mother Hospital, (known for short as the QEQM!). They were also making scrubs for 'Hot Hubs' where some local GP's were gathering to deal with possible coronavirus patients, and several local care homes have been issued with the scrubs too!
We donated £200 from our disasters fund, and then several members generously donated, they were not sewers, but wanted to help, which raised the sum donated to just over £400. We sourced 160 metres of royal blue material, tapes for the drawstrings and thread. This will make 60 sets of scrubs.
Margate Scrubbers have taken orders for specific colours and sizes, so that they can conform to the usual uniform colours etc. The first 40 royal blue 'scrubs' have already been delivered to the maternity unit at QEQM, with a further 20 going to the Pilgrims Hospice. All of the scrubs made by 'Margate Scrubbers' have the rainbow logo on the front pocket! Many of our club members have also sourced and made laundry bags for staff to take the scrubs home in to wash. There have been a lot of pillow-cases cannibalised!
Photos below show Hazel taking delivery of the bale of material. It took 2 people to hold it, but fortunately as it was over 9 feet long they could still socially distance themselves! Carla Latchford sewing at home. She said 'I am proud to be doing my bit for the NHS'. Hazel Hedges dressed up in some scrubs. She said 'They were rather large as they were XL, and the trousers were very long!' and also shown a set of completed scrubs.
We also discovered that a local firm, which usually makes plastic signage, had started to produce, at their own expense, PPE visors for the NHS. When they ran out of their own materials they asked for some donations, so we donated £200 to them to purchase more plastic and other materials which were needed. You can see President Jacquie Agnew and Treasurer Louise Stokes donating the cheque and trying on the visors at AllStyles Signs.
Eastbourne Sovereign reports 'Here are some photos of some Laundry Bags, head bands and masks made by one of our Club Members, Hayzen Elphick, and also a photo of her handing them over to a local Community Nurse. (note the social distancing!). Eastbourne Sovereign Club members also donated their Interclub Luncheon costs and raised £400 towards the Friends of Eastbourne District Hospital.
I have nearly finished a second blanket destined for our local Eastbourne hospital. Also together with friends in a small local craft group we have made a quantity of children's jumpers and hats, also teddy bears to go to a women's refuge. Unfortunately, for security reasons, we are not allowed to know where it is. We have now been asked to make new born babies cardigans. Sadly there has been a sharp rise in domestic abuse and it can only get worse, so we are trying to help.
President Helen Richardson of the Tunbridge Wells club who says,
'We may have been in 'Lockdown' but our Club has certainly been busy! Members continue knitting for various charities including blankets for the Linus Project, cannula covers for premature babies and baby clothes for the 'Baby Basics' charity. We feel many charities will be greatly in need of donations in these very difficult times.
However, our main focus has been making Scrubs for The Tunbridge Wells Hospital at Pembury. This has been coordinated by one of our fairly new members through a charity called 'For the Love of Scrubs'. The response from members has been fantastic with many offers to sew and others making donations for the material and thread. In just a few days we raised over £800. The photos show one of the first completed sets - scrubs, hat and bag, and baby cannula covers. Many more on the way!'
See the full report on Tunbridge Wells club page!